Students receive a weekly reminder email letting them know which courses they have yet to complete on your site. This increases student engagement and ultimately, course completion!
How to activate and edit your weekly reminder emails
How to activate and edit your weekly reminder emails
As the site administrator, you can edit these student notifications, or turn them on and off in your dashboard in the Support Your Students menu under Notifications, then use the Edit button beside the weekly reminder email option: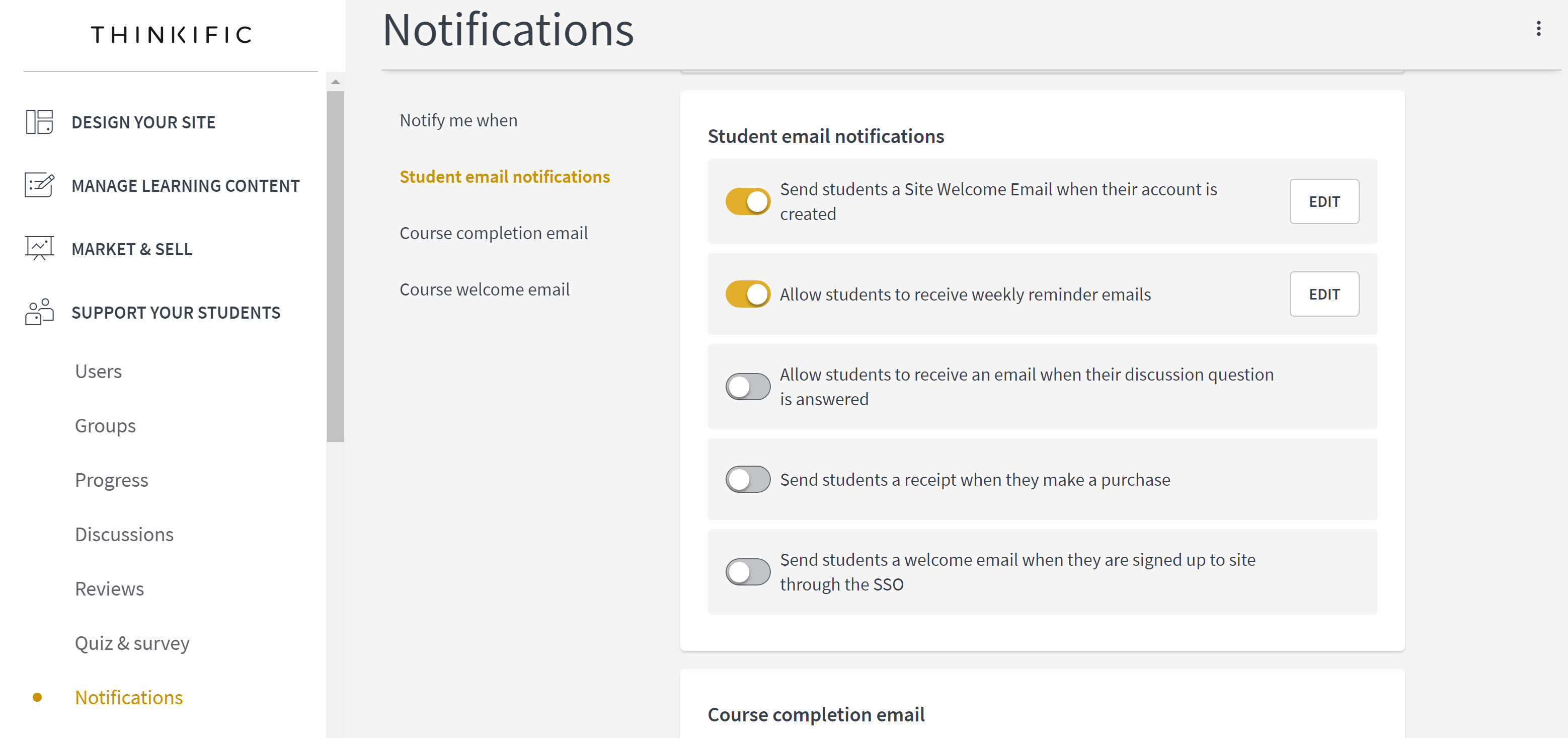 If your students are enrolled in multiple courses on your site, the weekly reminder email is only sent once but will include a list of all their incomplete courses. The courses are listed in alphabetical order in the email.
Next, you can edit the weekly reminder emails with our text editor, and add any variables you'd like to include: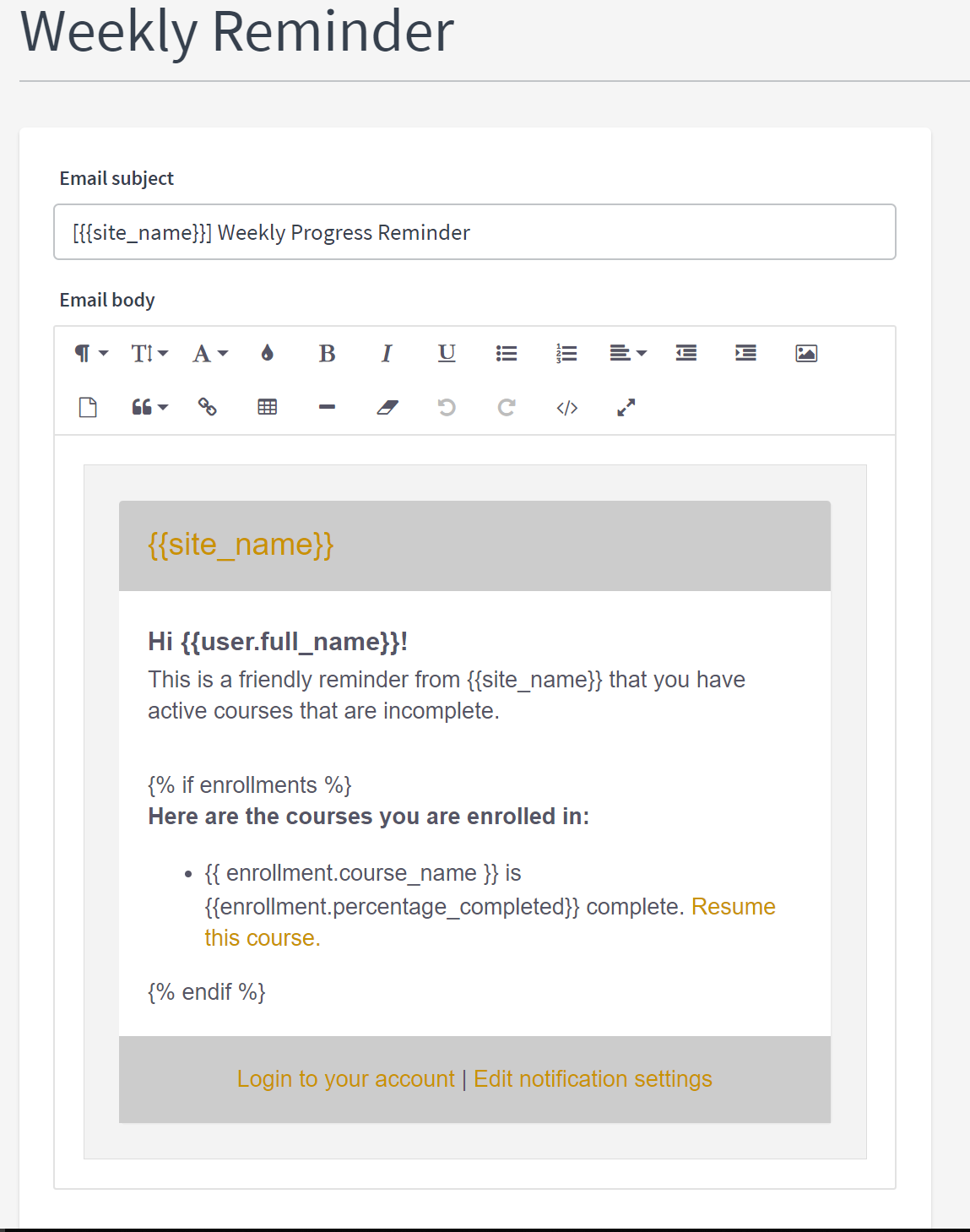 The emails are branded with your school logo and site name, and provide direct links for your students to resume their courses. The default email looks something like this: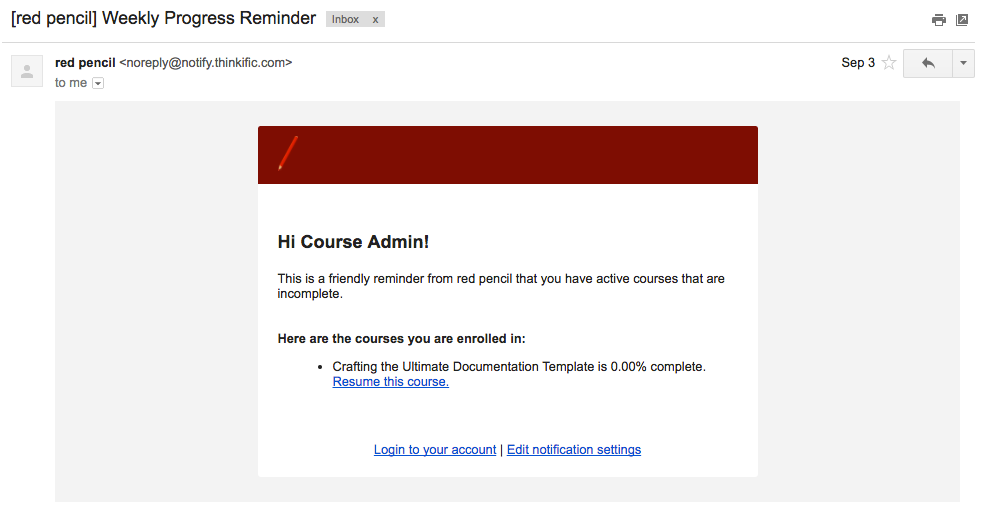 These emails fire once a week on Sunday between 3:00AM and 5:00AM UTC.
Default Email Template
If you had previously customized your weekly reminder email but would like to start again, here is the code for the default email design. Make sure that you are copying and pasting the code below in the code view option of the email text editor:
<style>
@media screen and (max-width:480px) {
  .main-table {
  width: 300px !important;
  margin: 0 auto;
  }
}
</style>

<table border="0" cellpadding="0" cellspacing="0" style="background-color: #f3f3f3; font-family: Arial, Helvetica, sans-serif;" width="100%">
<tbody>
<tr>
<td align="center">
<table cellpadding="0" cellspacing="0" class="main-table" style="margin: 25px auto; background:#ffffff; -webkit-border-radius: 3px; -moz-border-radius: 3px; border-radius: 3px; -moz-box-shadow: 1px 1px 0 #eaeaea; -webkit-box-shadow: 1px 1px 0 #eaeaea; box-shadow: 1px 1px 0 #eaeaea; width: 500px;">
<tbody>
<tr style="border: 0;">
<td style="padding: 20px; -webkit-border-top-left-radius:3px; -webkit-border-top-right-radius:3px; border-top-left-radius:3px; border-top-right-radius:3px; text-align: left; border: 0; background-color: rgb(204, 204, 204);"><a href="{{site_url}}" style="border: none; text-decoration: none; font-size: 22px;" target="_blank">{{site_name}}</a>‌</td>
</tr>
<tr style="border: 0;">
<td style="padding: 20px; background: #fff; border: 0;">
<h3 style="font-size: 18px;">Hi {{user.full_name}}!</h3>
<p style="margin-bottom: 30px;">This is a friendly reminder from {{site_name}} that you have active courses that are incomplete.</p>
<p>{% if enrollments %}</p>
<p><strong>Here are the courses you are enrolled in:</strong></p>
<ul>
<li style="display: none;">{% for enrollment in enrollments %}</li>
<li>
<p>{{enrollment.course_name}} is {{enrollment.percentage_completed}} complete. <a href="{{enrollments_url}}" target="_blank">Resume this course.</a></p>
</li>
<li style="display: none;">{% endfor %}</li>
</ul>
<p>{% endif %}</p>
</td>
</tr>
<tr style="border: 0;">
<td style="padding: 20px 40px 20px; text-align: center; border: 0; background-color: rgb(204, 204, 204);">‌<a href="{{sign_in_url}}" target="_blank">Login to your account</a> | <a href="{{edit_notifications_url}}" target="_blank">Edit notification settings</a>‌</td>
</tr>
</tbody>
</table>
</td>
</tr>
</tbody>
</table>

Available Variables for Use
Since the same email template is used for all your students, you can use variables to customize the email for each student. Below is a list of available variables for your weekly notification emails:
{{site_name}} — Name of your school
{{site_url}}
{{edit_notifications_url}}
{{user.full_name}}
{{user.first_name}}
{{user.last_name}}
{{user.email}}
{{sign_in_url}}
{{enrollments_url}}
{{enrollment.course_name}}
{{enrollment.percentage_completed}}