Was your course creation process a joint effort? Or are you selling a product on behalf of another instructor? Our Revenue Partner feature makes it simple for you to share a percentage of sales made on your courses and bundles, tracking for you the commission owed to your co-instructors and course contributors.
In this article:
How to Add Products to a Revenue Partner
Managing Your Revenue Partners
Recording a Payment to a Revenue Partner
Revenue Partners Per Plan
There are 5 Revenue Partners available on our Pro plan as well as Pro + Growth and 50 Revenue Partners on our Premier plan. Additional Revenue Partners are available with Thinkific Plus!
Creating a Revenue Partner
To get started with Revenue Partners, you'll first need to set up your user up with an account. You can also assign them as a Revenue Partner while creating the user, but it is not necessary; these steps will automatically assign them that role, if they do not have it already.
Go to Manage Learning Content
Select Share Revenue
Click Add Revenue Partner
Under User name, select or search for your desired user's name
Under Pay commissions out on... select a bundle or course
In the Commission percentage field, input your desired commission
Click Save

The user will now be a Revenue Partner for that product. For each sale, the percentage owed to them will be tracked by our system so you'll know exactly how much to pay them!
How to Add Products to a Revenue Partner
Once you have added a Revenue Partner, you can always add additional courses and bundles to their profile!
Go to Manage Learning Content
Select Share Revenue
Click View Profile on the Revenue Partner you want to edit
Click Choose a Product
Select your desired product and pricing option from the dropdown menu
Under Set Payout, input your desired commission
Click Save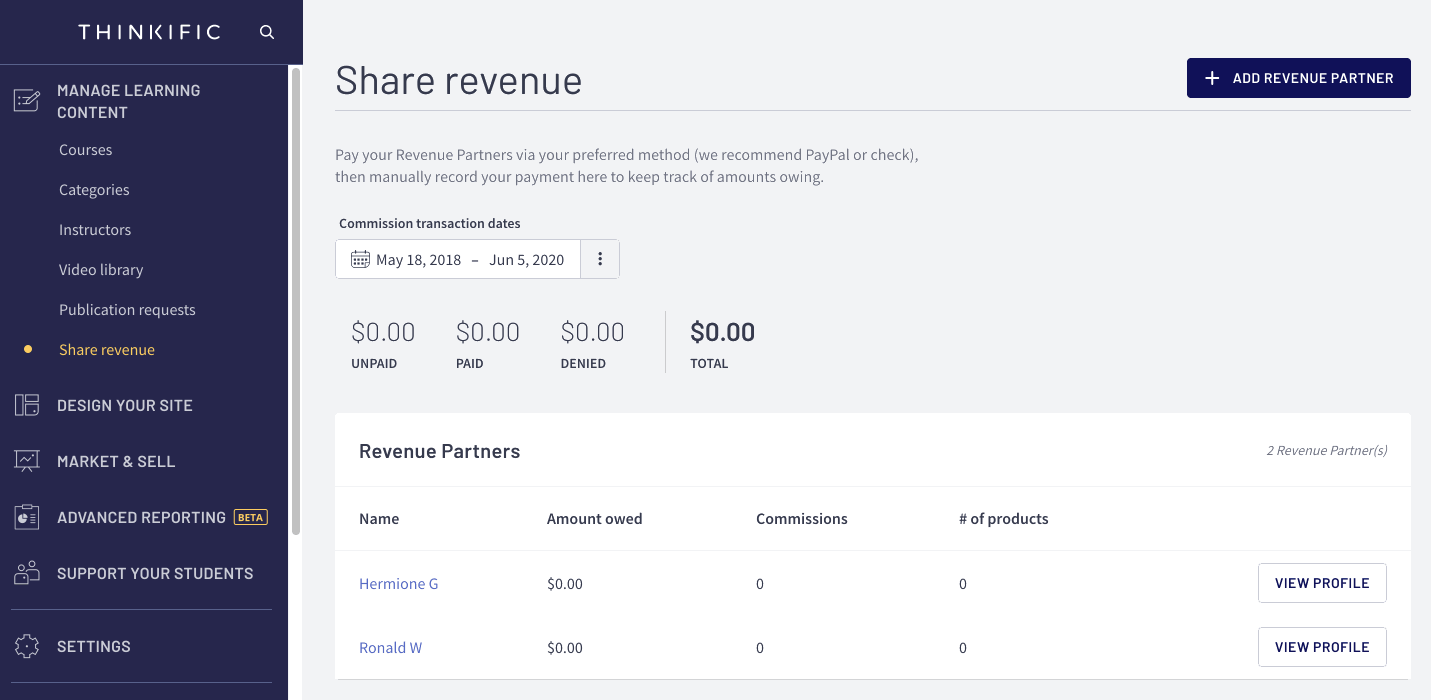 Additional Pricing Options
If you have Additional Pricing Options for your course, you will need to attach each one to your Revenue Partner separately. For a particular Revenue Partner, simply click on View to see which courses they are currently a revenue partner for. You can then attach the additional pricing options to the Partner.
If you're using Subscription pricing or a Payment Plan, our Share Revenue feature will calculate the percentage commission on all payments that the student makes.
Managing Your Revenue Partners
The Share Revenue page is where you can come to manage your revenue partners, as well as their commissions and payments.
You are able to change the time period of the commissions information using the dropdown list (commission transaction dates) at the top of the page.
To access the specific information for a revenue partner, find them in your list of revenue partners and select the View button.
This will take you to their revenue partner profile, from which you can manage their commissions and payouts.
Recording a Payment to a Revenue Partner
All of the commissions owed to a Revenue Partner will be tracked; making it super easy for you to see what they're owed and make payments to them.
Payments are made manually by you, outside of Thinkific—so it's totally up to you how you want to manage that! One popular solution is to use PayPal, and create a schedule/reminder for yourself to send the funds owed to your revenue partners on a regular basis (e.g. once a month). You have the flexibility here to set up a process that works best for you and your business.
Once you've made a payment, you are able to make a record of this in Thinkific so that you know the revenue partner has received their commissions.
To do this, first you'll need to approve any commissions that should be included in the payment, by going to the report and hitting the Approve button.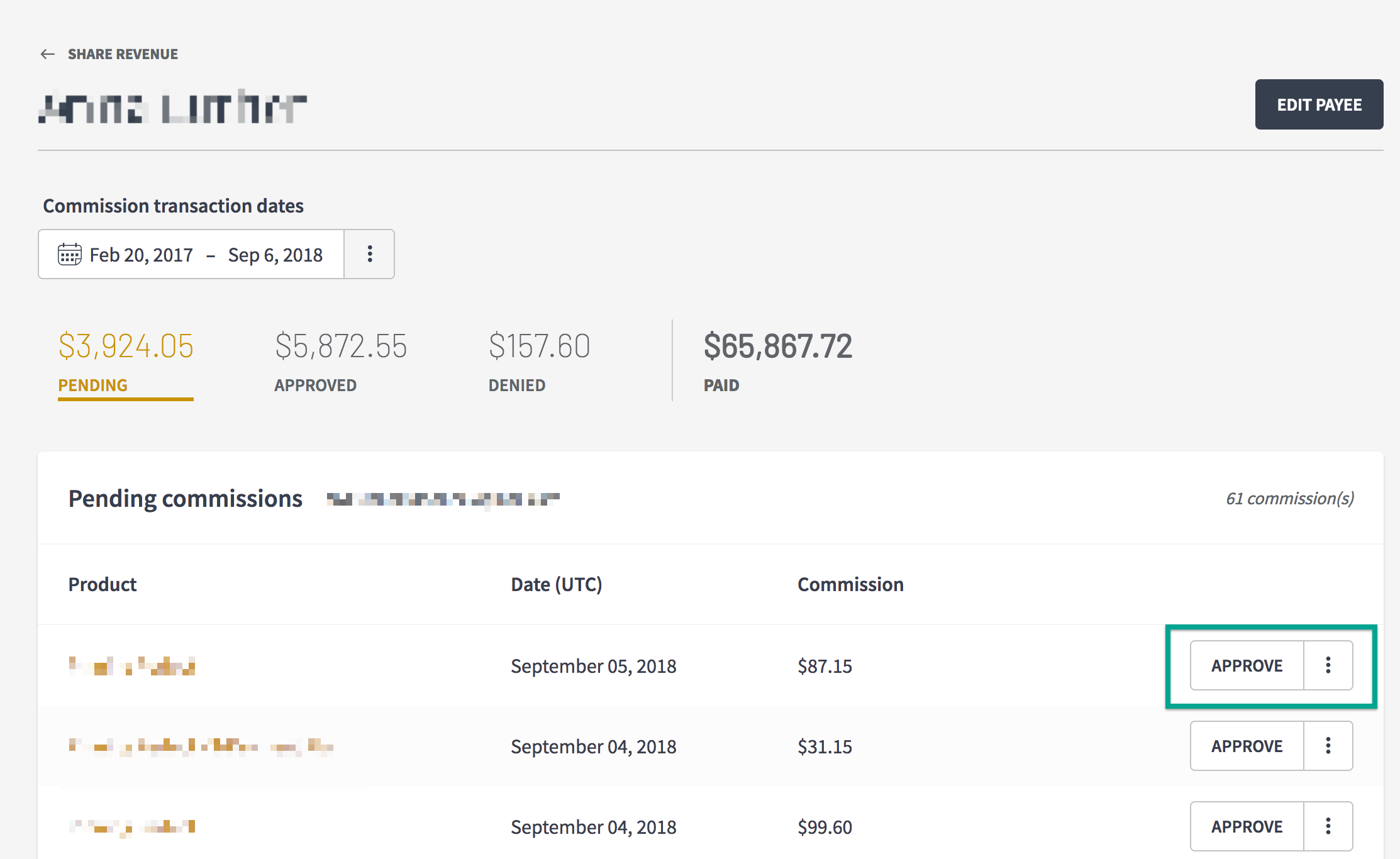 Then select Approved and click on Create Payment.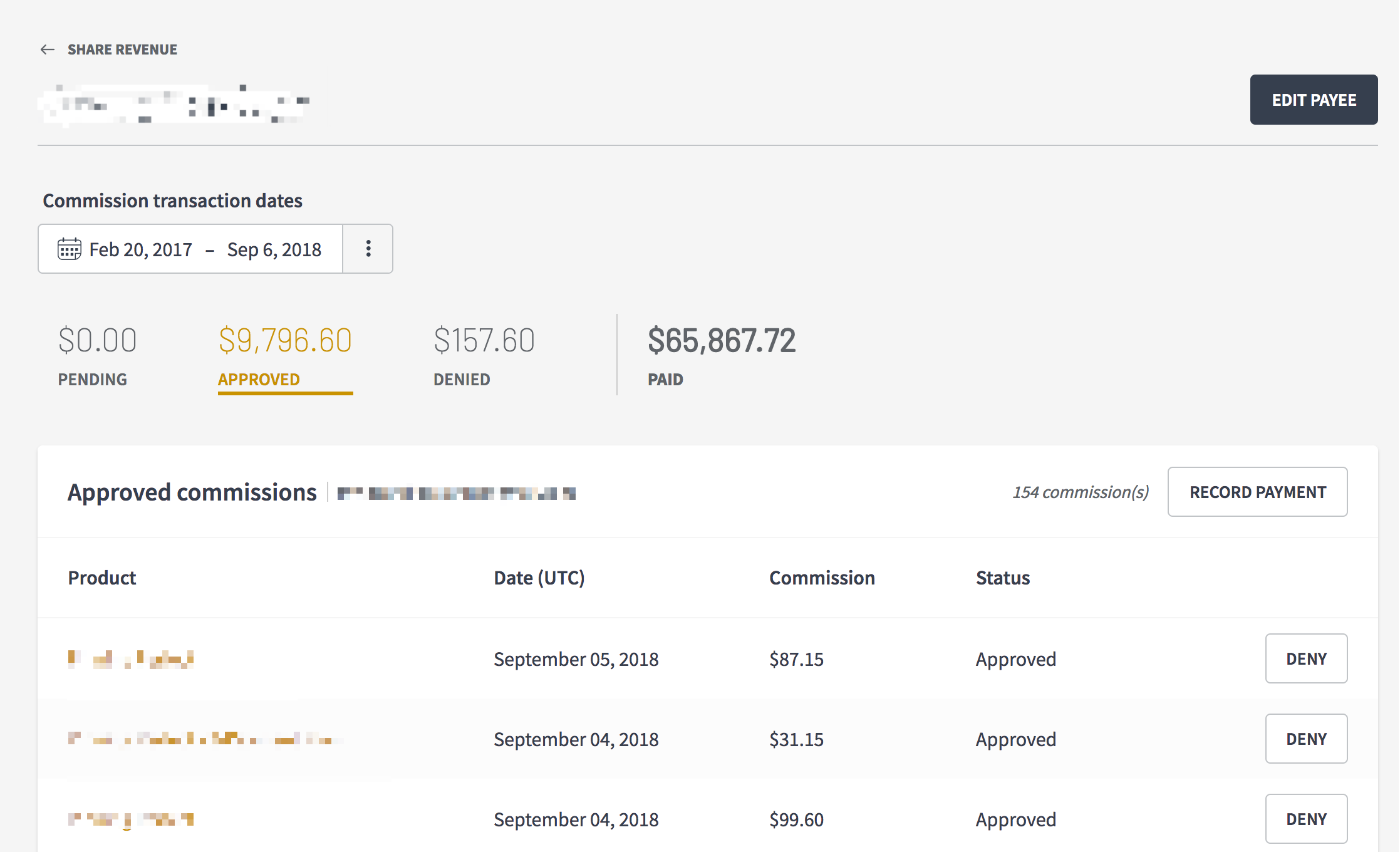 On the next page, you'll see the list of commissions to be included in the payment record - select Record Payment to continue. On the confirmation screen, hit Confirm and Record Payment. And that's it! Any commissions included in the payment will now show as paid.
Important Considerations
Revenue sharing commissions are not retroactive — a revenue partner will only receive a share of purchases made after they have been set up with a particular product.