In this article, you'll learn all about the Thinkific Membership Builder - our integrated tool to help you build and launch your membership site!
---
In this article:
Accessing the Membership Builder
About Memberships
If you're looking for information on creating a Membership-only site, check out Create a Membership Site (Guide).
Offering your customers a Membership program is a valuable incentive that can help your learning business attract a wider audience, increase customer loyalty, and provide you with a predictable and reliable income stream.
If you're looking for a more predictable way to monetize your audience, create a thriving membership business on Thinkific by selling subscription access to your existing learning content, and start earning income from day one!
How It Works
With the Membership builder, you can offer your users a personalized experience: curate an exclusive mix of course and community content just for members, or offer a membership package as an add-on to your existing products.
Use the Membership builder to create and price membership packages containing exclusive members-only content, set up after purchase flows, share your Membership URL, and create a unique landing page for your Memberships!
Accessing the Membership Builder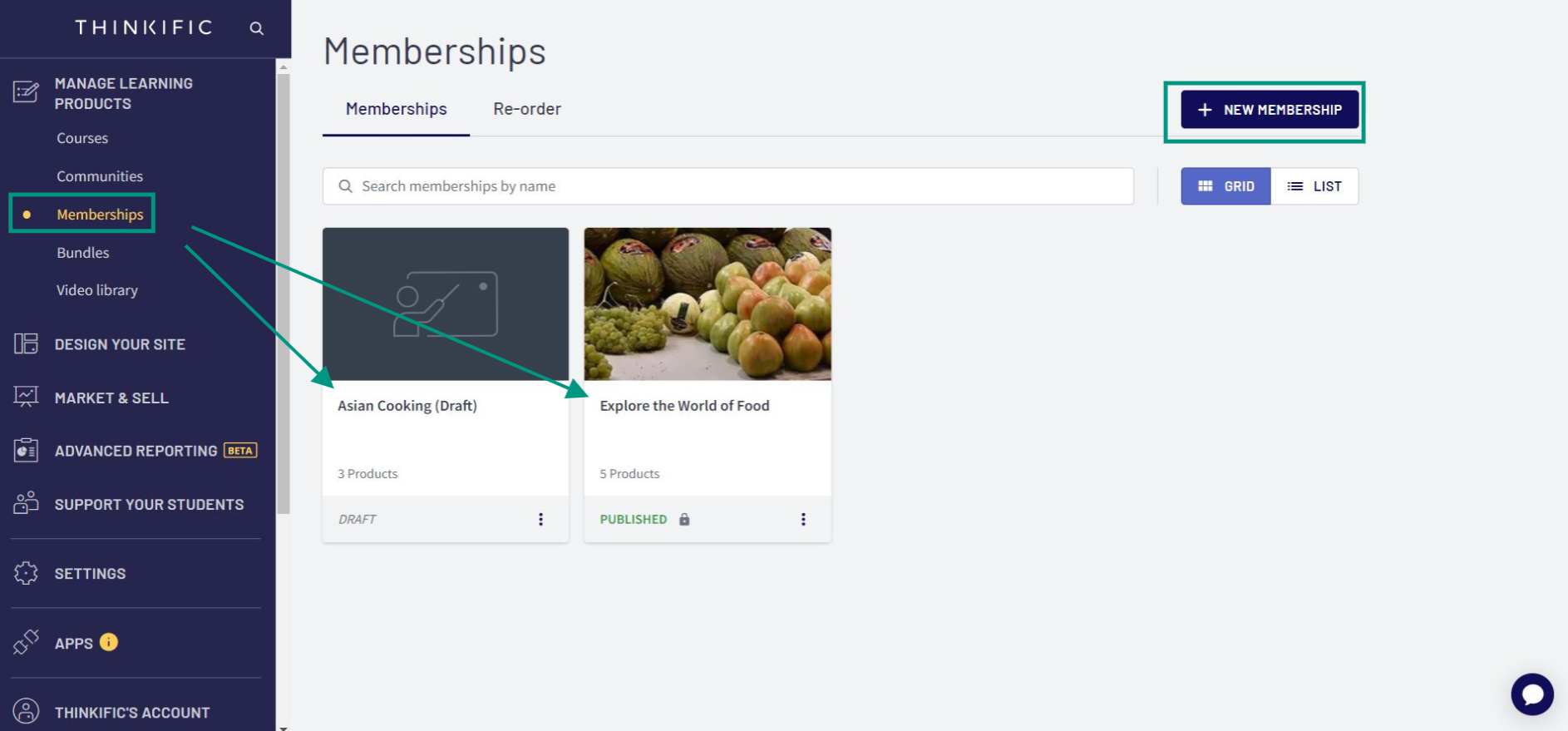 Go to Manage Learning Products
Select Memberships

If you have an existing Membership set up, click on it to open it.
If you do not have any existing Memberships set up yet, click + New Membership to create a new Membership.
Navigation
Once you have opened the Membership Builder, there are a few key areas you will want to access:
You can preview your membership from your user's perspective by clicking Preview Membership on the top right corner of the page
Create your Membership landing page by clicking Build Landing Page
Exit out of the Membership Builder by clicking the X at the top left
You'll also see the following tabs along the top of the builder. These will be covered in detail below.
Products
Settings
Pricing
After Purchase
Publish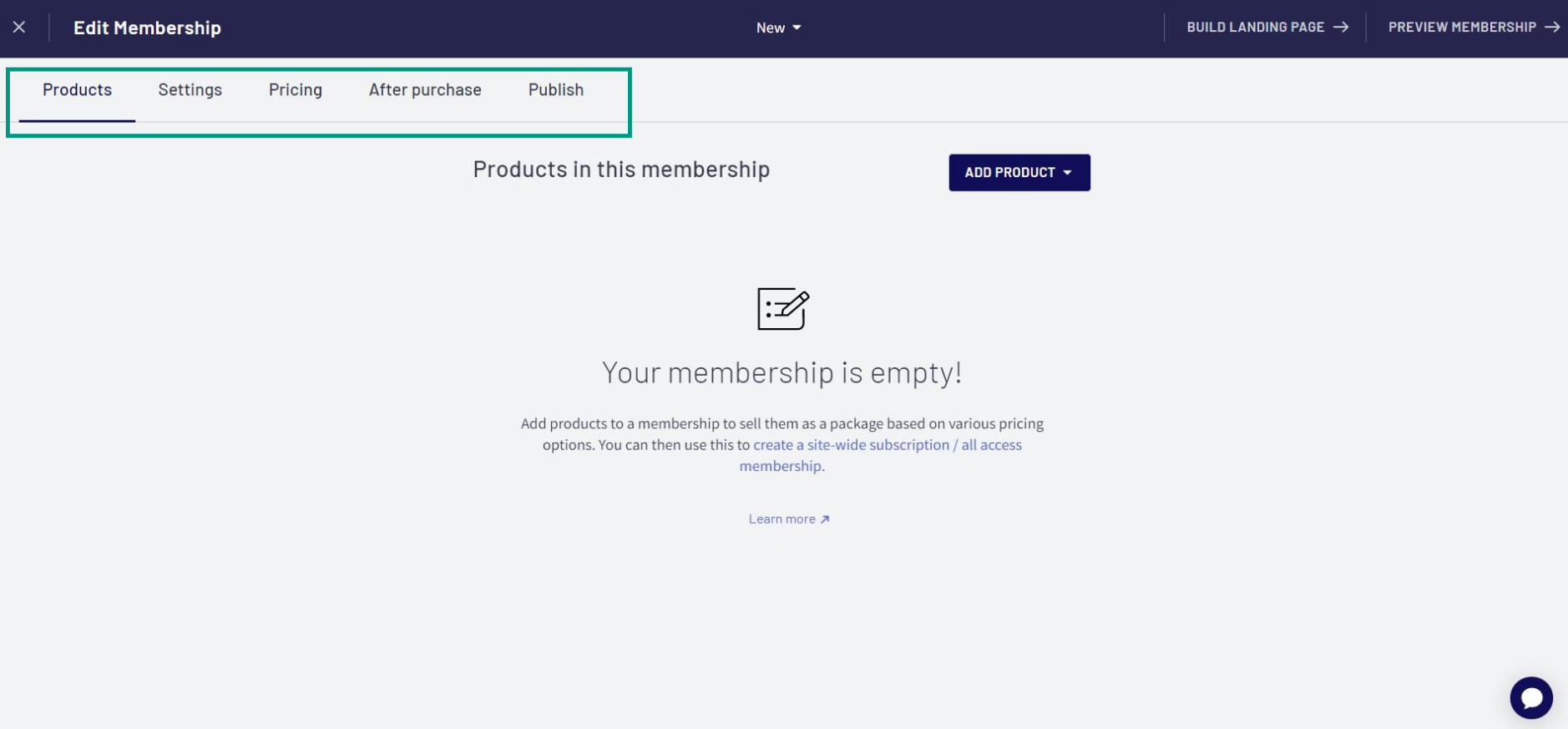 Products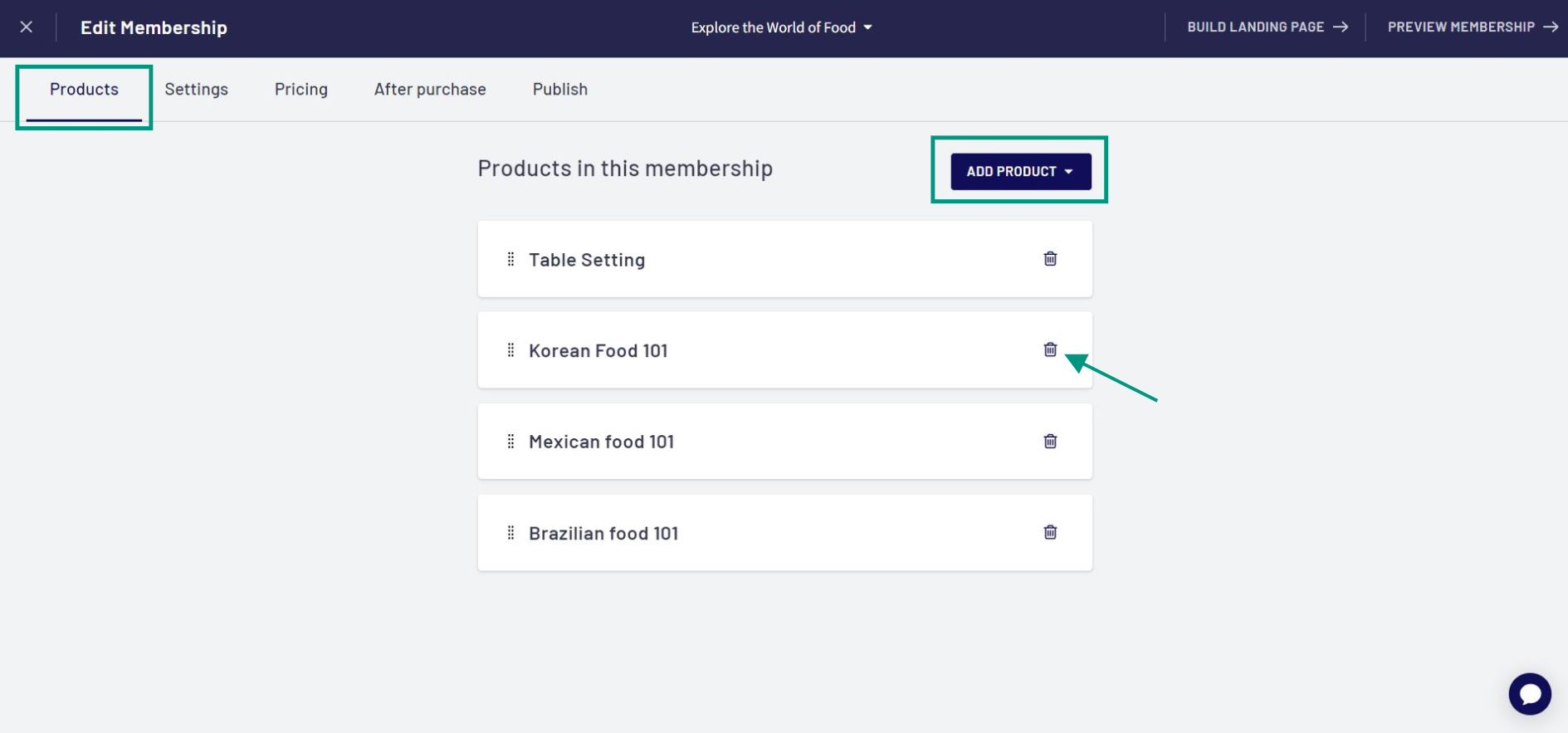 From the Products tab in your Membership builder, you will be able to select which products you want to include in your Membership.
To add products to your Membership:
Click the Add Product dropdown menu
Select the communities and/or courses you want to include
Once you have selected an item from the dropdown menu, it will automatically be saved as part of your Membership. To remove an item from your Membership, simply click the trash bin icon beside the product name.
Settings
The settings tab is where you can find your Membership landing page URL, add an image and description for your Membership, add SEO and page code, and set the Membership to hidden or private.
Here's a review of what you will be able to do in each tab of the Settings section:
Basic Settings
Change your Membership name
Find your Membership landing page URL
Set the Membership to hidden or private
Add an image and brief description to your Membership
Page code - place page footer code here
SEO - Add page SEO here, including an SEO title, description, and keywords
Pricing
The pricing section is where you will set up the pricing model for your Membership.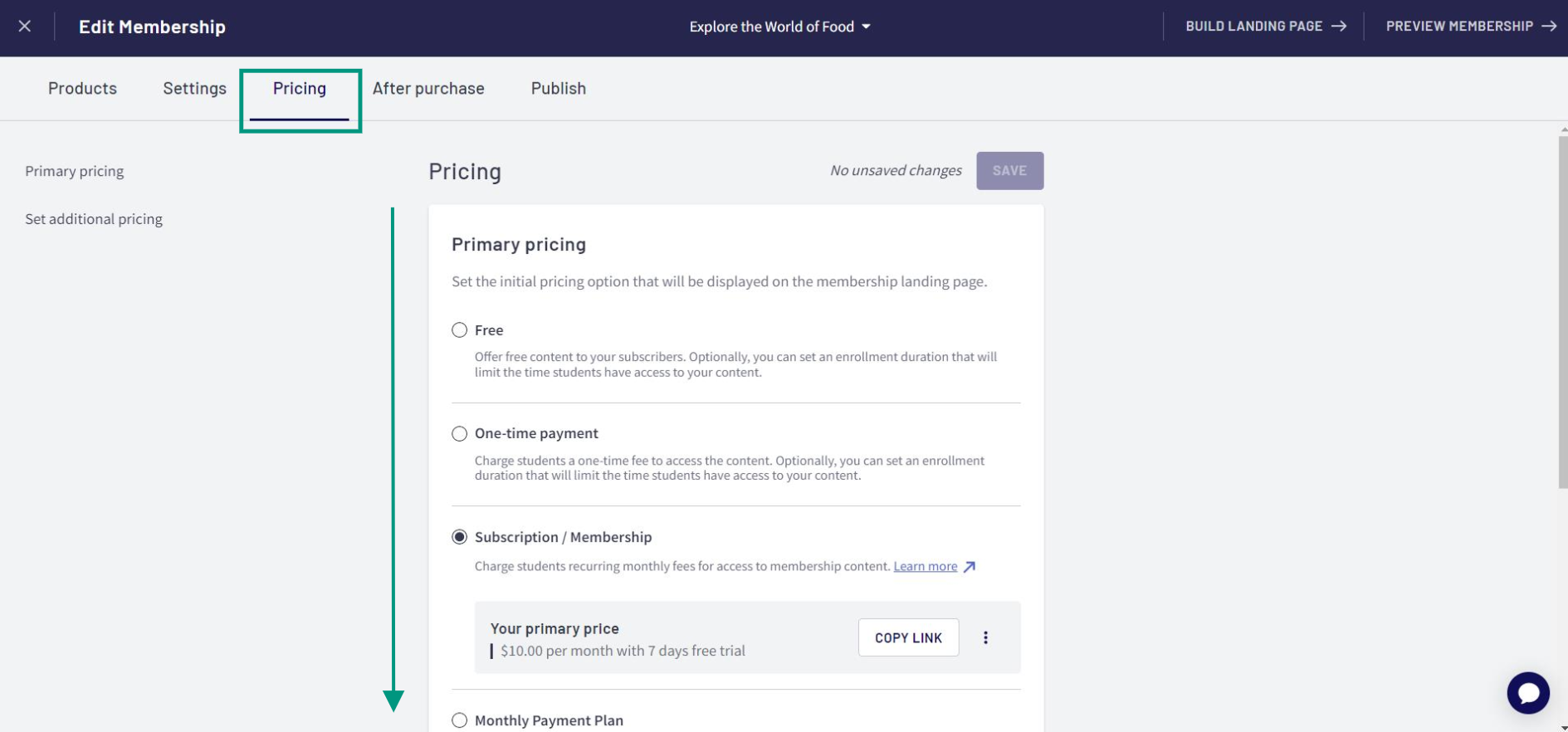 Primary pricing
From this section, you will be able to set the initial pricing option that will be displayed on the Membership landing page
Membership sites are most commonly set up with subscription pricing (where users pay a recurring monthly fee for access to your content), however, you may want to offer your customers other options such as:
Free - this is a good option if you're looking to start building your community, and want to create a path for paid membership later on. You can also optionally set an expiration date for your free Membership access.
One-time Payment - this is a good option if you're thinking of offering a membership that renews on an annual basis, but want to do a trial run before creating a recurring payment.
Monthly Payment Plan - this option works like a one-time payment, but it breaks the payment down over several months. This is a good option if you want to offer a high dollar value membership at a more easily affordable price point.
Set additional pricing
From this section, you will be able to offer your customers additional pricing options to purchase your Membership. You can add as many prices as you like!
Learn more about how to Set Additional Pricing for Your Products.
After Purchase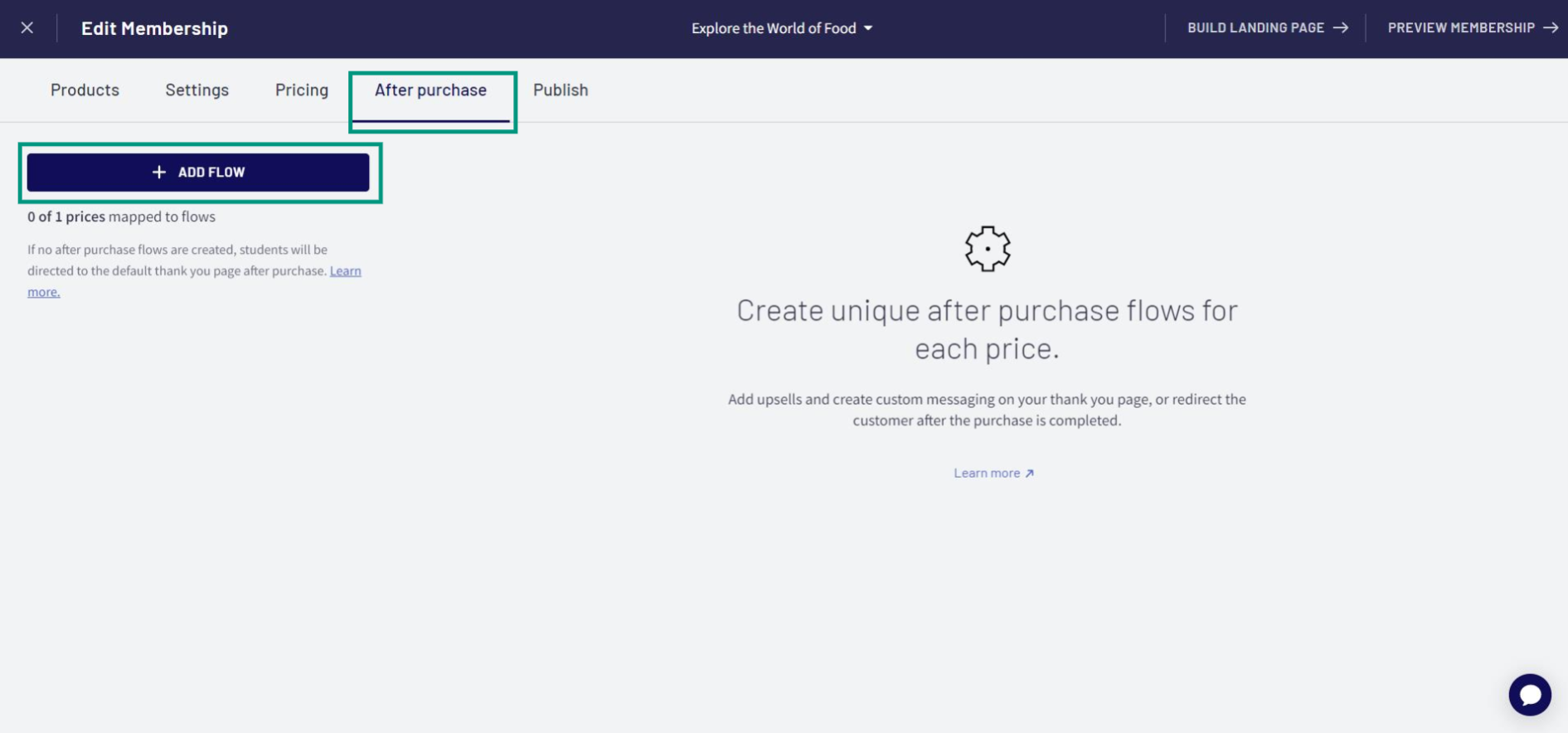 The After Purchase tab is where you will set up any after purchase flows you want, such as adding upsells and creating custom messaging on your thank you page, or redirecting the customer after their purchase is completed.
To learn more, check out After Purchase Flows.
Publish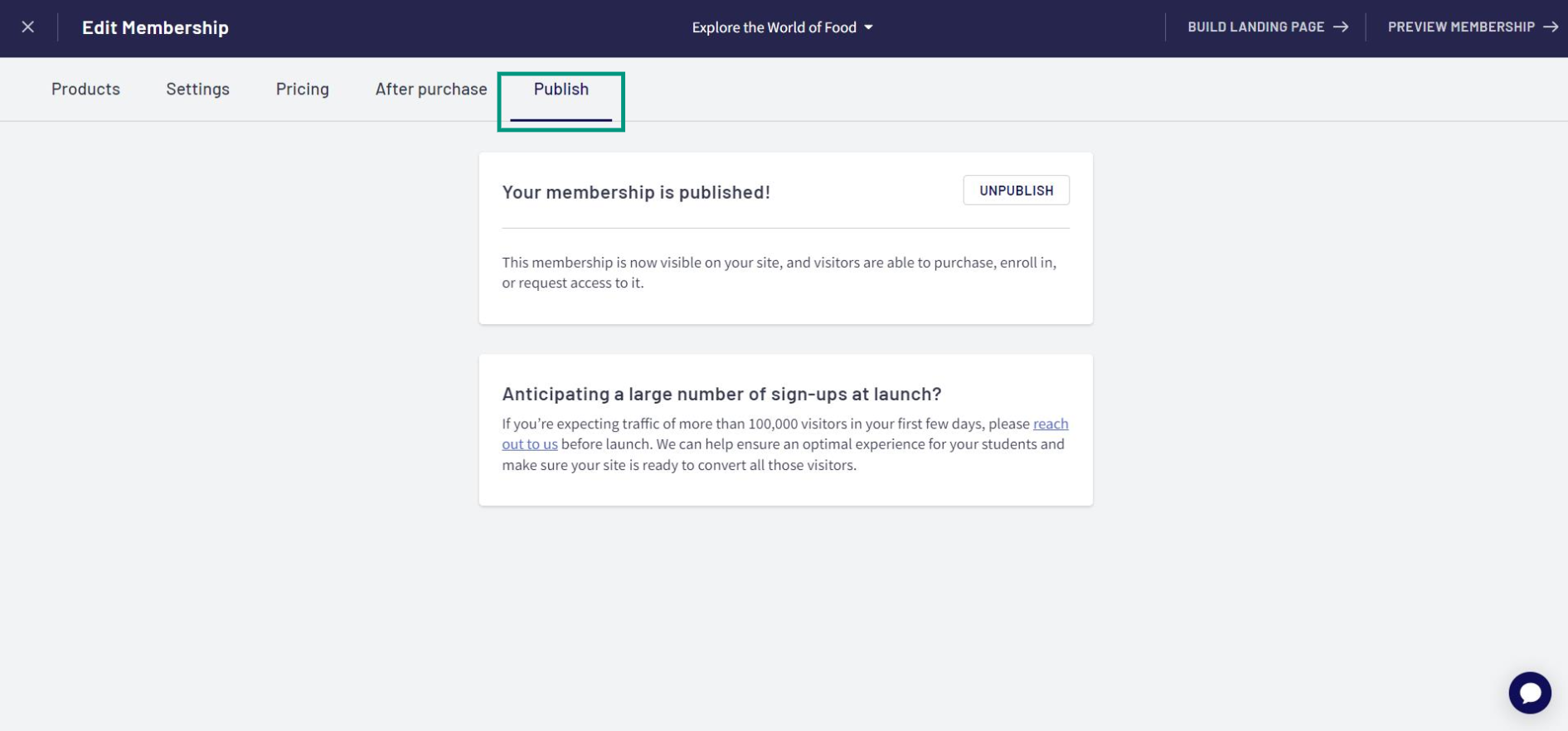 Publishing your Membership is easy - once you have gone through and established all of the basic settings in your Membership builder, simply click on the Publish tab, and hit the Publish button!
If you have an existing Membership that is already published and you want to unpublish it, simply navigate to this tab and select the Unpublish button.
Once you have unpublished a membership, all users will lose access!
Important Considerations
Memberships that are available to students will be automatically displayed in their Student Dashboard. Memberships can also be accessed through a direct link to the Membership landing page.
Although Memberships cannot currently be deleted or archived, if you are no longer offering or using a Membership package, you can unpublish it to set it back to draft status. Note: this will revoke access to any users currently enrolled in the product!
Users who enroll in a Membership will receive the standard Bundle Welcome Email.
Frequently Asked Questions
Do I need to migrate my bundles over to memberships?
No. For now, there are no feature differences between the current bundle builder and the membership builder. You can continue to edit and modify your existing bundle membership offering as usual. You won't miss out on any features by continuing to use bundles to sell your learning products.
In the future, we plan to evolve Memberships to better service the unique needs of this selling strategy.
We're busy making updates to Memberships behind the scenes, but if you have feedback about what you'd like to see with your Memberships, we want to know! Please send us a quick email to let us know what functionality would be most valuable to you!
---
Learn More About Memberships
An Introduction to Selling Learning Products
Build Your Membership Landing Page