Expand the reach of your courses with Thinkific Apps; these third-party applications can provide a variety of new features and improvements, and help you deliver the best possible experience to your students!
In this article:
About Thinkific Apps
Apps are software packages that can be installed and configured on your Thinkific site. They add new features and options that you can leverage to help build, sell, and deliver your online courses. Apps allow third-party developers to contribute to the Thinkific platform, and can include specialized functionality or features that are well-suited to your specific approach to online education. You can browse all available apps in our app store.
Having trouble finding your Stripe or PayPal integrations? As of the week of April 12 2021, those pages have been moved: your Stripe and PayPal information can now be found in the Payments tab of the Settings page in your Thinkific Admin Panel.
Apps vs. Integrations
In Thinkific, Integrations are a specific type of app that allow you to connect your Thinkific site to other products you might be using as part of your business. For the purpose of these articles, Integrations and Apps are nearly synonymous, as they are installed and configured in the same way.
Who is Responsible for Apps?
Most apps are built by third-party developers and Thinkific Partners.
These developers register their app with Thinkific as they build and test them, and then submit them to the app store. All apps in the Thinkific App Store have been reviewed by the Thinkific team for quality assurance and security purposes.
Support for the apps is managed by the App Developer themselves. If you are having an issue with a specific app, you can find support resources on your Apps page.
Interested in developing your own apps for Thinkific? Read more about becoming an App Developer.
How It Works
You can find apps to install by browsing the Thinkific App Store, or by following a direct installation link from the app's developer. The first step of every installation is the same: Thinkific will ask you to confirm that you are giving the app permission to access your Thinkific site.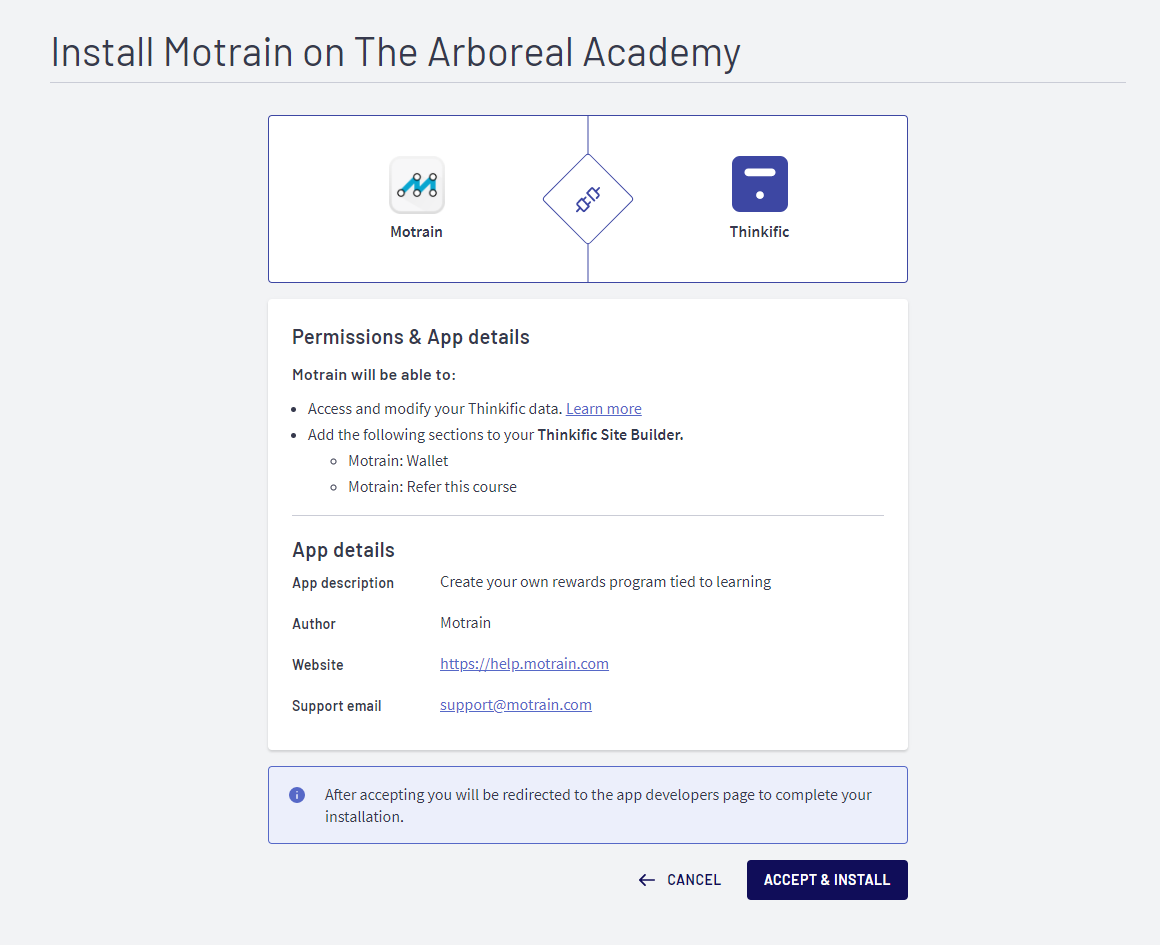 After you confirm and continue, the installation will continue through a series of steps that are specific to each application. Some apps will be very simple to install, while others may require multiple steps. Apps that integrate with third-party websites or other external applications may require that you set up a corresponding account on that website.
Once the installation is complete, the new app will appear in the Apps section of your Thinkific admin dashboard, where you can access further settings and support for that particular app.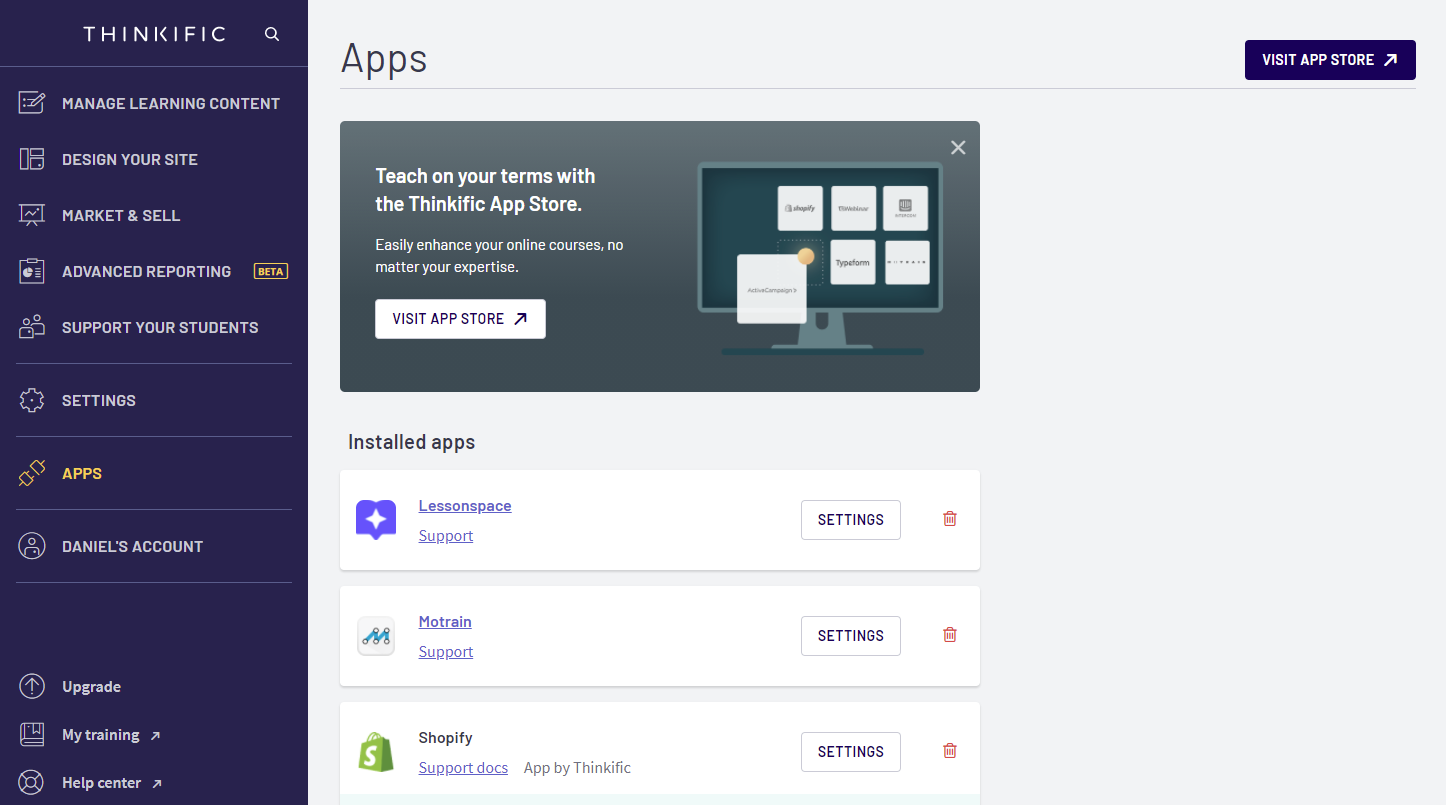 For more detailed instructions on how to install, configure, and uninstall Thinkific Apps, please read our article on Managing Your Thinkific Apps.
Apps and Information Security
Apps that you install can access different types of information and data from within your Thinkific site. This includes information about you and your site, as well as your users, their orders and their enrollment progress.
This access to your data is necessary for these apps to perform their function properly. For example, an app may access or create new Coupons in your site in order to help properly support your marketing efforts when using their tool.
Theme Extension Apps
Some apps will include new sections that you can add to your website using Site Builder. These sections will appear when adding a section to an applicable page, at the bottom of the list of sections.
Read more about Theme Extension Apps.
Getting Help With Your Apps
The apps in our App Store are created by third-party developers, and the help resources they have created are generally the best place to start. If you are having trouble figuring out how to use an app, or something is not working as expected, you have a few options to get help:
Every app in the Thinkific App Store will include a link to external help documentation that the developer has created to support the app. You can find this link on the individual app's settings page, located on the Apps page in the Thinkific admin panel.
You can also contact the app developer directly through the support contact email listed in the app's settings options or app store details.
If the app seems to be breaking something inside Thinkific, and the above steps aren't helping you fix the problem, you can reach out to our support team.
Managing Thinkific Apps
For more detailed instructions on how to install, configure, and uninstall Thinkific Apps, please read our article on Managing Your Thinkific Apps.
Important Considerations
Apps are available on all paid Thinkific plans. However, some apps may also make use of specific features that are only available on higher-tier plans; for example, an app that lets you do cool things with Groups will only be useful if you are on a Pro+Growth plan. If a particular plan is required for an app, it will be listed under the Requirements section on its page in the app store.
While we review every app before it is added to the Thinkific Apps store, third-party apps can also be installed directly off a developer's site. These apps are not necessarily reviewed by Thinkific, so make sure you understand what the app will do before installing it on your site.
Frequently Asked Questions
Do I have to pay extra for apps? How much does an app cost?
Apps can have a range of prices, from free to not-so-free. Some apps may be free to install, but also require that you have an account with a related service; for example, many integrations work this way.
The price for an individual app is set by the developer, and will be clearly listed along with any requirements on that app's details page in the app store.
---
More About Thinkific Apps