Learn how to install, configure and uninstall third-party Apps and Integrations from the Thinkific App store.
---
In this article:
About Thinkific Apps
Apps are software packages that can be installed and configured on your Thinkific site. They add new features and options that you can leverage to help build, sell, and deliver your online courses. You can browse all available apps in our App Store. For a detailed overview, read our article on Thinkific Apps.
Important Considerations
Apps are available on all Thinkific plans. However, some apps may also make use of specific features that are only available on higher-tier plans; for example, an app that lets you do cool things with Groups will only be useful if you are on a Pro+Growth plan. If a particular plan is required for an app, it will be listed under the Requirements section on its page in the app store.
While we review every app before it is added to the Thinkific Apps store, third-party apps can also be installed directly off a developer's site. These apps are not necessarily reviewed by Thinkific, so make sure you understand what the app will do before installing it on your site.
How to Install an App from the Thinkific App Store
Note for creators with multiple Thinkific accounts

: always double-check which account is showing in the top right of the App Store page before installing a new app: any apps installed from the store will be installed to that account. If it is not showing the correct account, you can click on the account name to switch accounts.
Browse the App Store until you find the app you're looking for
Click on the App to open the detail page
Click Install

This will load a page confirming that you want to give the App permission to access your Thinkific data. Read through the details, and click Accept & Install to proceed.
Follow any further on-screen instructions to complete the installation
Please note that once you have clicked Accept & Install (Step 4 above), the process will be different depending on the particular application you are installing. Some will be very simple, while others may require you to set up an account on a third-party site, or go through an initial set-up process.
If you run into trouble while installing an app, you can find its documentation on the detail page in the App Store — as well as a contact email for the developer!
How to Install an App from a Third-Party Link
Along with browsing the App Store, you can also install Thinkific Apps directly from a link provided by the developer. Clicking on the link will initiate the installation, which is otherwise exactly the same as the steps given above: you will first see the App permission page, and then proceed through steps that are specific to the individual application.
How to Configure An App
Once your App is installed, it may include different configuration options — these will be available in the Apps section of your Thinkific dashboard, along with the help documentation and support contact for the app.
Click on Apps
Locate the app you want to configure under the Installed apps section
Click the Settings button for that app
You will see that app's Details page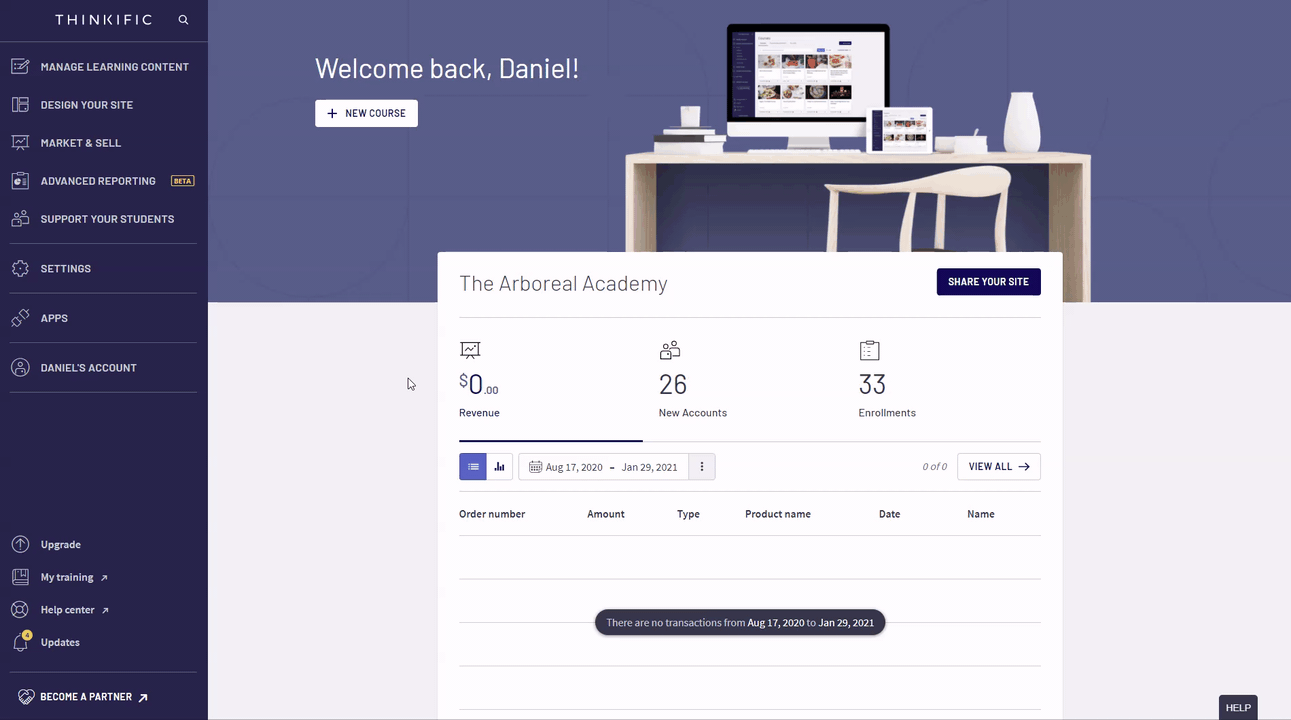 Since every app is different, the contents of the Details page will vary — some might have several options or settings, while others might not have any at all — but all of them will include an About section that contains a link to the app's help documentation. This section will also include a Developer contact, which you can use if you are having trouble with the app.
Not sure how to use the app you just installed? Something not working as expected? Always start by reading the app's help documentation! If that doesn't answer your questions, consider reaching out to the developer directly; their contact info will be listed on the app details page.
How to Uninstall an App
If an app isn't working out, or you no longer need the functionality it was providing, you can always uninstall it.
Click on Apps
Locate the app you want to uninstall under the Installed apps section
Click the trash can icon to the right of the app
A confirmation screen will appear; read the confirmation carefully
Click Got It, Uninstall
Complete any additional steps specific to the app
Because each app is different, there may be additional steps you need to take to finish uninstalling the app. These will be described on the uninstall confirmation screen.
Always read the uninstallation pop-up thoroughly, to ensure you understand what will happen when you uninstall a particular app. In some cases, uninstalling an App may result in data being deleted or modified elsewhere in Thinkific, or require you to cancel a separate subscription with the app provider. In addition, uninstalling an App that added scripts to your site pages will also remove those scripts.
Frequently Asked Questions
How do I get help with an app?
The apps in our App Store are created by third-party developers, and the help resources they have created are generally the best place to start:
Every app in the Thinkific Apps section will include a link to external help documentation that the developer has created to support the app.
You can also contact the app developer directly through the support contact email listed in the app's configuration options or app store details.
If the app seems to be breaking something inside Thinkific, and/or the above steps aren't helping you fix the problem, you can reach out to our support team.
I installed/uninstalled an app and it broke something! How can I fix it?
Apps can affect a lot of different things in Thinkific, and sometimes they will do in ways that aren't obvious until after you've installed them. In most cases, uninstalling the app immediately should clear up any problems. Similarly, the uninstall confirmation screen should describe any consequences of uninstalling an app, but it may not always be fully accurate — or it may have knock-on effects that you didn't anticipate.
In both cases, fixing the problem may be easy or difficult (or sometimes impossible): it depends on the specific application, and the specific problem you are having. We recommend reading any help documentation provided for the app, and then reaching out to the app developer via their contact information (which can be found in the app's page on the App Store.)
If installing or uninstalling the app has created a problem with Thinkific itself, or you think there was some kind of bug involved, you can also reach out to our support team.
---
More About Thinkific Apps