Videos can be included on your site landing pages as well as within your course lessons. Video autoplay behavior will depend on where your video is on your site as well as the browser and device you are currently using. Check out autoplay behavior in common areas of Thinkific below.
Site Landing Pages
If you are using a Video section in Site Builder, videos are set to autoplay by default. If you add a video to a Text & media section, you have the option to enable autoplay. If autoplay is enabled, videos will automatically play on your site landing pages, however the sound option depends on your browser settings.
If your browser settings are on mute, you'll see an audio icon in the top right of your video that can be selected to play audio: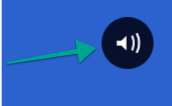 Videos uploaded to Thinkific are hosted with Wistia and they have some great information about how this works here: Autoplaying Videos Just Got Quieter
Video Lessons (Course Player)
In our Course Player, you can enable video autoplay for all video lessons within your course. If this is turned on, videos will always play with sound.
Video Lessons (Legacy Course Player)
If you are using our legacy Course Player, Video lessons can be individually set to autoplay, but you may see a 'click for sound' option depending on your browser settings.
Mobile Devices and Some Browsers
Most mobile devices prevent autoplaying due to restrictions on bandwidth on cellular networks. This is common on iOS devices or in Safari browsers on both mobiles or desktops.
---
More About Autoplay
If your videos are not autoplaying as expected you can also learn more here:
Why don't my lesson videos autoplay?