Do you have a high-value course and are looking to give your students the option to split their payment across a few months? With Thinkific, you have the option to set up payment plans for your courses!
Using our payment plan feature, the pricing for your product can be split into automatically collected, monthly payments. This is a time-tested way to provide your course at a more affordable rate per month and increase your sales. Instead of asking your student to pay $450 upfront, for example, you can simply ask them for 3 monthly payments of $150 each - a much smaller initial commitment, and at a price that they're far more likely to have the available funds for!
In this article:
Monthly Payment Schedule Considerations
Enrollment Duration Considerations
Visibility of "Buy Button" Text
You will need to have Thinkific Payments set up or Stripe connected to your Thinkific site to set up a payment plan.
Create a Payment Plan
Go to Manage Learning Content
Select Courses
Click on the image of the course or bundle you want to edit
Select the Pricing tab
Select Monthly payment plan
Enter a Price per Payment (the amount for each monthly payment)
Enter the Total months that this amount should be charged
Optionally add an Enrollment duration
Add custom text for your "Buy Button" text label
Click Save
Example of a 3 month payment plan at $150 per month: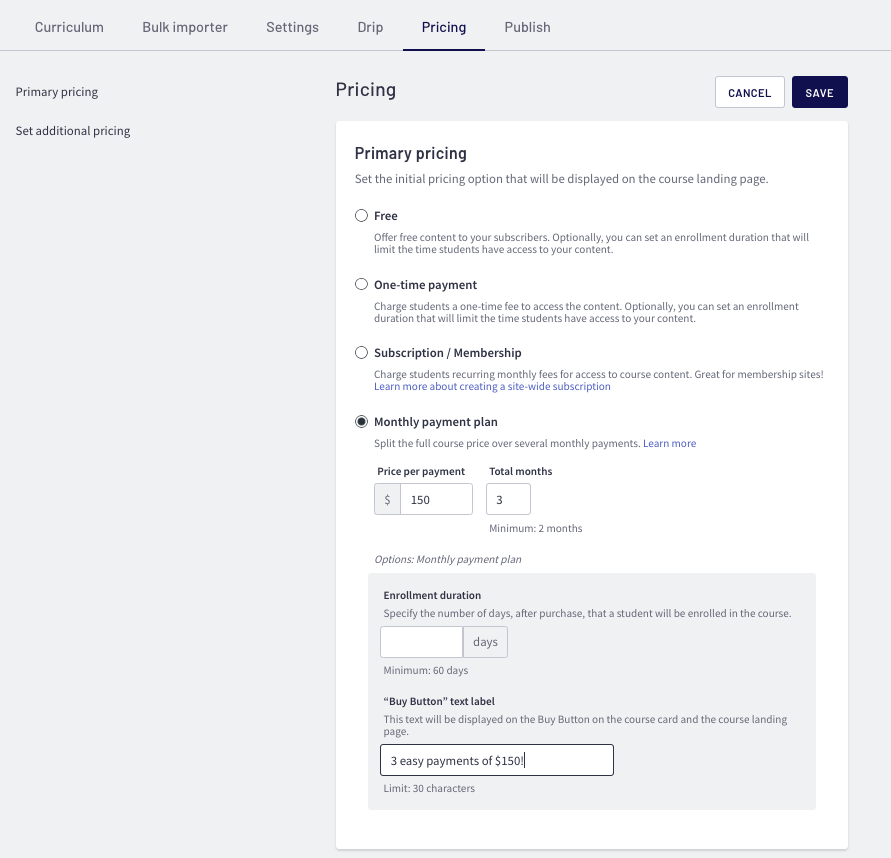 Often payment plans are offered as an optional price for your course. If you prefer a one-time payment as your primary price, you can consider adding a payment plan with our additional price feature.
Monthly Payment Schedule Considerations
The payment plan feature allows you to set a recurring payment schedule, where a payment is automatically collected each month
These payments are automatically charged to a student's credit card on their monthly billing date
A student's monthly billing date is set by the date they enrolled in your course and started the payment plan
A student will no longer be billed on their monthly billing date once the Total months period, which you chose while setting up the payment plan, has been completed
Looking for more information about student billing? Check out these articles: Stripe: What happens if my student's subscription or payment plan fails? and Thinkific Payments: Managing Student Payments
Enrollment Duration Considerations
The Enrollment duration must be greater than the number of days that the payment plan lasts for. For example, if Total months is set to 3 (which equals 3 months of payments; approximately 90 days), the Enrollment duration must be greater than 90 days.
If the Enrollment duration field is left blank, the student will have access to the content indefinitely, unless you manually cancel their enrollment, or one of their payments fails.
Learn more here: How to Set an Enrollment Duration
Visibility of "Buy Button" Text
It's best to keep the "Buy Button" text fairly short as it will appear on the course card, buy button, and various Site Pages sections on your course landing page.
"Buy Button" Examples:
Important Considerations
As with subscription pricing, if you change or update your payment plan pricing this will not affect existing students and will only apply for new enrollments moving forward.
You will need to choose and set up a payment processor before you can set up a payment plan. Thinkific Payments is our built-in payments processor, and we also support direct integrations with PayPal and Stripe to accept payment for your courses.
---
More About Pricing