Include webinars in your course using Live Lessons with Zoom or embed your live video with a Multimedia lesson!
---
In this article:
Benefits of Webinars and Live Video
Live Video or Webinars Using a Multimedia Lesson
Benefits of Webinars and Live Video
We know that many online instructors make use of live video streaming and conferencing to run webinars or coaching sessions alongside their courses. Face-to-face time is an excellent way to add value for students!
Here are just a few opportunities to consider:
Entrepreneurs and Small Businesses: Quickly move your expertise online, stay connected with your audience, and keep your business running.
Educators: Whether you're educating a handful of students or hundreds, provide your class with a blended learning experience to match your teaching style.
Coaches: Easily take face-to-face training online by combining the engagement of a live session with the structure and ease-of-use of Thinkific's course builder.
Employee Training: With the move to remote work, keeping your staff engaged and informed is more important than ever. Quickly create training materials that are accessible, no matter where your team is.
If you are new to creating courses online, adding a live video element provides a great opportunity to rapidly turn your expertise into engaging courses!
Below we'll take a look at some of the options available to you when setting this up on your Thinkific site. Read on to learn more!
Direct Integration Options
The simplest way to get set up is Live Lessons with Zoom. We have a direct integration with Zoom to help provide a seamless experience from both your end as the course creator as well as your students!
Learn how to get started here: Live Lessons with Zoom
Live Video or Webinars Using a Multimedia Lesson
If you prefer to use a platform other than Zoom, another option is to use our Multimedia lesson type! Multimedia lessons allow you to embed externally hosted content within Thinkific with a simple link!
There are a number of great platforms out there for this and a few that can be included in a Multimedia lessons are:
All you need to do is paste your live video or webinar link into the URL field of your Multimedia lesson: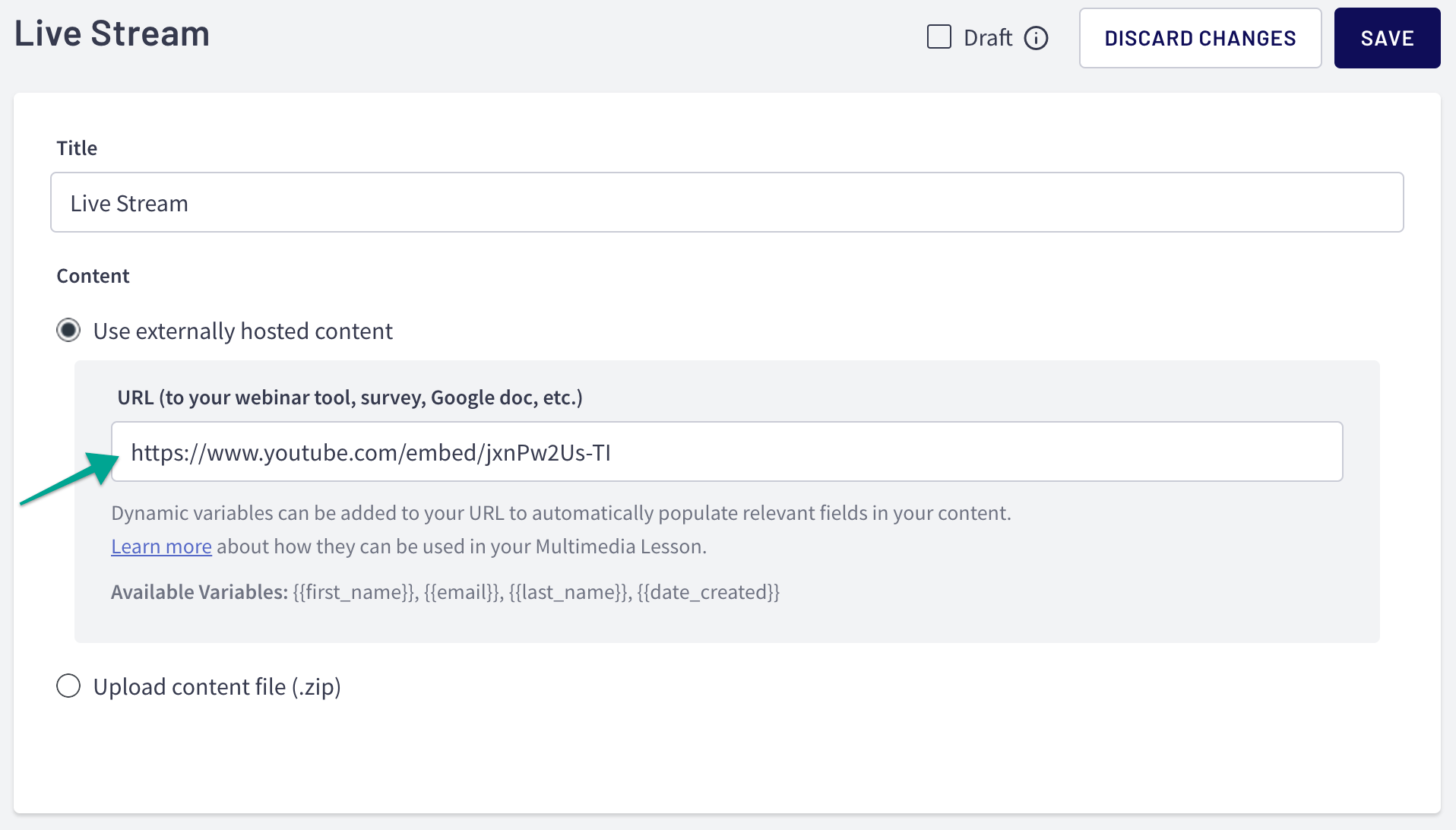 Learn how to set that up here: Create a Multimedia Lesson
Important: Some platforms like Google Hangouts and Whereby will not work within a Multimedia lesson because they are not iframeable. Make sure to preview your course as a student to ensure it works! If it doesn't, you can always create a Text lesson with a link for your students to join the live session.
Thinkific App Store Options
You can also check out the Thinkific App Store for some alternative solutions. Below you can learn more about the available third-party options to enhance how you deliver course content through Live Video and Webinars:
Howdy: Howdy combines video, scheduling, gamification, and more to make any online course social, interactive, and engaging.
EWebinar: Sell your courses on autopilot 24/7, and automate your sales webinar with any video using EWebinar.
Invirtu Live Lessons: Invirtu allows you to create live, interactive, and engaging classes directly inside your Thinkific courses.
Important Considerations
Some platforms may require your students download the software before they can join. You can always preview your course as a student to test this out and make sure you are happy with the experience of your chosen platform.