If you are looking at using Captivate and Storyline files within Thinkific, follow these instructions for how to properly export these file types so that they can be hosted on Thinkific. Multimedia files must be exported for the web (HTML5).
Thinkific does not support SCORM, Tin Can or AICC files/reporting.
Learn more about why these files aren't supported and some other options for hosting interactive content on Thinkific.
In this article:
Exporting Content from Articulate Storyline
Exporting Content from Adobe Captivate
Exporting Content from iSpring
Adding Content to Your Thinkific Course
Common Questions and Troubleshooting Guide
Exporting Content from Articulate Storyline
Learn how to export content from Articulate Storyline
While the above article is specific to Storyline 1, the same instructions should work for later versions of Storyline, including Storyline 360 (included in the Articulate 360 suite.)
Regardless of which version of Storyline you are using, make sure to select the Web option instead of LMS option when exporting your content, which is explained in the 'Optional' set of instructions in the above article. Also, make sure to select publish as HTML5-only output. This is the recommended publishing format to ensure compatibility with all major browsers on desktop and mobile devices.
Ensure that you've set the files to be published for web distribution.
Exporting Content from Adobe Captivate
Learn how to export content from Adobe Captivate
Make sure that you uncheck the Enable Reporting option for your project when exporting. Visit Setting up Preference in Adobe Captivate for d

etails on where to find that setting.

Compress the components into a .zip file to be uploaded to Thinkific.
Exporting Content from iSpring
Learn about export options in iSpring
To export iSpring Files for Thinkific, open your iSpring project and follow iSpring's Help Center article on Publishing to My Computer.
Make sure you select HTML5 as your format of choice under Output Options.
Note: Internet Explorer 8 does not support HTML5.
Adding Your Content to Your Thinkific Course
Once you have exported your file for web, it can be added to Thinkific in 2 ways:
Upload the file to an external hosting service and then add the URL of the hosted content to a Multimedia Lesson. This is available on all plans.


If your content is hosted on Articulate Rise 360, they no longer support iframing through their Rise share link. This means you must use our upload content option, listed below, in order to host your Rise content on Thinkific servers. Click here for more information.

Upload the file directly onto Thinkific. On our Start plan and higher, we can host your files for you, so you can simply upload the .zip file directly to a Multimedia Lesson

.
Common Questions and Troubleshooting Guide
Why is my file not working?
Sometimes, individual browser securities may cause older versions of published Adobe Captivate or Articulate Storyline files to not work within Thinkific. If you have access to the original file, we recommend re-exporting the file with an updated version of your publishing program.
For Articulate, you can use their Articulate Updater to scan and update published files, or update your Storyline Software then republish after.
For Adobe Captivate, you can learn more about their available system updates through their Help Center.
If you are experiencing a zip file error or white screen, make sure to check out our Multimedia troubleshooting guide here.
Do you recommend using Rise or Storyline content?
Both Articulate Rise and Storyline can be included in Thinkific.
This is an example of Storyline content in a Thinkific course: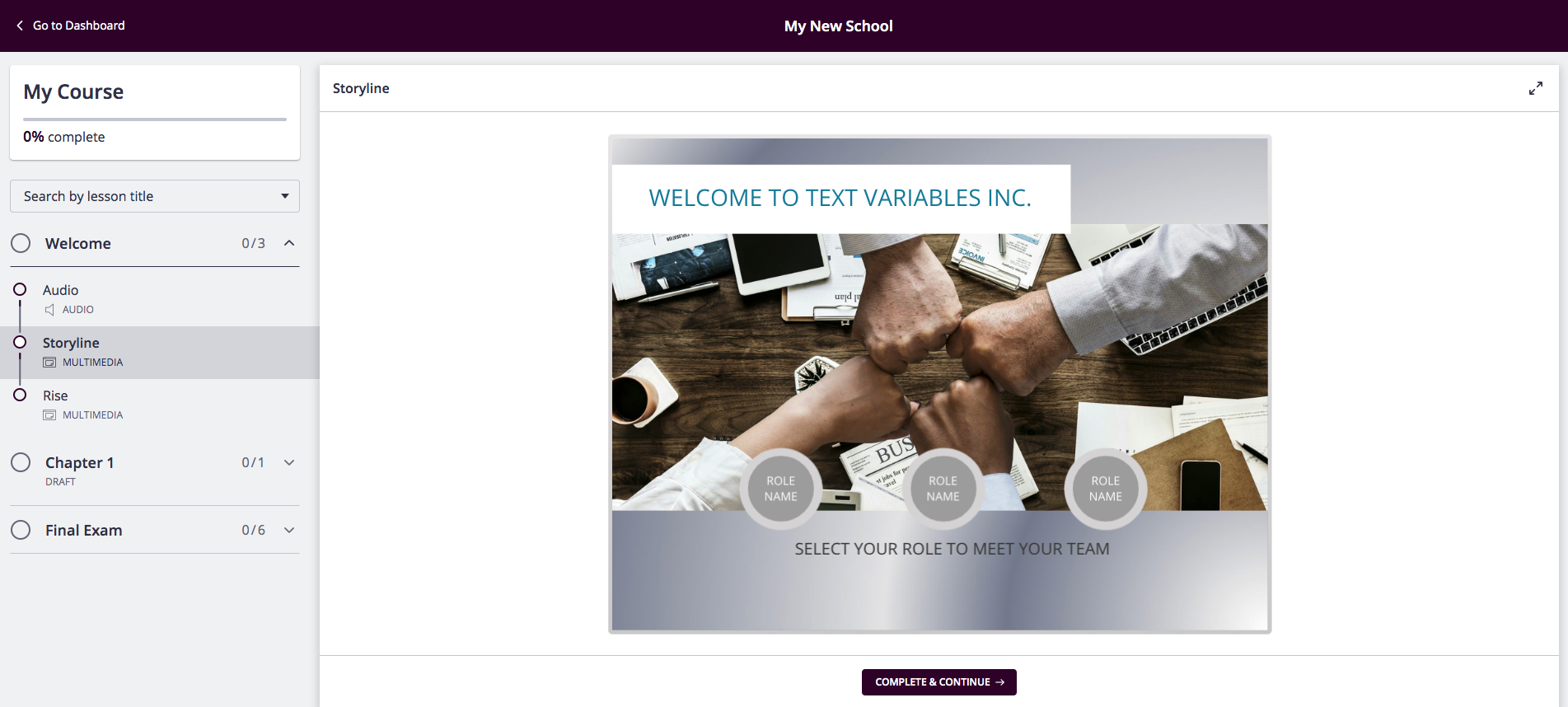 Rise can also be used, however, the default settings can create a double navigation menu due to our built in Course Player sidebar, which can cause some confusion for students when navigating through lessons.
To prevent this, we recommend using Rise's Sidebar Visibility feature to remove the sidebar from the course. This is an example of how Rise will look when the sidebar is not removed:

---
Is there a recommended frame size when exporting multimedia content?
The recommended frame size for web-hosted content is 16:9, as most computer monitors follow this ratio. That being said, the ideal frame size may depend on your content and the program you are exporting it from.
Why do students see a Complete button on Multimedia Lessons, even if they haven't clicked through all of the lesson content?
With Multimedia Lessons, the Complete button is always displayed. This is because the Rise, Storyline, etc. content doesn't 'talk' to The Thinkific Course Player to let it know when lesson content has been completed by the student. For this reason, the Complete button is shown so that students are able to advance to the next lesson after finishing any multimedia content.
More About Including Externally Hosted Content in Thinkific
Does Thinkific Support SCORM, Tin Can or AICC Reporting?