Connect PayPal to accept one-time payments for your Thinkific courses! When you're ready to get started, follow the instructions below to connect PayPal to Thinkific.
Currently PayPal can only be used for one-time payments from your users. To take full advantage of all of our pricing options, we recommend integrating with Thinkific Payments (and/or) Stripe, as well as PayPal.
In this article:
Important Considerations
You must have a Standard Business account to use our PayPal integration. If you have a personal account, you can upgrade in PayPal for free.
Your PayPal integration will default to USD currency. If you are only using PayPal, you will not be able to change this currency setting. However, if you integrate with both PayPal and Stripe, changing the currency in your Stripe integration will also change the currency for PayPal.

If you refund a customer via PayPal, it will not end the student's enrollment in your course automatically. You will need to do that manually by following these instructions

Only Site Owners will be able to set up/modify payments and payment integration settings. Ensure you are logged in to the correct account to make payment setting changes.
Get Started with PayPal
If you don't already have a PayPal account, you will need to first

sign up here

.

Y

ou will need a Standard Business account to integrate with PayPal.

If you already have a personal account, you can upgrade to the Standard Business account for free. Log into your PayPal account and find the

Settings

icon. Scroll down to the "

Account Options

" section, and select the "

Upgrade to a business account" link.


Connect PayPal with Thinkific
To connect PayPal, you will need:
An Email address

associated with your PayPal account

A PayPal Merchant ID
To Access Your PayPal Merchant ID
Note: If you are a Premier PayPal customer, the instructions below may not be the same for you. Visit their Help Center article on how to find your secure Merchant ID for instructions.
Click on your Profile and go to Account Settings
Click on Business information
Copy your PayPal Merchant ID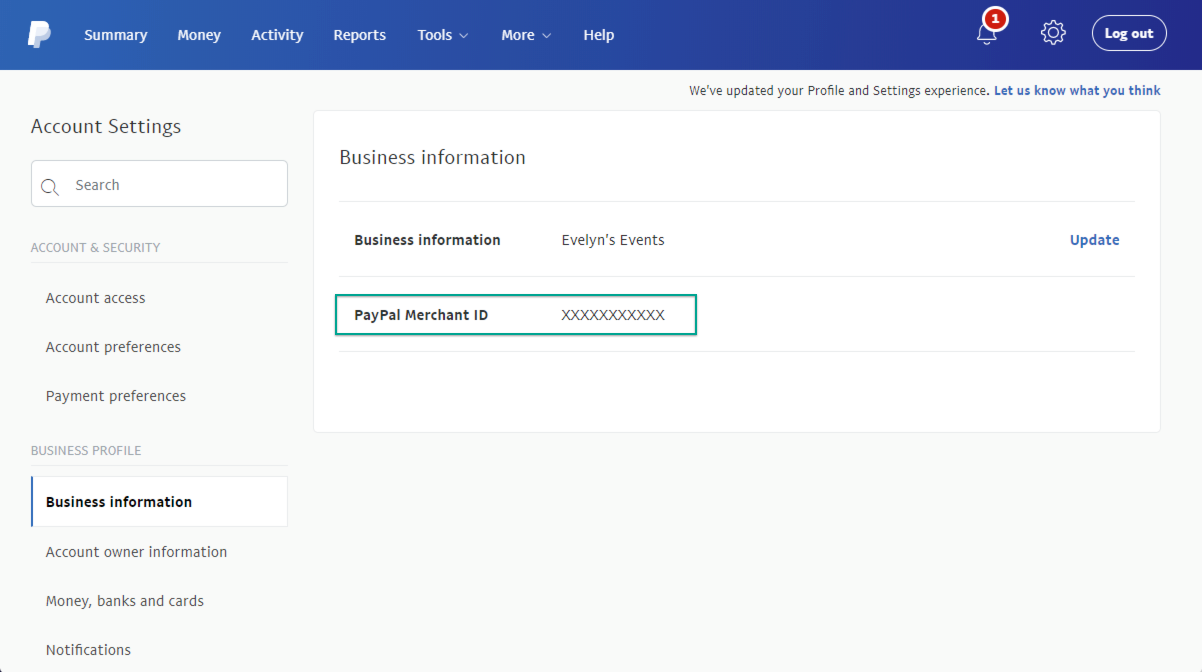 Your PayPal Merchant ID will be string of random numbers and letters around 13 characters long. Please note that it is case sensitive, and all letters are always in upper case — so make sure you are using only capital letters when entering the ID elsewhere.
Add Your PayPal Details to Thinkific
Login to your Thinkific site

You must be logged in as the Site Owner

Go to Settings
Click on the Payments tab

Scroll down to the

PayPal block, under Additional payment methods
In the PayPal email field, input the email address associated with your PayPal account
In the PayPal merchant ID field, input your PayPal merchant ID
Click Save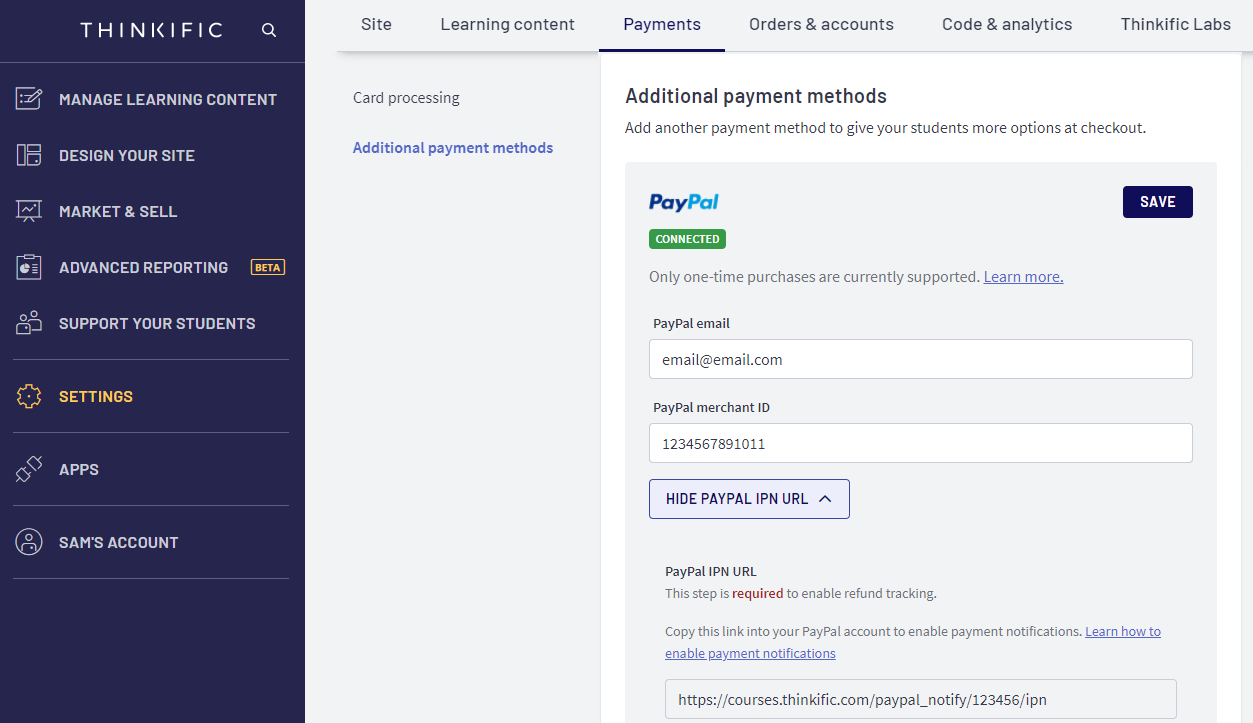 And that's all you need to do to be able to accept PayPal payments on your Thinkific site!
You also have the advanced option to add your PayPal IPN, but this is NOT required in order for you to take payment. This is only required if you want your PayPal refunds to show in our reporting. For more details on setting up your PayPal IPN, read the section below. If you don't need this, you're already done!
PayPal IPN URL
Instant Payment Notification (IPN) is a message service that automatically sends notifications about events related to PayPal transactions.
For example, once you add your Thinkific PayPal IPN URL to your PayPal account, PayPal can let Thinkific know when a refund is processed for a previous order.
Once you've saved your PayPal email and Merchant ID (see above), return to the PayPal section in Settings
Click Show Paypal IPN URL
Copy the link that appears


In another window/tab, go to

paypal.com

and log into your PayPal account

Click the Gear icon on the top right
Select Account Settings

Select Notifications in the left menu
Select Update to the right of Instant Payment Notifications



Select

Choose IPN Settings:



Finally, paste the link from earlier into the

Notification URL

field and make sure that

Receive IPN messages (Enabled)

is selected

Click

Save.


Now you've fully integrated your PayPal account with Thinkific - you can receive purchases and handle refunds from PayPal!
PayPal IPN Considerations
The Paypal IPN is good to set up as it helps with refund tracking - but it is not required to take payment via Paypal on your Thinkific site

If you refund a customer in PayPal, the IPN will be used to automatically update the amount paid in the order in Thinkific. This is helpful in keeping your reports accurate.
Payment Notifications
You have the option to enable Thinkific order receipts for your students and payment notifications in PayPal. Learn more in our article on Student Order Receipts and Payment Notifications.
Checking Out with PayPal
Once you have connected your PayPal account to your Thinkific site, your students will be able to select PayPal as an option at the checkout. Using our built in Paypal integration allows for allows for students to purchase using either:
Their credit/debit card; or,
Their own Paypal account
If you are using just the Paypal integration (and do not have any other checkout option like Thinkific Payments enabled), students at the checkout will see the option to buy with Paypal, and when they open the Paypal checkout, it will display options for them to either sign in to their Paypal account or make their purchase with their credit or debit card.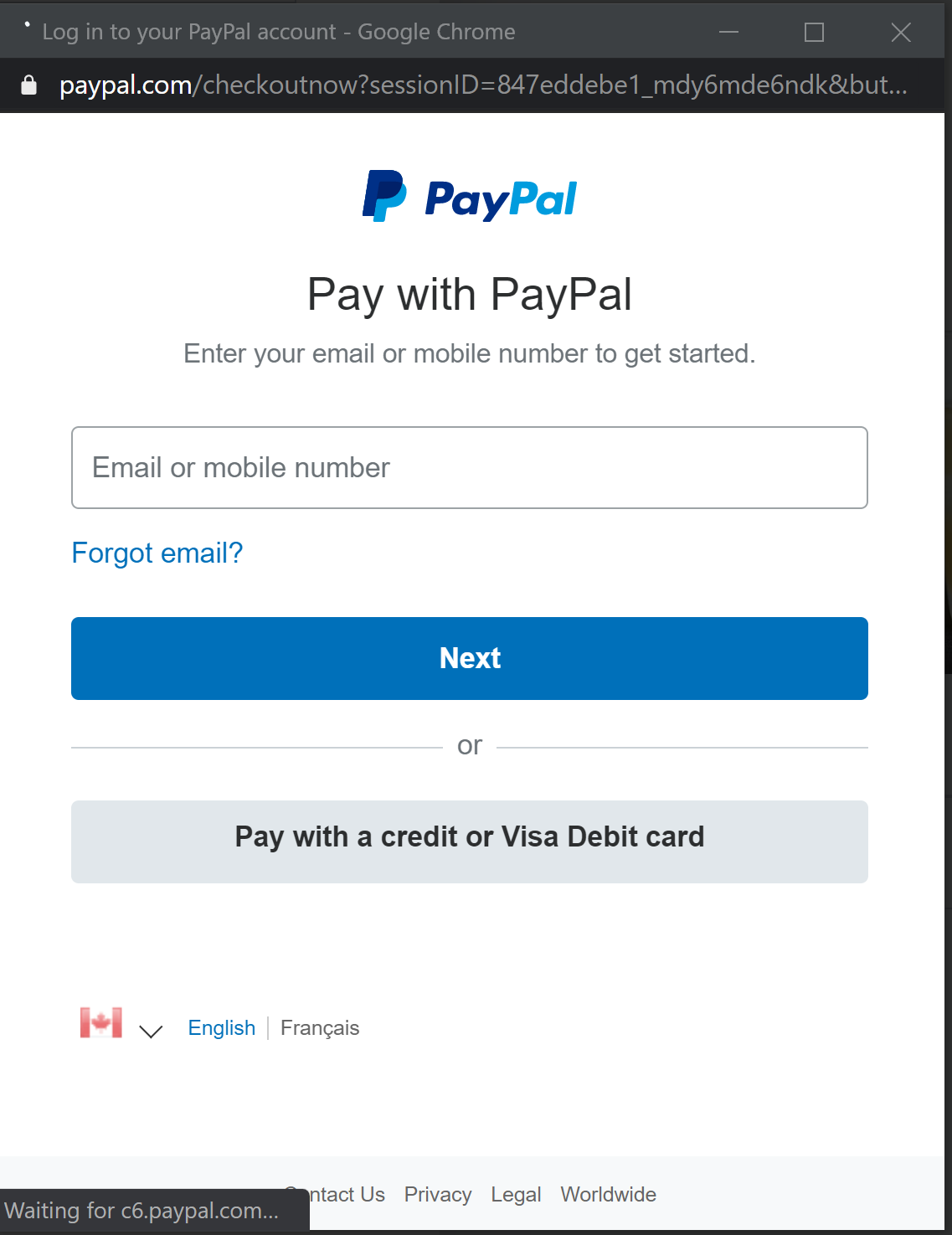 For more information on how the checkout looks and functions when you have both Thinkific Payments and PayPal connected, check out "If I connect with Thinkific Payments, can I use Stripe and PayPal to accept student payments too?".
Frequently Asked Questions
I've entered the wrong PayPal email address, what do I do now?
If you've accidentally entered the wrong email address when setting up your PayPal account, you can still receive the funds:
Log in to your PayPal dashboard
Click the gear icon in the top right to go to your Account Settings page
Under My business info, go to the Email address
Click on Update
On this page, click on the "+" sign in the top right
Add the exact email that was used in your Thinkific side PayPal integration (in this case, the mistyped email)
This is then logged as an alternate email address for your PayPal account, so you can still receive the funds that have been sent to the wrong email.

If you don't add an alternate email, the funds will be returned to the student after 30 days.
Will my students need to create a PayPal account to buy my course?
Yes, students will need to sign in to or sign up for a PayPal account.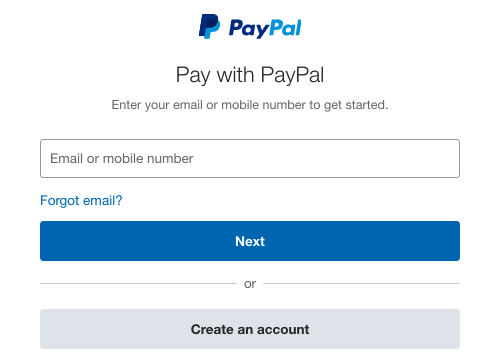 You may be able to enable student checkout without a PayPal account in your PayPal account setting. See PayPal's documentation on this for more information.
Does this integration use PayPal Express Checkout?
Why does my payment have a hold?
Why doesn't the PayPal pay option show up for Subscription or Payment Plan prices?
Can I use the same PayPal account for multiple Thinkific accounts?
Yes, you can use the same PayPal account to process student payments for courses hosted on multiple Thinkific accounts, however, you will need to allow duplicate invoice IDs in your PayPal account settings. For more information about how to set that up, please see our article: Can I connect the same PayPal account to multiple Thinkific accounts?
What are PayPal's Processing Fees?
You can view a list of PayPal's processing fees and other related fees on their Fees page.