Course reviews give students the opportunity to rate your course. They are a great way to get feedback on your course, and good reviews are also a great selling point for a course when added to a landing page as a testimonial!
---
In this article:
Using Reviews on Your Course Landing Pages
About Course Reviews
Course reviews are a way for you to get feedback directly from the students who are taking your courses. Reviews provide you with a general idea of what is and is not working in your course. Course reviews are also a potential source of trust-building testimonials for you to use when marketing those courses. The feature is designed to support both of these benefits, by giving you final say over which reviews are approved and published.
How it Works
To provide your students with the option to leave reviews, Course Reviews must be enabled on that specific course. Once reviews are enabled, any enrolled student will be able to leave a review; they will be prompted to do so at the end of each chapter, but they can also review the course directly from their student dashboard. Students do not have to complete the course to leave a review.
The default review setup includes:
A rating out of five stars
A review title
A generic comment box.
When a student submits a review, it appears in your admin panel. From there, you will be able to approve the review. Approved reviews are available to use as testimonials in the Social Proof Site Builder section, and the average of their star ratings appears on that course's course card.
How to Enable Course Reviews
In your Admin dashboard, navigate to the Support Your Students section
Click on Reviews
Use the Enabled toggle in the left-most column to enable reviews on your courses, as desired
Optional: You can also use the Enable All button to enable reviews on all the courses in the list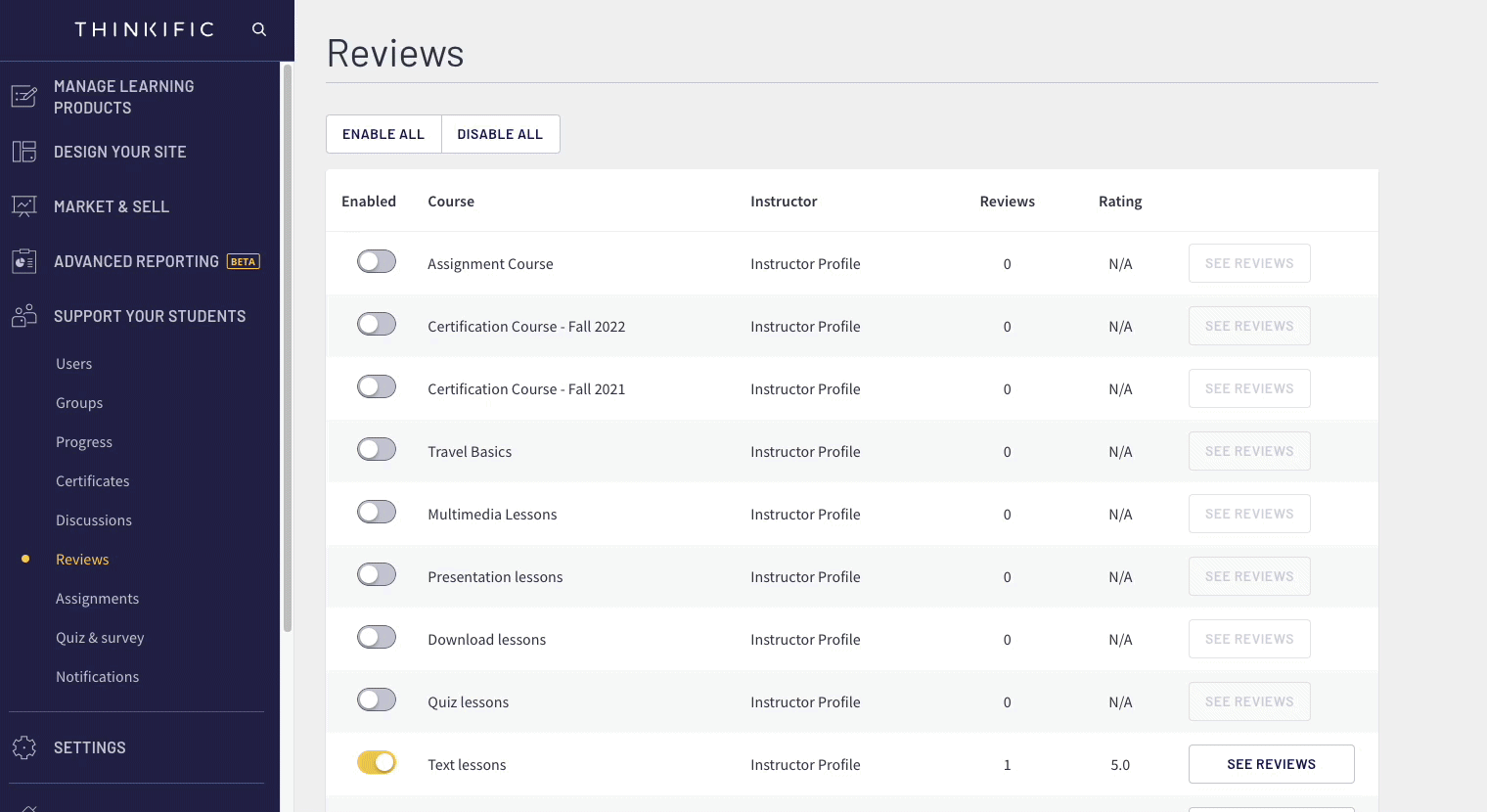 Once reviews have been enabled, students enrolled on that course will be able to submit a written review and rate it out of 5 stars. This option will be available from both their student dashboard and from within the course player, after completing all the lessons in a chapter.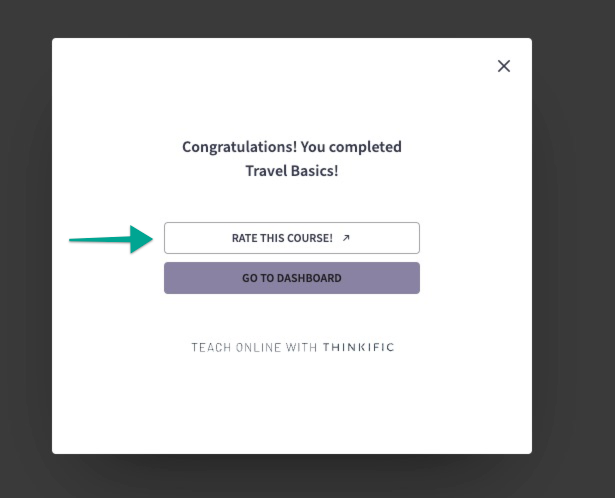 How to Approve Course Reviews
When a review is submitted, it is set as disapproved by default, which means it is not used to calculate the course's average rating. It is also not available in testimonial sections on your website.
To approve reviews:
In your Admin Dashboard, click the Support Your Students section
Click on Reviews
Courses with newly-submitted reviews will show a 'reviews pending' label
Click on the See Reviews button to see reviews for that course
Click the Approve button next to the review you want to approve
Optional: If you want to approve all the reviews at once, you can use the Approve All button at the top right of the list page
Once approved, a review can be added to your course landing page as part of the Social Proof: Testimonials section.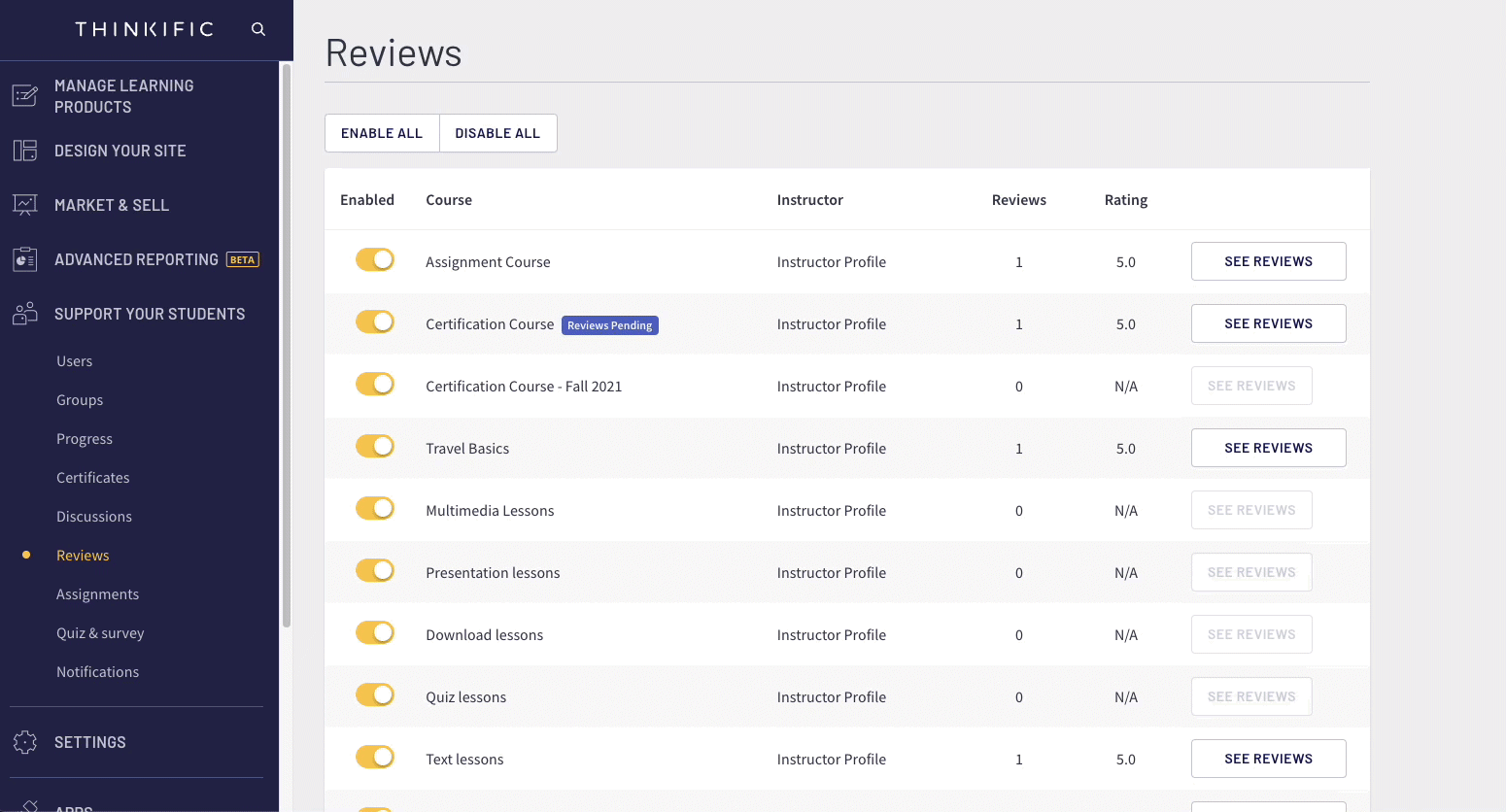 How to Edit Reviews
You are also able to edit reviews as part of the approval process; this can be handy if you want to use a quote as a testimonial, but need to clean up the spelling or punctuation. Substantially altering the meaning of a student review is not recommended.
Follow the steps above to open your Reviews section
From the Reviews section, click on the See Reviews button for the course whose reviews you want to edit
Click on the title of the review you want to edit; this will open up the review details
Make any necessary changes to the review title or review text
Optional: You can also approve or disapprove the review from this page
Click Save when you are done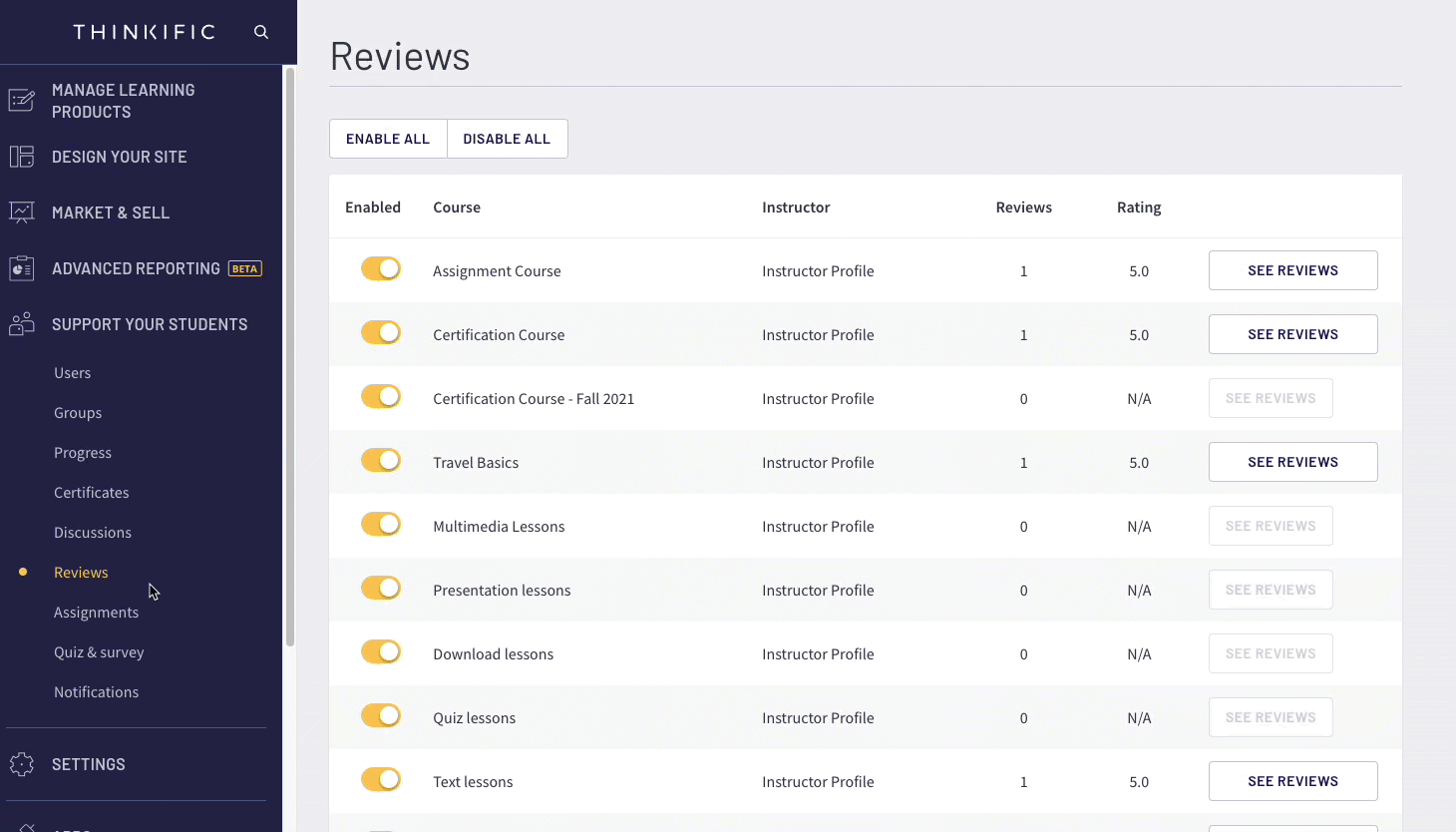 Using Reviews on Your Course Landing Pages
When you're editing your course landing page in Site Builder, you can add a section that can pull in an approved review for one of your courses. This will be displayed for anyone visiting the course landing page as a testimonial. Reviews are a great way to build trust and demonstrate value to potential students. For instructions on how to publish reviews to your site, read our article on the Site Builder Section: Social Proof (Reviews).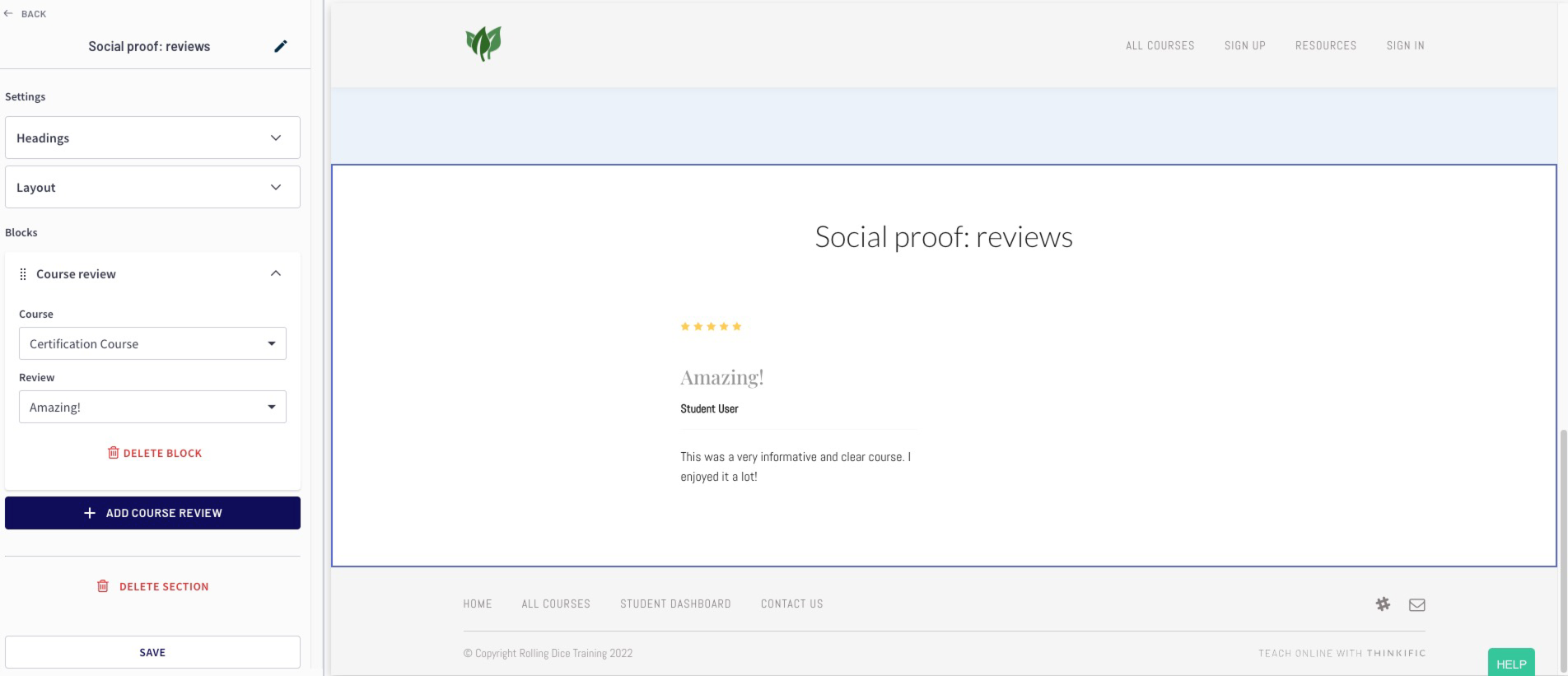 Frequently Asked Questions
Can a student write more than one review for the same course?
Only one review can be submitted for each course a student is enrolled in. If your student tries to access the review link after they have already submitted a review, they will be able to see their previously submitted response and make updates if desired.
Can I hide the "Rate my Course" popup once a student has submitted a course review?
Unfortunately, this is not currently possible. You can read more about this question, and some possible work-arounds, in this more detailed article.
Do course reviews carry over when I duplicate a course?
While course reviews do not automatically carry over when you duplicate a course, you can choose to display reviews from other courses in the Social Proof: Reviews Site Builder Section. For more information, see Can I use course reviews from a different course?
How do star reviews displayed on course cards?
The star ratings displayed on site pages (for example, course cards) are rounded up to the nearest whole star. For example, if your course has an aggregate rating of 3.3 stars, it will show up as 4 stars on a course card.