We've recently updated Thinkific Communities to allow you to create a community that can act as a standalone sellable product giving you the opportunity to generate new revenue! This article covers what you need to know about updating your site theme to support this new functionality.
---
In this article:
Why is a theme update required to sell my community?
Site Theme Features Included in This Update
Important Considerations for Custom Themes
What is a site theme?
A theme is a baseline set of style and layout options used to help you build a consistent, attractive web site. Every Thinkific site, no matter how fully customized, begins with a theme, and yours is no different!
You can learn more about our available themes and how they work here: Choosing a Theme for Site Builder
Why is a theme update required to sell my community?
We are always making improvements to our site themes to help optimize and add additional functionality to help your business. For communities in particular, we've made significant enhancements to our themes in order to support selling your community. This means everything from creating community landing pages to supporting communities in pricing sections, checkout and more!
A theme update is required in order to support all of this additional functionality on your Thinkific site.
Site Theme Features Included in This Update
Along with a few optimizations, here are some feature highlights that you'll see when updating your site theme to support selling communities:
A new fully customizable community landing page for each of your communities with community specific sections including a new banner, community overview and call to action section
All product and selling site builder sections and your checkout supports communities
In the Student Dashboard, community cards will have a "See overview" and "Open community" button and similar to courses. "See overview" will direct students to the community landing page.

Product cards now show an icon and the product type (course, community, or bundle)

Bundles have been updated to support communities, so you'll now see applicable communities included in your Bundle includes [smart section]
Your community banner default button is dynamic and will display messaging dependent on your visibility and pricing. For example, it will display "Buy" text if a visitor has not purchased your community and "Open Community" to re-access your community.
Private communities will display Interested in this community? Email us at [support_email_address] in your banner that can be customized in Modify text: Site.
The All Courses page accessible at yoursite.thinkific.com/collections has been updated to display "Products" instead of "Courses" by default. Note that your existing All Courses category will not be impacted, but if you'd like to make a general category for all of your products, you can always make a new category with a custom name and URL.
How to Update Your Theme
If you have made any edits to your theme code, please see Important Considerations for Custom Themes before updating.
Go to Design Your Site
Select Theme Library
On your published theme, select Update
Follow the prompts to complete the update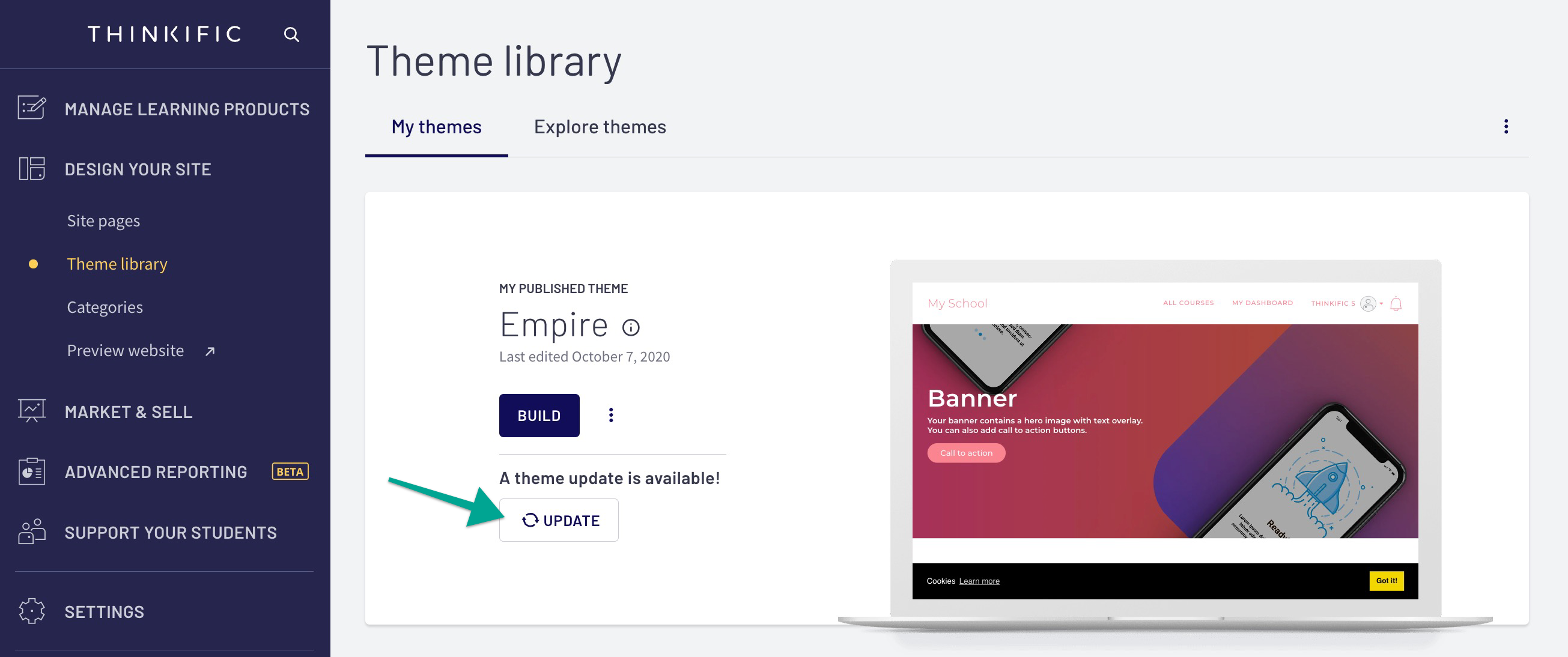 And that's it! Now you can get started preparing your community to sell.
Important Considerations for Custom Themes
When updating your Thinkific theme, any code customizations you have made will be overwritten and will need to be manually reapplied. This is because the update will install a fresh version of your theme files. We always recommend keeping a log of any customizations you've made to your theme code so it's easy to reapply them in your updated theme.
If you do have a custom theme, we have some recommendations to manage updates while ensuring a seamless experience for your existing students and visitors. Learn more here: How to Update Your Custom Thinkific Theme
If you have only been making changes to your site through Site Builder, then you can go ahead and update. All of your images, copy and sections will not be impacted.
Frequently Asked Questions
What if I don't update my theme?
What if I had customizations and accidentally updated my theme?
Will this update impact Apps installed on my site?
This update shouldn't impact existing Apps you have installed in your theme, but as every App has unique features, we recommend reaching out to the App developer if you have a specific concern.
I've been using PowerUp apps by Rob Galvin - will those be affected by a theme update?
No, PowerUps by Rob Galvin will not be affected by the theme update and will not be lost.
Can I share my community landing page on social media just like courses?