Students can post their course certificates on LinkedIn, Facebook, or Twitter and even share a direct link to a third party to verify their credentials!
New to Thinkific Certificates? Learn more here.
In this article:
Public Facing Certificate Page
Customize Your Certificate Page
Public Facing Certificate Page
Each Thinkific Certificate that is generated has a public-facing page that can be accessed by a unique URL. This page can be viewed at any time to see the current certificate details, expiry dates, and more! Any manual changes that are made to a certificate after it is issued will automatically be reflected on this public page.

Sharing Certificates
Thinkific Certificates can be shared directly with third parties using the public-facing page to verify the current state and information.
How to Share a Certificate as a Site Admin or Site Owner
Go to Support Your Students
Select Users
Locate your student and

click on their name
In the

Certificate Issued

column, select Edit for your desired certificate
Click View Certificate Page on the top right
How to Share a Certificate as a Student
Students will see their public certificate page as soon as they view their certificate. This can be done directly within the course or from their My Account page, which you can see in detail here.
Once a student views their certificate, they will see the following sharing options at the bottom of the certificate page to share with third parties: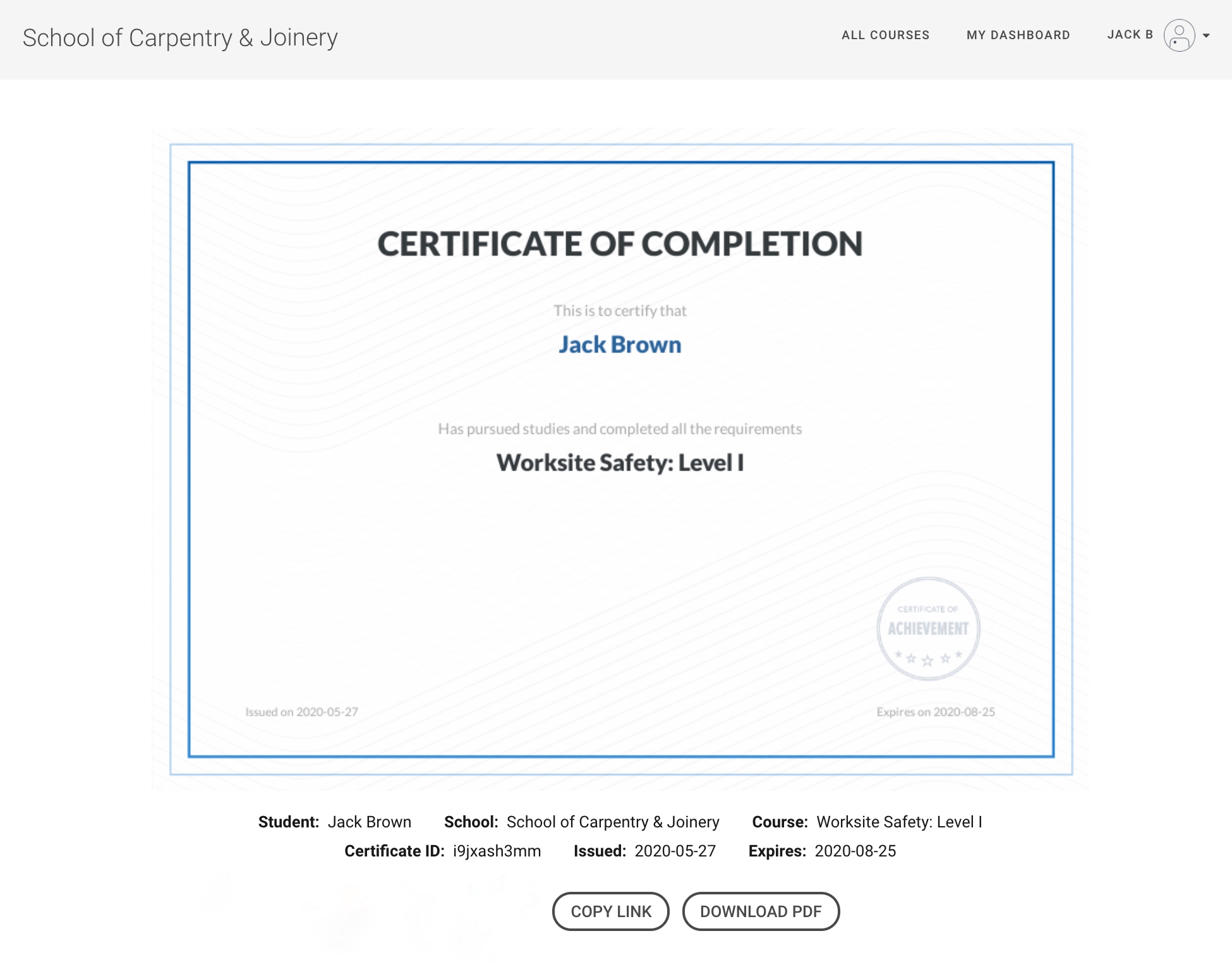 Customize Your Certificate Page
You have the option to customize sections that appear under the certificate if you'd like to add a call to action or display your courses! Since your students can share this page publicly, it's a great way to encourage visitors to check out your site.
This is available on Site Builder themes 1.16.3 and higher. See how to update your theme version here!
How to Add Additional Sections to Your Certificate Page
From your Admin Dashboard, select Design Your Site
In Site Pages,

select

Filter

and click the

Default pages

checkbox

Select the Student certificate page to open in Site builder by clicking the pencil icon
Under Sections, click Add section
Choose your desired section
Customize as desired and click Save
Check out Site Builder Sections to see available section options!
Expired Certificates
When a student's certificate has expired, this is also reflected on the public-facing page so third parties can easily see the current status! There will be a Certificate Expired heading on the page and the certificate will be faded: