We know that some creators might be running multiple types of products, or have products aimed towards different audiences. In this case, it might be useful to have different sites, with a different looks and feel, to avoid being limited by what you can do with your branding and audience interactions.
For example, if one of your products is aimed towards a teenage audience dealing with mental health, and your other product is for coaching business executives, the same site might not feel appropriate for both.
In this case, you have the option to create multiple schools. You can simply sign up for a second Thinkific site at www.thinkific.com!
Our plans are per site, so you will need to set up a separate plan for each school. Likewise, upgrading one site will not automatically upgrade the other. Although each account can only have one school assigned to it, you can have multiple schools under the same email address. This way, when you log in at www.thinkific.com, you'll be able to select which school you'd like to log in to from a list of your available schools.
If you need multiple sites, please contact us to discuss our Thinkific Plus plan and bulk selling options.
Why would I need multiple sites?
Thinkific sites enable you to manage and deliver your education programs to all of your stakeholders within one platform. Your reason for creating an additional Thinkific site depends on your goals. A few of our most common use cases include:
B2B Selling:
You can have multiple organizations on one Thinkific site and still provide a unique experience for their students; from having organization-specific groups to duplicating products. If your client's needs require the full Thinkific Experience to be branded for them, this feature becomes very powerful.
By having a unique Thinkific Instance for your client, you can:
Create custom domains to align with their company URL Customize site design, logos, and colors to match their brand
Email white labeling
Build unique automated notifications for their students
Offer different products for their stakeholders' needs
And much more!
Looking to sell multiple seats to a single buyer? Learn more about Bulk Selling.
Different Stakeholders
Are you trying to find the best learner experience for different types of users on one site? Are you wanting to make sure your internal employee onboarding is smooth while ensuring you can still properly educate your customers?
You don't need to sacrifice the experience of either type of user! Creating an additional Thinkific site for your different stakeholders can help take away the challenges of accommodating all of your users.
For example, you could have different sites for:
Internal employee training
Customer education
Membership site
Partner education
Selling products B2C•B2B (see above)
Multiple Languages
In some cases, you may want to expand your products to users in a new region, and therefore need to offer your full student experience in a different language. This can be done by creating an additional Thinkific site!
For example, your different sites could be named:
sportstraining.thinkific.com (English)
sportstraining-fr.thinkific.com (French)
sportstraining-spa.thinkific.com (Spanish)
Setting Up Your New Site
Instead of signing in on the Thinkific site, please click on Get Started For Free:
You will be asked to enter your details. If your email is the same as your first site, you will be prompted that the email already exists. Simply click Create new site: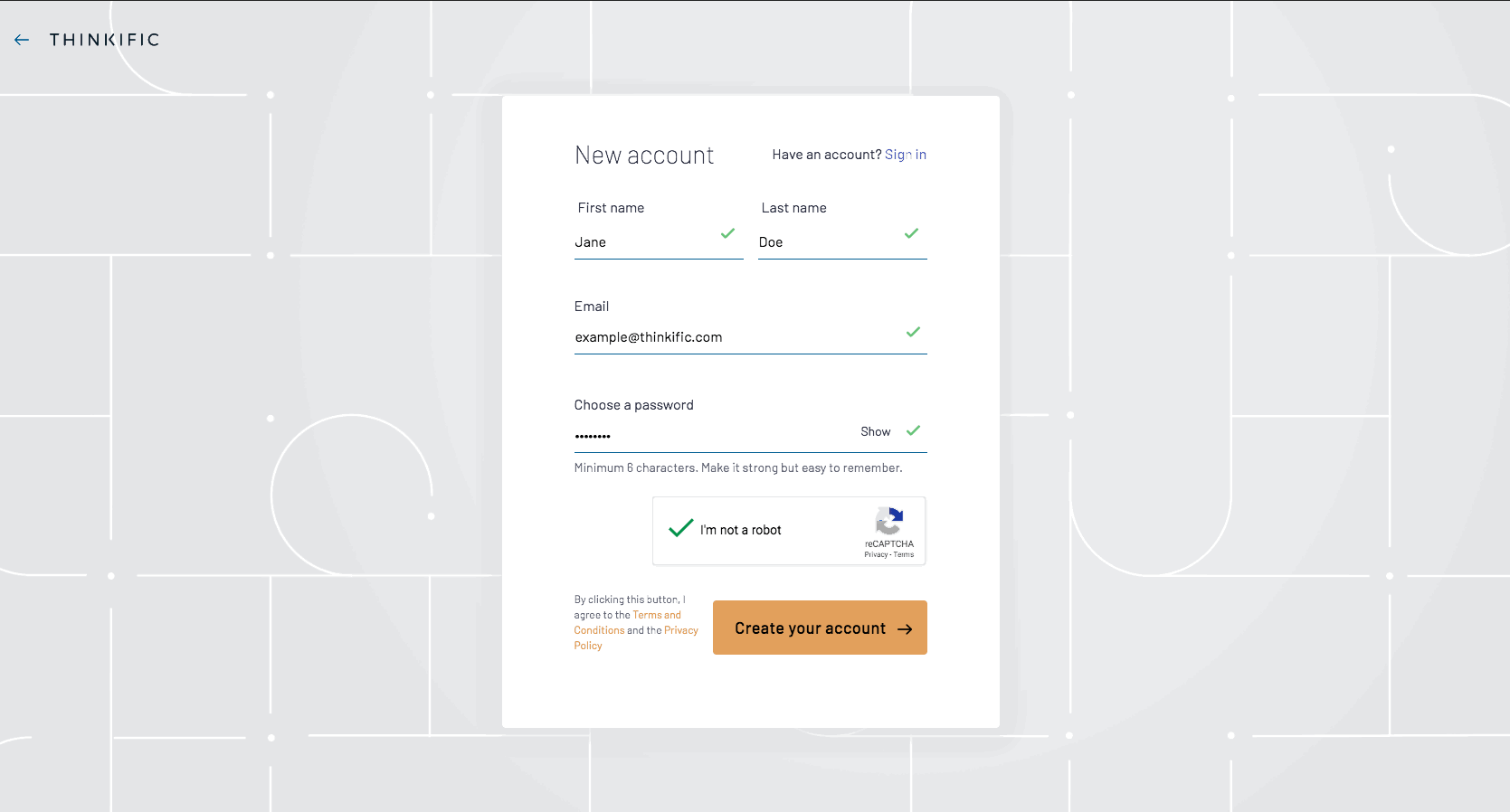 You can then go through the same steps as you did with your first site to create your school!
Frequently Asked Questions
How do I log in to multiple sites?
You can log into each instance by navigating to the unique site URL. If you're the Site Owner and your email is consistent across multiple sites, you can log into Thinkific.com to choose which site you would like to access.
Note that if you are a Plus customer, you also have access to our Plus Portal feature, which allows you quickly switch between all your connected sites.
How do I access data from multiple Thinkific sites?
Whether you're using multiple sites for branding B2B education portals, reaching users in different languages, or supporting employee groups with unique learning environments, the Salesforce Integration brings together all of your Thinkific user data in one place to create powerful, unified reports. Learn more about the integration here.
How do I track all my students across multiple sites without the Salesforce integration?
Since each site is not connected, you will need to manually add your current student numbers together to see your total current student count. Learn more about how to find the current student number for a specific site.
What if I don't want separate sites but would still like to separate my products?
If you don't think you need completely separate sites, another option could be to run multiple types of products on the same site and simply divide them up into categories. This might be useful if you are keeping a consistent brand, but have different audiences. For example, if you are creating a variety of yoga products, but have a series of classes that are specifically for pregnancy, you could group those products together into a category.
It really depends on how separate you need your products and audiences to be; e.g. would your products need separate branding (colors, logo, etc)? Are your audiences not linked at all? If so, then having separate sites may be your best option.
If you change your mind and want to close one down permanently, for simplicity's sake, send a quick message to our support team and we can help you out!
If you would like to discuss this further, then please feel free to get in touch!