Offering a Membership incentivizes your users to purchase your learning products with offerings like access to a private community, live Q&A sessions with you, and/or other exclusive, member-only content. Learn more about the basics of setting up a Membership in the article below!
---
How to Create a Membership
Unlock the full potential of your membership product by turning it into a membership site.
Increase engagement and revenue by providing exclusive content and community features to your members.
A Membership is a way to offer your users access to multiple courses and/or communities, all in one package.
With a Membership package, you can create content that builds on itself - for example, if you are adding new courses every month, you can simply add these to your existing Membership for subscribers to automatically receive new content!
Getting Started
If you have not already, connect Stripe or Thinkific Payments to accept recurring payments
Go to Manage Learning Products
Select Memberships
Click + New Membership
Name your new Membership
Click Create Membership
Add all of the courses and/or communities you want your students to be able to access within the Membership
Set a subscription price for the Membership.
Keep in mind that this price will give access to all of the products included in the Membership.
Once you have set up your bundle, go to the Publish tab, and publish your Membership!
If you do not publish your Membership, changes you have made will be saved in draft mode and will not be available to your users.
For more detailed instructions on creating a Membership, check out The Thinkific Membership Builder.
Subscription Pricing Tiers
You can create a single Membership for an all-access membership site, or create several Membership packages if you'd like to offer different tiers of subscriptions for members to choose from when signing up.
For example, a membership site could offer Bronze, Silver, and Gold packages. A Bronze package may only offer access to certain courses and your private community, while the Gold package would offer access to all courses/bundles, your private community, 1-on-1 coaching sessions, and exclusive discounts for products you're affiliated with.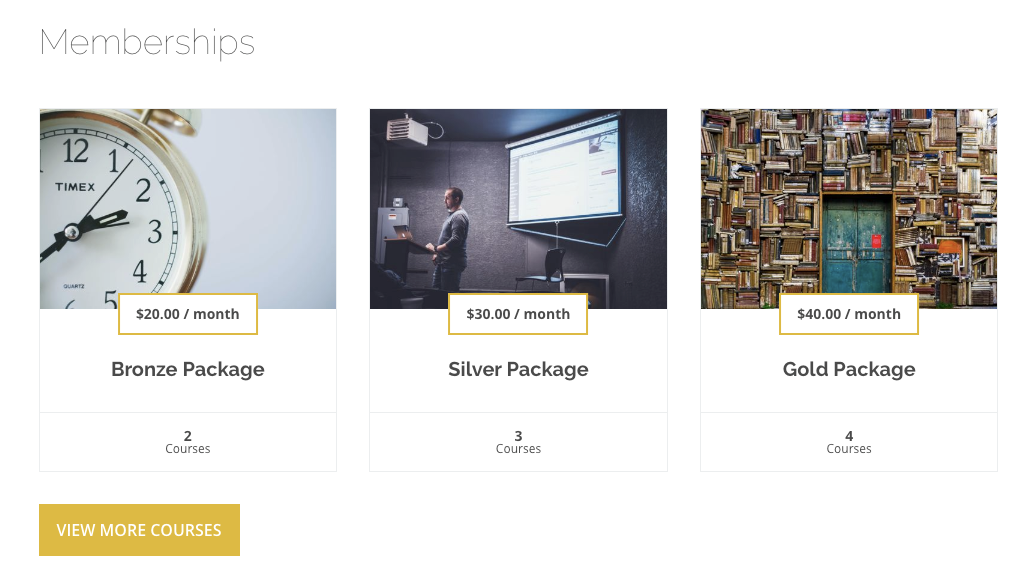 If you would like to create multiple tiers, you can simply create multiple Memberships! Each tiered package would be created as a separate Membership, and then displayed on your home page for your customers to choose from.
We're busy making updates to Memberships behind the scenes, but if you have feedback about what you'd like to see with your Memberships, we want to know! Please send us a quick email to let us know what functionality would be most valuable to you!