When integrating with Stripe or PayPal, students can pay and enroll in your course using the Thinkific checkout!
We currently have a single page checkout available as an opt in A/B test. If you are interested in trying it out, check out Early Access: New Streamlined Checkout!
In this article:
Setting Up Your Checkout (Video Overview)
Setting Up Your Checkout (Video Overview)
Looking for more video content like this? Enroll in the free Thinkific Fast Track Training course or check out some of our other high-quality training content.
About This Feature
The Thinkific checkout allows your students to purchase and enroll into your courses seamlessly. Students can sign up with their email address, input their payment details and immediately access their course when going through the Thinkific checkout!
How It Works
To get started using the Thinkific checkout, all you need to do is integrate with Stripe or PayPal and set your course pricing! Then you can simply link any call to action buttons to your course checkout and students can start purchasing your course.
Two Page Checkout
Thinkific currently has a two page checkout process:
The first page is account creation, where the student will fill out their first name, last name, email address, password and any custom fields you have created
The second page is where they will input their payment details and any coupon codes if applicable
Single Page Checkout
We have just released a Single Page Checkout A/B Test that you can opt into if you would like to streamline your checkout! The new Single Page Checkout was built from the ground up with the goal of converting more of your visitors into students.
Students have the option to save their card details when purchasing courses or bundles with one-time payment pricing. Card details will be saved automatically when students purchase courses or bundles with subscription and payment plan pricing.

Returning students whose card details were saved can complete additional orders with a simplified checkout and have the option to update the current credit card if needed: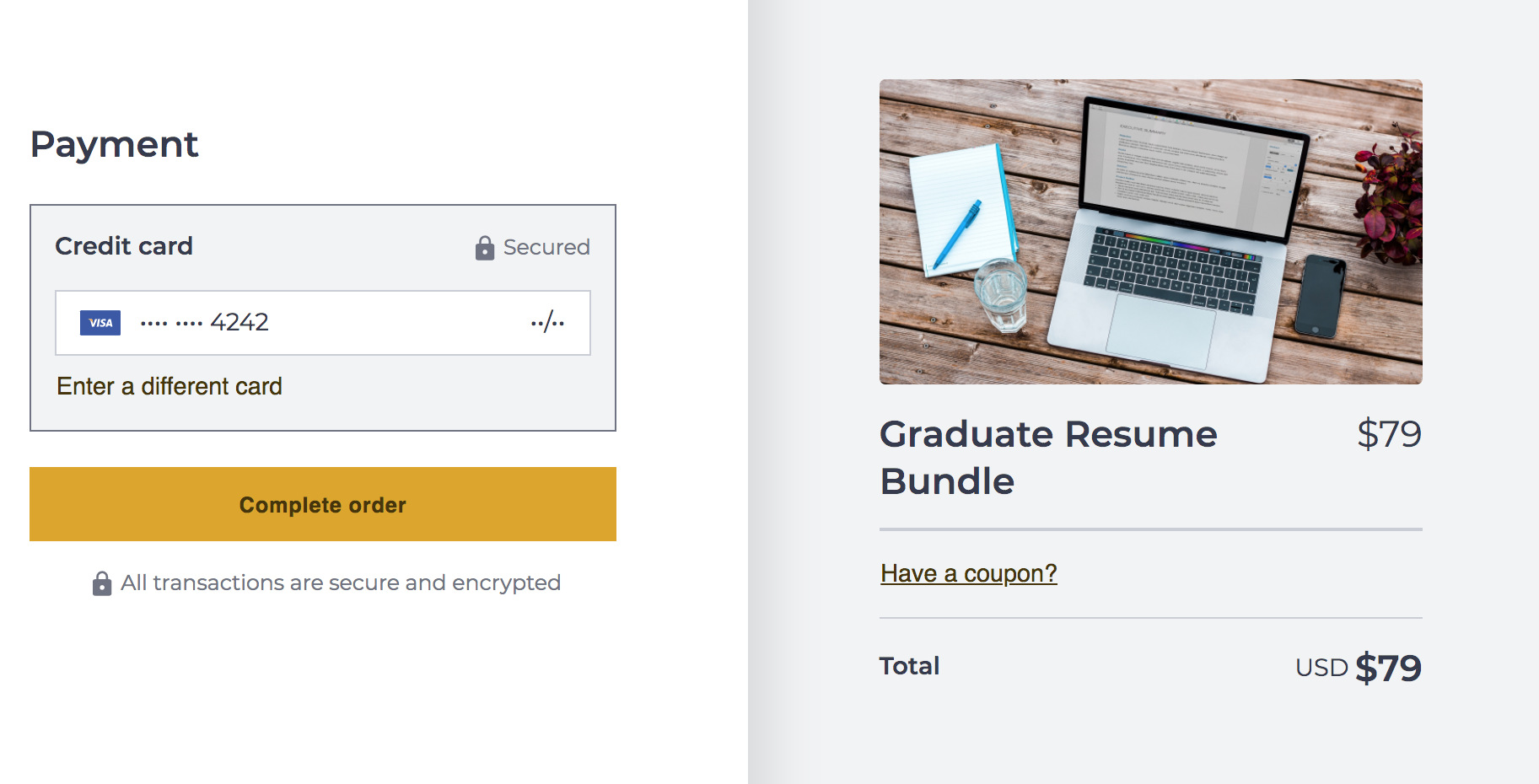 Single Page Checkout Differences
There are a few important differences between the default Two Page Checkout and the Single Page Checkout:
The site header and logo are not visible in the Single Page Checkout
You cannot currently use Site Builder to add sections to the Single Page Checkout
The Single Page Checkout will not display the course description
Site footer code does not run on the Single Page Checkout
T

o help optimize this checkout, t

he design and checkout flow of the Single Page Checkout may be updated more frequently in comparison to the Two Page Checkout
You should consider these differences and any impacts they might have on your student experience before opting in to the Single Page Checkout A/B test.
How to Opt In to Single Page Checkout
To learn more about this A/B test, check out Early Access: New Streamlined Checkout.
Go to Settings
Select Streamlined Checkout in the left menu
Under NEW: Streamlined Checkout, check off Opt in to the test
Click Save

If this option is missing from your settings, make sure you currently have SSL enabled on your site.
After the Checkout
Once a student purchases a course, they will immediately be taken to a default Thank You page where they can click to continue straight into your course content.
If you would like to customize the Thank You page or send the student to a different page after checkout, try out our After Purchase Flow feature!
Important Considerations
If you have any feedback on our checkout or would like to submit a feature request, send us an email here!