PDF lessons allow you to easily upload PDF content for your students to view directly within the Thinkific Course Player!
---
In this article:
PDF Lesson From Your Student's Perspective
PDF Requirements and Recommendations
How to Create a PDF Lesson
Go to Manage Learning Content
Select Courses
Click on a specific course in the Course Overview
You will now be in the Course Curriculum area of the Course Builder
On the left-hand side, click Add Lesson
Select PDF
Name the Lesson Title as desired
In Uploaded PDF file block, Drag & Drop your desired PDF or click Select Files to locate the file on your computer
Click Save


PDF Lesson From Your Student's Perspective
Your PDF Lesson will now be viewable directly within the Course Player! You can always test out what it will look like by Previewing Your Course as a Student: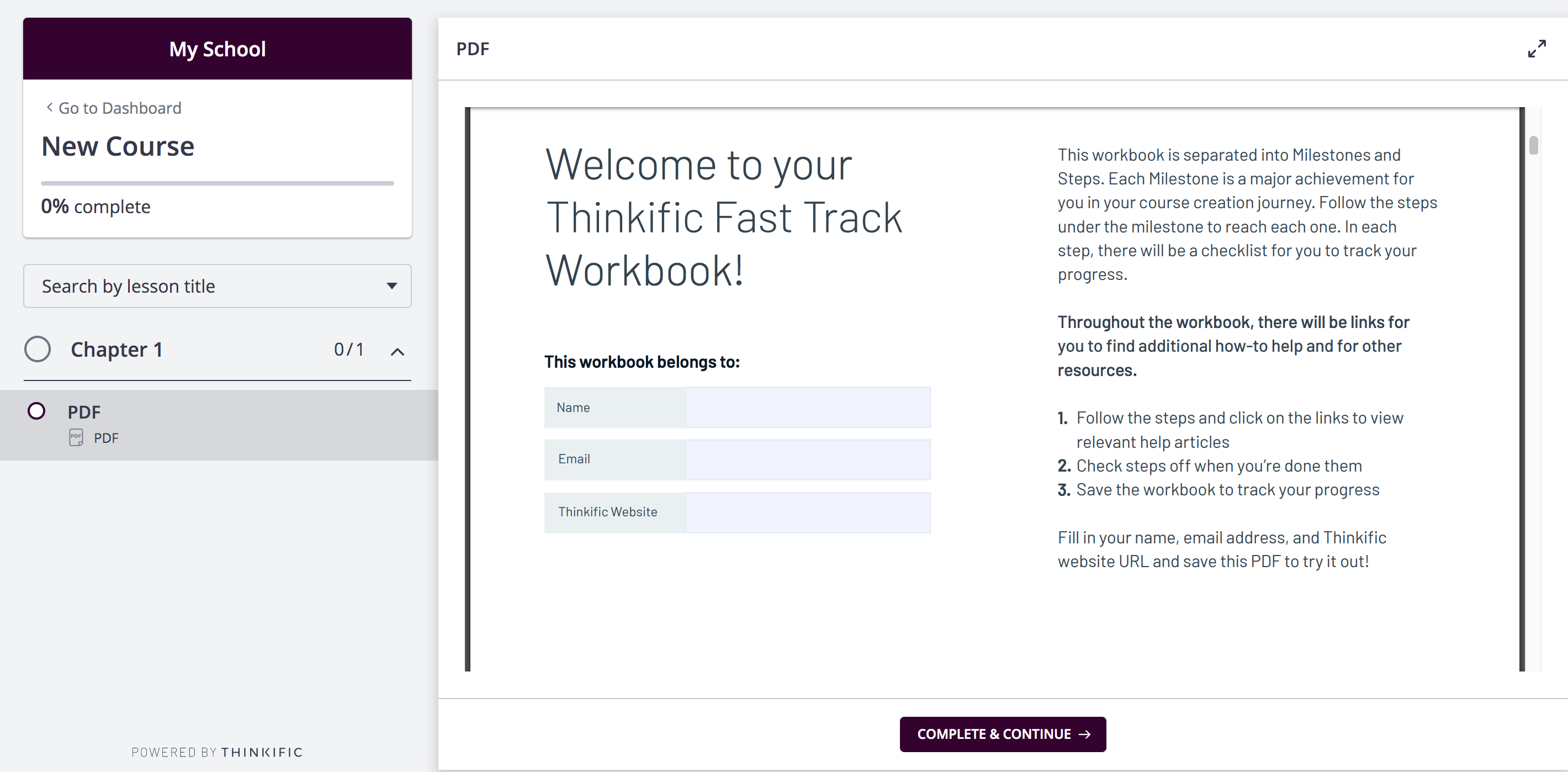 PDF Downloads
By default, your PDF content will be downloadable when you first create your PDF lesson. If you would like to disable PDF download for this lesson, you can uncheck Make this PDF Content Downloadable:

When PDF downloads are disabled, we use a third party PDF viewer called PDF.js. The reason for this is that by default, internet browsers recognize PDF file format and will allow your students to download or print PDF content loaded in their browser. To prevent this browser behavior when you have disabled downloads, we used a third party viewer within the Course Player which allows us to disable all download options.
PDF Requirements and Recommendations
We limit PDF lessons to 25MB to provide the best viewing experience to your students, who may be accessing your course with slow internet connections or mobile devices. For delivery of larger files, use the Downloads lesson type instead for large file delivery!

A good best practice for longer PDF documents (ie: ebooks) is to break them into multiple PDF files based on lessons or chapters, rather than one large document, and to compress files prior to delivery using a tool like smallpdf.com. You can then add discussions, quizzes, and other content items to turn your ebook into a fully interactive course.