As of September 8th, 2021, we automatically activated SSL for all Thinkific sites that didn't already have SSL enabled.

This small change is a huge improvement for the security of your site and information and will help improve trust with your site visitors.
What is SSL?
A "Secure Sockets Layer" (SSL) certificate is a technology for making sure that the internet connection between a web page and its visitors is kept completely secure. If the page you're visiting has an SSL certificate applied to it, you can be sure that any confidential information being transferred (passwords, credit card information, and so on) is kept completely safe and cannot be intercepted or stolen.
You'll know when you're on a page with an SSL certificate because the URL will start with HTTPS (rather than HTTP). You'll also see the little green padlock (the icon for SSL) next to your browser's address bar:

Seeing the SSL certificate on your Thinkific site builds trust with your customers. When they see the padlock, they'll know that their information is safe and your business is trustworthy.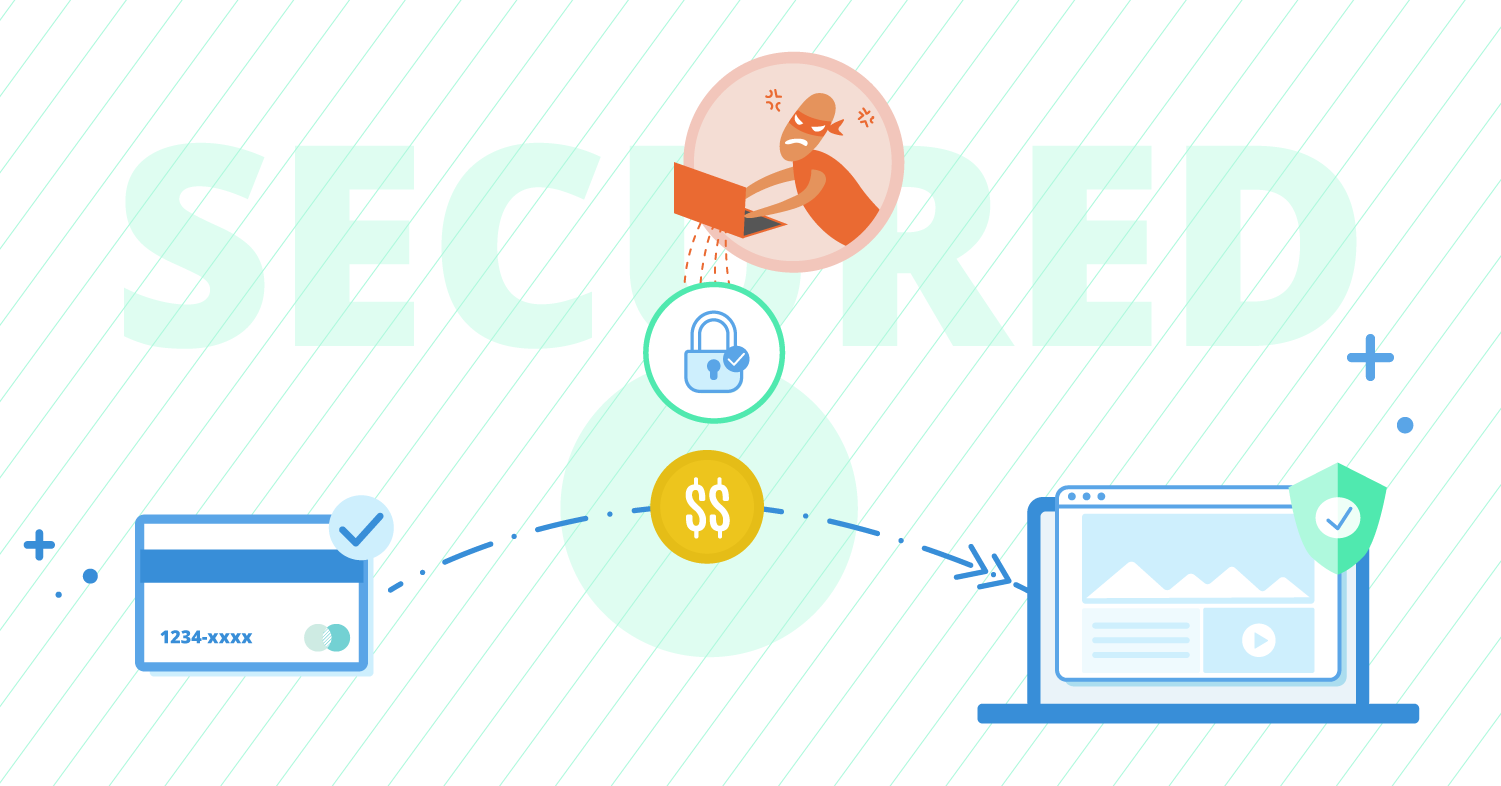 Do I need to turn SSL on for my site? 
No. All Thinkific sites have SSL automatically activated.
The only time you will ever need to activate your SSL certificate manually is if you have previously contacted our Support team to temporarily disable SSL.
If you have contacted Support and had your SSL disabled, and would like to turn your SSL back on again, you will see the option to enable it within your Site Settings: 
Go to Settings
Select Site URL in the left menu
Under SSL Certificate, click the toggle beside Activate SSL
And that's it!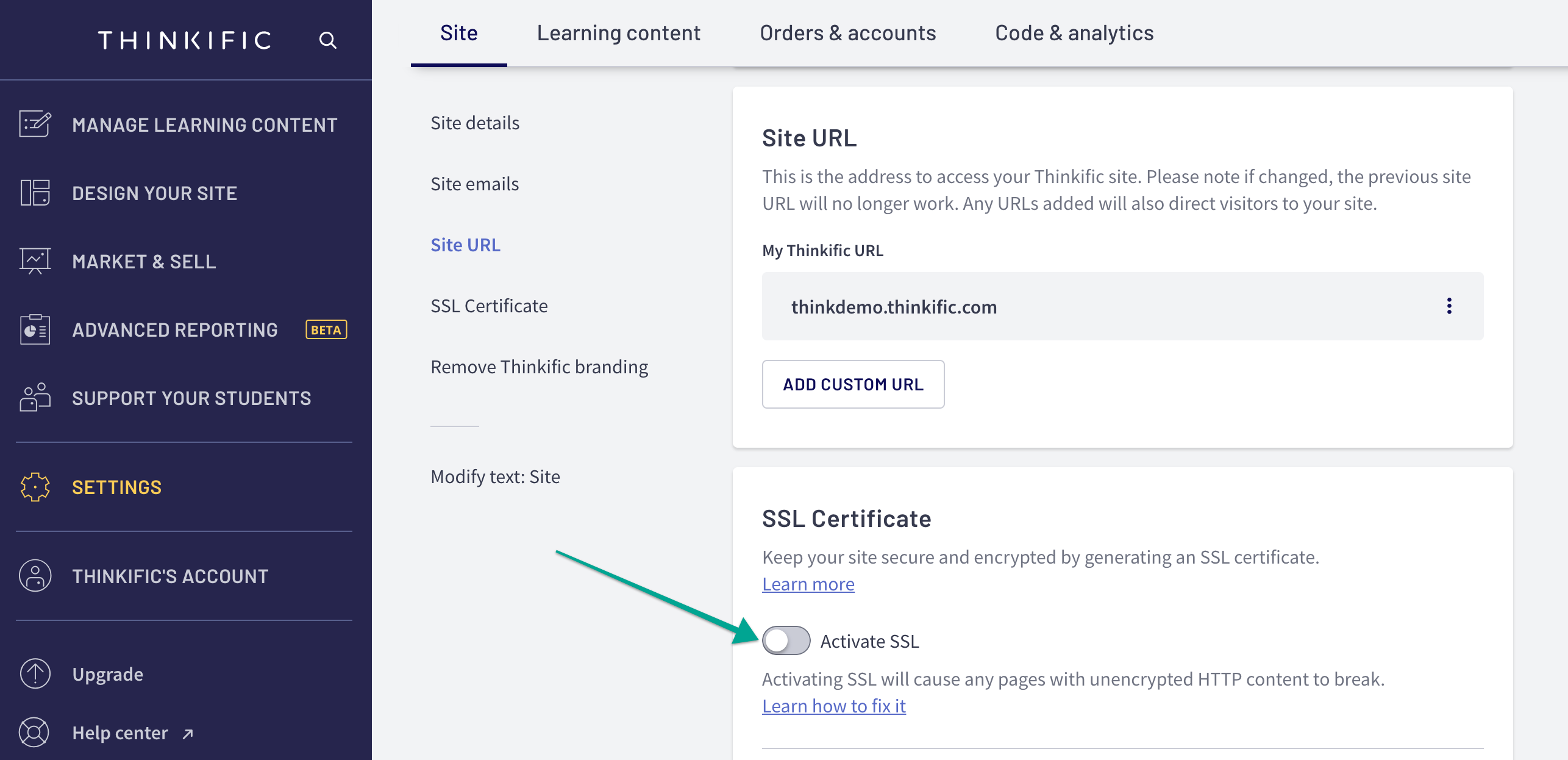 We'll auto-generate an SSL certificate for your custom Thinkific URL via Let's Encrypt.
You'll then see the little green padlock the next time you visit your site at your custom URL! If you try to visit your site via an HTTP link, you'll be automatically redirected to HTTPS. This switch means that your site pages will always appear secure for your users.
Important! Before switching SSL back on, make sure that all of the content you're using is secure.
If you're linking to any insecure content on a page, it will no longer be available once you switch your site to HTTPS. People who still try to access this content after your site is SSL secure will see this scary security warning from their browser:

How to avoid this:
If you're linking to any content hosted outside of Thinkific (e.g. images and videos hosted on other sites) make sure that you're using an HTTPS link. It's as simple as taking the link you're using and adding HTTPS to the beginning:

Tip: To make it as easy as possible to keep your site secure, avoid hotlinking to images in your course description, instructor bio, etc. Most fields within Thinkific include an 'Insert Image' button - use this feature to upload directly to Thinkific. Doing so ensures the content will be added in using an HTTPS link:

If you're having trouble switching your SSL back on due to insecure content, we have a troubleshooting article here.
Frequently Asked Questions
Can I use my own certificate instead?
Absolutely! Our auto-generated certificates are perfect if you're just getting started, but if you already have your own SSL certificate for your domain that will also work with your Thinkific site. Custom SSL certificates are a feature of our Expand plan and above. If you're interested in using a custom SSL certificate for your site, visit this page for more information.
When will my certificate expire?
It won't! The certificates last for 90 days and are automatically renewed 30 days before expiry, ensuring that your site stays safe and secure forever!