Create a simple 2-step funnel with a new and improved Sales Page that leads to your checkout.
---
In This Article:
How to Create a Sales Page Funnel
How to Edit and Customize Your Funnel
How to Publish, Preview, and Share Your Funnel
Need assistance with bug reporting, functionality questions, or feedback? Reach out to us via email at funnels-program@thinkific.com. You can also share your feedback through our Thinkific Funnels feedback form.
About This Feature
The Sales Page Funnel transforms your product page into a more robust marketing asset by incorporating AI-generated marketing copy. What sets it apart from conventional product pages is the inclusion of additional content sections, which not only improve your search engine optimization (SEO) efforts but also offer ample space to emphasize the advantages of your course. This means that you can provide potential students with more detailed information and compelling reasons to choose your course, all within a single, strategically designed page.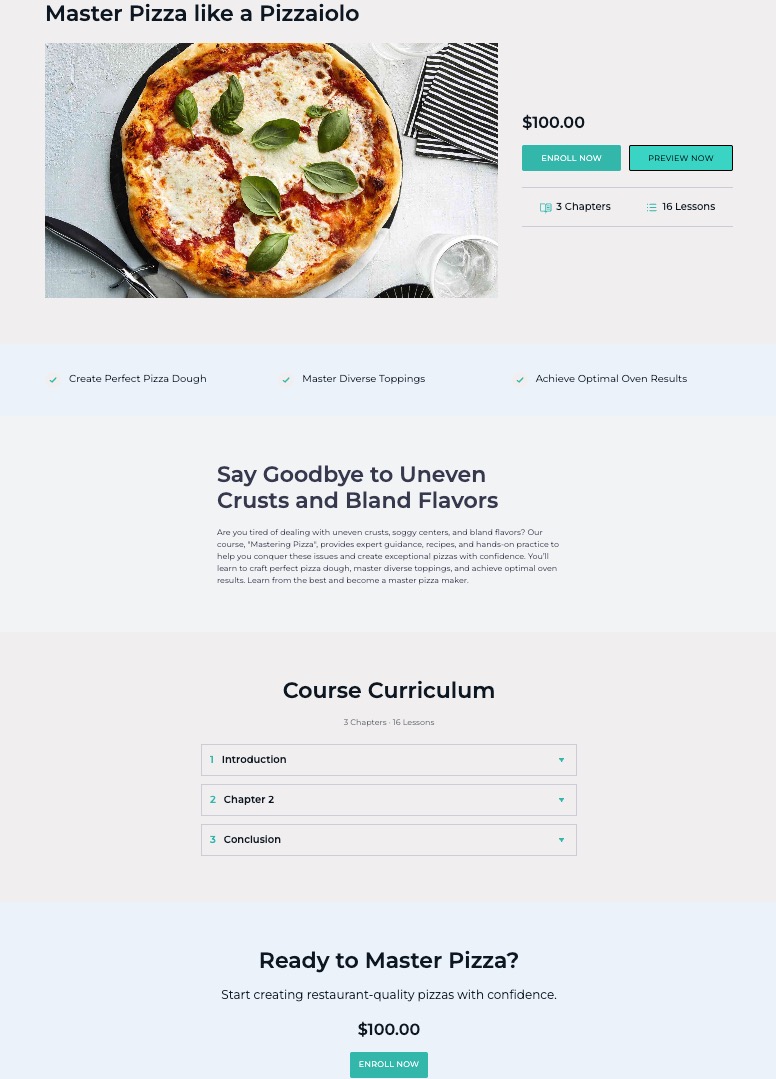 How to Create a Sales Page Funnel
Follow the set-up prompts to create your new funnel as it guides you step-by-step through creating a funnel flow. Once you have completed the set-up, the prompts will generate a separate landing page and a funnel flowchart for your Sales Page Funnel.
Select Market & Sell then Funnels from your Thinkific Admin Dashboard
Click + Create Funnel then, Choose the Sales Page Funnel
Select a Course to offer from the dropdown menu and click Next.
Select the Knowledge Level of your audience based on your audience's familiarity with your course topic and click Next.
Input information about your target audience in the textbox provided and click Next.
Share details about who they are, what makes them tick, what motivates them, etc. The more details you provide, the better!

Input information about what problem(s) your course is trying to solve in the textbox provided and click Next.
Provide details about the challenges or frustrations your students commonly experience and how this course can help them.

Input information about the outcome students can expect from the course in the textbox provided and click Done.
What will students learn from the course? How will the course benefit them? What specific blockers will students overcome?
Click Done to create your funnel
How to Edit and Customize Your Funnel
Once a funnel flowchart has been generated you will be directed to the Funnels Flow tab where you can customize the content at each stage of the funnel to align with your brand. Funnel stages with text copy requiring customization will be marked with an Action required: review content prompt.
Stay tuned as we work hard to bring you more ways to customize your funnel.
How to Update Your Course Offering
Go to your Funnel Settings
Use the dropdown menu under Course to change your lead course offering 
Click Save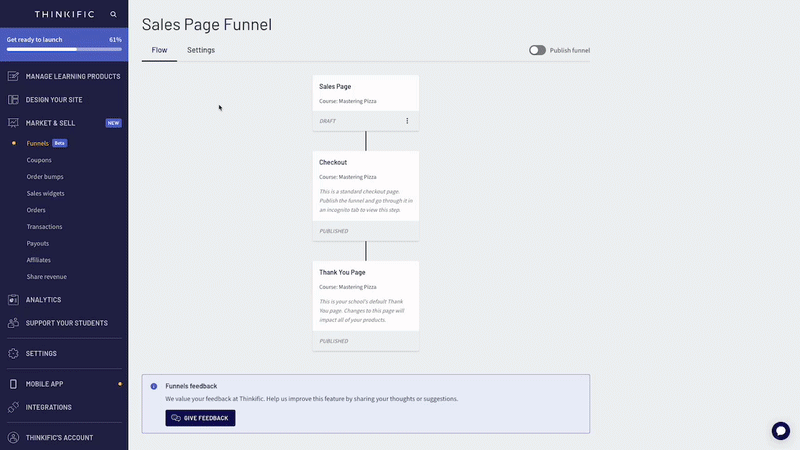 How to Delete a Funnel
Before you delete your funnel, make sure to remove any URLs from your marketing activities that would direct traffic toward the funnel, as it will no longer be accessible. Once you delete a funnel, it cannot be recovered.
Go to your Funnel Settings
Click Delete This Funnel
Check-off I have removed all top of funnel references to this funnel's URL
Click Delete Funnel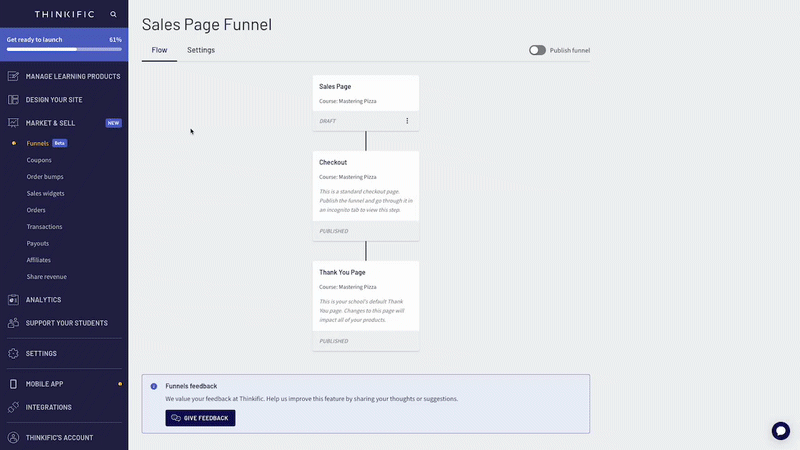 How to Edit Text
Click on any text box on your landing page
Customize the text to align with your brand
Click Save Draft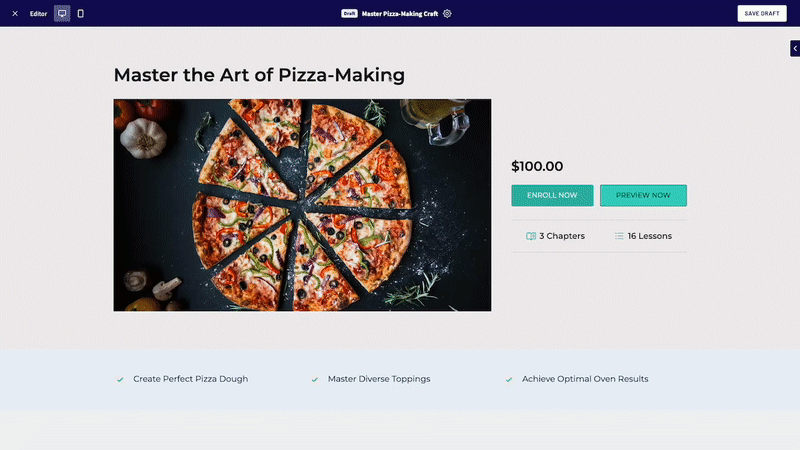 How to Update an Image
Click on the media field on your landing page
Select Image and click Upload
Click Select Files to Upload
Select the image you want to use and click Open
Optional: Crop, circle, or rotate the image then click Save
Click Upload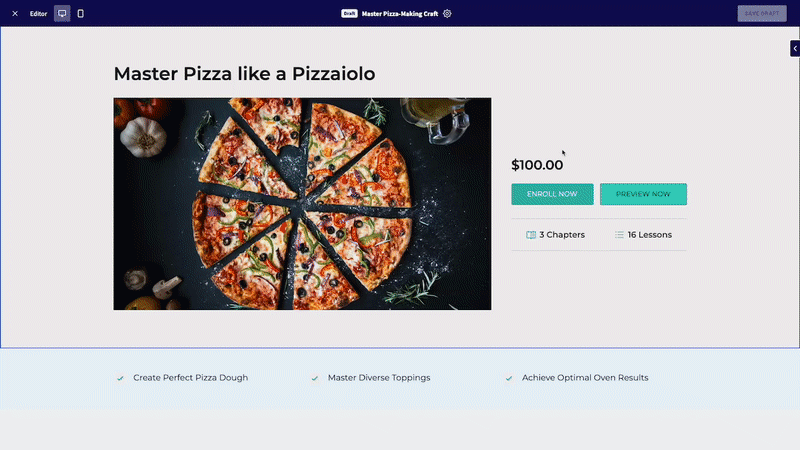 How to Add a Video
Host your video on Youtube or on another video hosting site
On Youtube, click on the share button and copy the link
Select Market & Sell, then Funnels from your Admin Dashboard
Click on the Sales Page card
Click on the placeholder image
Select Video then paste the link to the video under Video URL
Optional: Upload a video cover image
Click Apply
Click Save Draft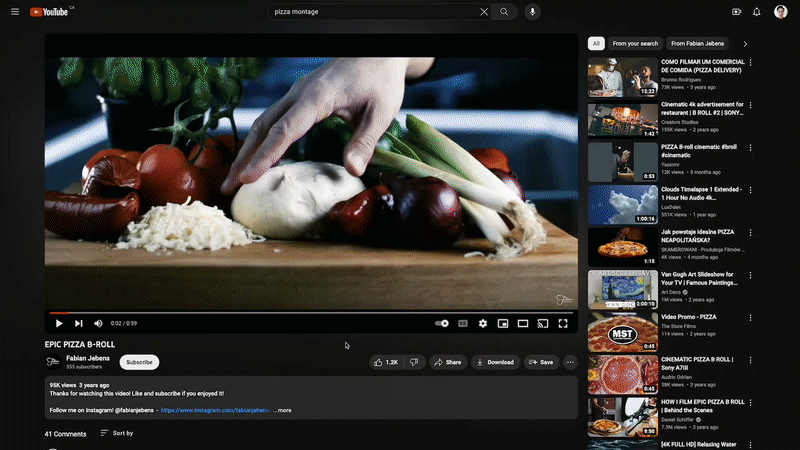 This is a standard checkout page. Publish the funnel and go through it in an incognito tab to view this step.
This thank you page is your school's default thank you page. Changes made to your default thank you page within Site Builder are not specific to this funnel and will be reflected in all products purchased through your school.
How to Publish, Preview, and Share Your Funnel
After customizing your funnel, you can easily publish it by toggling on the Publish Funnel toggle located at the top right of the page. Once activated, a URL will be generated, which you can copy and share with your audience on any social platform to direct them to your funnel.
You also have the option to Preview Funnel to see your funnel from the student experience. To test your funnel, you will need to create a test student account and sign up through your funnel.
Learn more about How to Create a Test Student Account