Thinkific Communities allow you to bring your students together, in one place, to share knowledge, answer questions, and learn from one another. Today, your members can easily see and engage in conversations in your Community with web app, mobile, and push notifications.
---
In this article:
Accessing Your Web Notifications
Accessing Your Mobile Notifications
About This Feature
Community Notifications allow you and your members to stay connected by notifying them, through your site, about new conversations in the Community! Build and manage a thriving online community through active conversations, lively discussions, and new connections to grow your business and ensure that no matter where your members are, they know what is going on in your Community.
Take your community to the next level by utilizing the Thinkific Mobile app! Allow your learners to connect, learn, and share knowledge on the go using a native mobile app. With features like push notifications and activity feeds you can drive higher engagement and keep your content top of mind.

Looking for a mobile app that spotlights your brand with your logo and own App Store listings? Check out our Branded Mobile App solution: Maximize Your Brand Potential With the Branded Mobile App
How It Works
With community notifications in your Community, your members can quickly see when new posts are created, when others have responded to their posts and comments with threaded replies, and when they've been invited to join other conversations through @ mentions. These notifications ensure everyone is keeping up-to-date and serves as a reminder to jump in and continue the conversation; encouraging communal engagement and momentum in your community.
There are three four types of community notifications:
Email notifications: Sent to the Learn more here: Communities: Activity Email Notifications.
Web notifications: Accessible on the web version of your Thinkific site. To access them, click on the bell icon in the header

Mobile notifications: accessible in the Notifications tab of the Thinkific Mobile app or your Branded app.

Push notification: will appear on a student's device if that student has the Thinkific or a Branded mobile app installed and push notifications enabled. Learn more: Mobile-Only Features


Types of Web App Notifications
1:Many Notifications
1:Many Notifications notify all Community members and are triggered when:
An Admin creates a new post
1:1 Notifications
1:1 Notifications notify a specific Community member and is triggered when:
Someone responds to a post that you follow
Someone mentions you or a member in a post
Someone comments on you or a member's post
Someone replies to you or a member's comment
A member is added to a Community
These notifications can be found at the notification bell icon in the top-right corner of your site header. You will see a red dot on the bell icon when you have any unread notifications. Once opened, you and your members can navigate to the original post with a click of a button without having to remember where the conversation started. Web App Notifications make it easy to stay updated and engaged.
Important Considerations
The Communities Notification Center is not accessible within Course Player.
Web App Notifications are not supported for Live Events at this time.
Accessing Your Web Notifications
Notifications are only available for creators who have one or more communities available. If you have not created a community yet, you will not see the notification bell icon or notification panel.
Log in to your account
Click on the Notifications bell icon in the top-right corner of your account
Select a notification to view the update
Accessing Your Mobile Notifications
Open your Thinkific Mobile App or your Branded app
Log in to your account (if you are not logged in yet)
Open the Notifications tab
Select a notification to view the update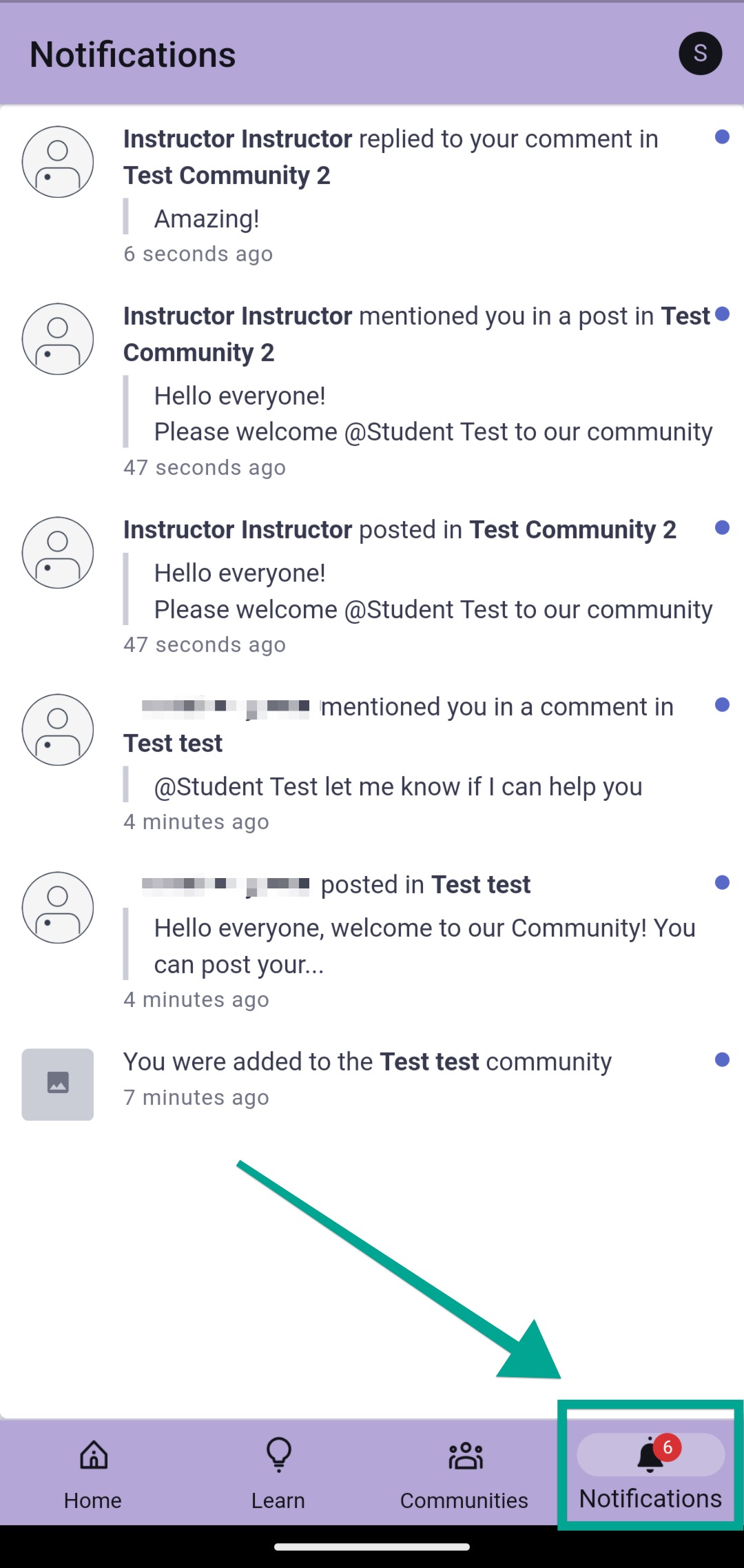 Frequently Asked Questions
Will my Community members receive email notifications too?
Yes, you and your members will receive email notifications for activity within your Community. Email notifications are currently only sent for 1:1 notifications. Email notifications are not available for 1:Many notifications at this time.
Can I choose what type of Community notifications my students see?
No, there is currently no option to customize Community notification settings or permissions. All web, mobile, and push notifications will be shown in the notification center with a corresponding email for 1:1 notifications. If you prefer to not receive email notifications altogether, you can turn off all Community email notifications.
---
More About Learning Communities
Drive Revenue with New Thinkific Communities
The Thinkific Community Builder