At Thinkific, we're always looking for ways to improve your experience to align with your business. We've recently made some changes to your Admin Dashboard to make it more intuitive, and to better support your workflow as you build your learning experience. Read our article below to find out what you can expect!
---
In this article:
Updates to the Side Navigation Menu
About This Update
The learning experience that you create for your audience is more than just your course. We've recently reorganized your Admin Dashboard to allow you to more easily build and manage your other learning products—like Communities, Memberships, and Bundles, alongside your Courses. This newly decluttered dashboard is now more intuitive to your workflow, so you can focus on creating a rich, engaging learning experience all in one place!
Manage Learning Products
The Manage Learning Content section has been re-named, and is now Manage Learning Products.
We've recently updated our terminology to include Learning products. This is a broad term that covers numerous products, including Courses, Communities, Memberships, and Bundles—because the learning experience you create is more than just your course!
You can see an example of this in the screenshot below, where the term Products is used to describe the courses contained within a bundle, under the Manage Learning Products, Courses menu:

Along with updating our terminology, we've also updated the side navigation menu title to Manage Learning Products. This title will reflect the wider scope of features available to help you deliver the best possible learning experience to your users!
Think of each product as a tool to help you create that learning experience—and we're giving you the whole toolbox, with courses, communities, memberships and bundles.
Updates to the Side Navigation Menu
You may have noticed that the side navigation menu in your Admin Dashboard has also been updated, with some sections moving into more intuitive places within the menu. Check out what's changed in the sections below!
Memberships and Bundles
Memberships and Bundles are now separated in your side navigation menu, to give you the ability to offer your users a more curated experience. You can find both products under the Manage Learning Products tab.


Categories
Categories are now accessible from the Design your Site section in your side navigation menu (previously under Manage Learning Content).

Share Revenue
The Share Revenue function is now accessible from the Market and Sell menu (previously under Manage Learning Content).


Additional Changes
Publication Requests and Instructors have been moved under the Courses tab.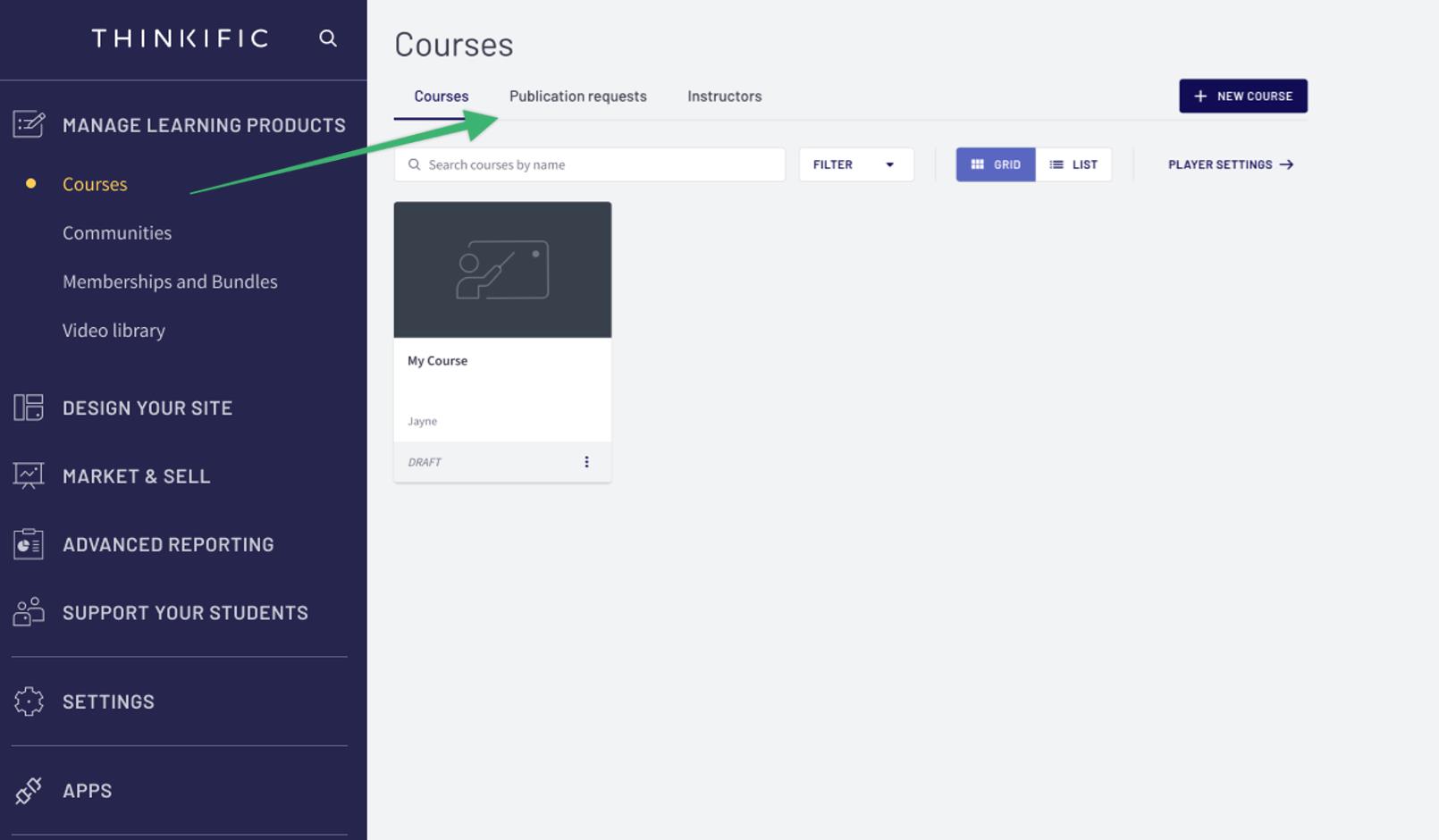 Frequently Asked Questions
Will this update impact the functionality of my page?
No, these changes shouldn't impact the functionality of your page. These changes were designed to make your page structure clearer and more efficient; the function of the sections that were reorganized should still work the same.