We're making Vogue the default theme for new creators, and bringing an updated style to its Course Page! If you're already on the Vogue theme and thinking of updating, or want to make the switch from Empire or Vision, here's some information on what to expect.
The changes discussed in this article are part of our Vogue theme 1.22.2 and higher. For details on the specific changes, and to see any further updates, check out the Vogue Theme Changelog.
In this article:
About This Update
Our new update to the course page takes the content that you have already assembled for your course and translates that into a highly marketable page. As with all our default pages, it is ready to use as-is, but you also have the option to customize and edit the page further to your liking.
Apart from updating the look of individual sections, our goal with this new page design is to create a more complete look and feel to the page right out of the box, significantly reducing the amount of effort required before you can share your site.
Most of these updates were included in v1.22.2 of the Vogue theme, but a new round — including the simplified CTA section and mobile/desktop typography controls — were added with v1.23.4. As always, we recommend keeping your theme version up to date!
Getting the Update
The updated course page is available to any creator using the Vogue theme, provided they are on v1.23.4 or higher. If you are currently on the Vogue theme, you can update your theme to get access to the new page and section designs. Note that doing so will affect any existing pages that use the Course Banner and Curriculum [smart section] sections—check out the details below for more on what is changing.
If you're currently using Empire or Vision, you'll need to switch themes in order to take advantage of these new pages. We recommend installing Vogue (don't worry about versions, you'll get the latest one automatically) to your Theme Library, and taking a look at the new pages before committing to the change. Check out our article on Choosing Themes for more details on how to install, explore and change to a new theme.
Why switch to Vogue?
Switching to Vogue will let you take advantage of all the improvements to course pages and theme settings detailed in this article. We understand that switching themes can seem like a big hassle — but unless you have significant customizations to your theme code, switching (or updating) to the latest version of Vogue is a quick and easy process! All your Site Builder content can be automatically imported to the new theme, including all the work you've done customizing individual pages, setting up your brand colors, and all the rest. And as mentioned above, you can always install the new theme and take a look before you decide to make the switch.
Important Considerations
Updating your theme will automatically update any pages that use the redesigned sections, which may subtly affect the look of your existing course pages. Double-check your course pages after updating to make sure they're still looking good.
If you have customized your theme code, updating your theme will revert your customizations. You will need to reapply any customizations to the new theme, so make sure you have a copy saved before you update.
The Updated Course Page
Here's a look at the new course page in action: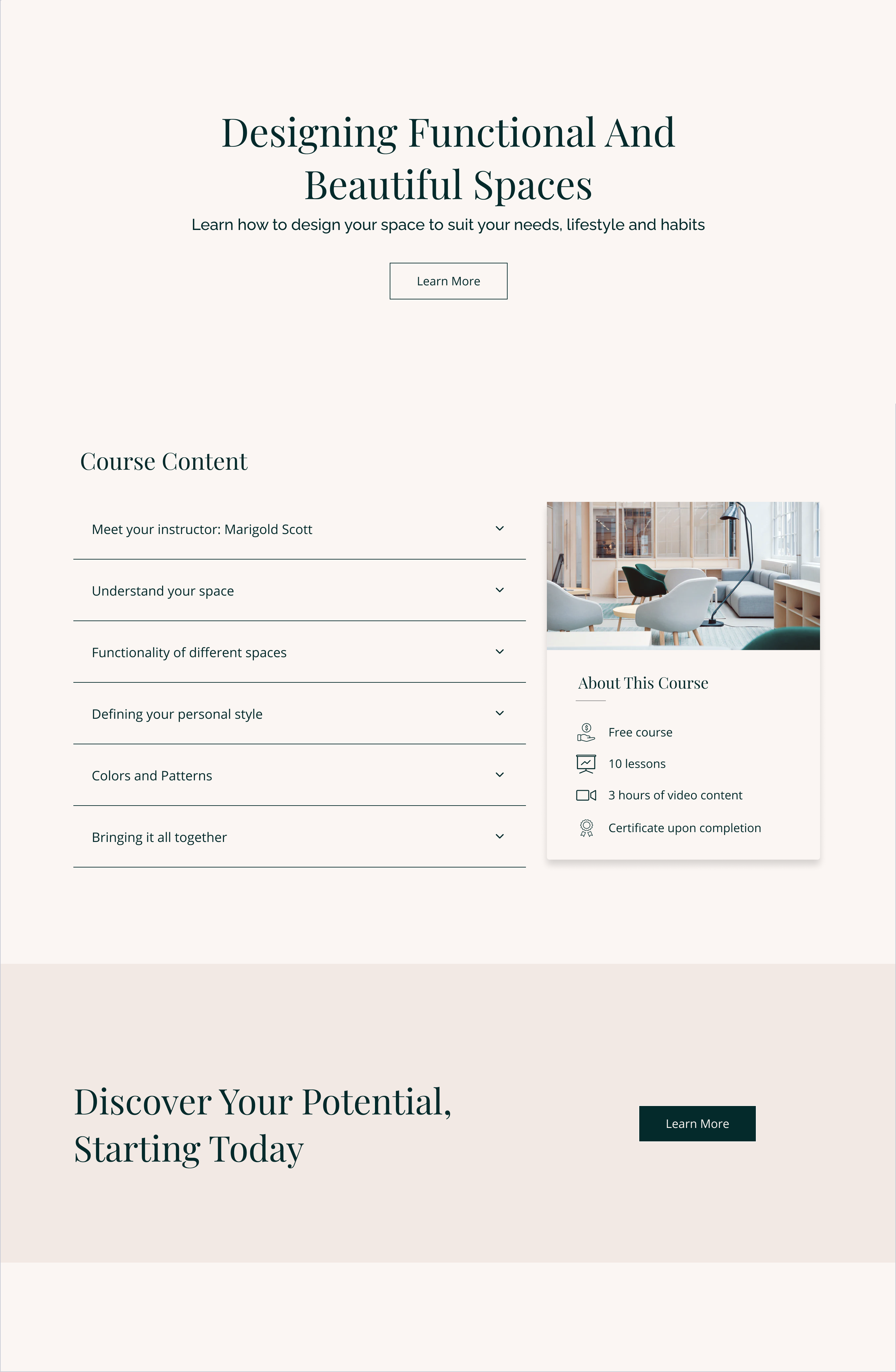 Section updates
The update also includes some changes to our Site Builder sections in Vogue:
Banner and Banner (course) sections
The background color setting lets you use one of your theme colors as the banner background, so it's no longer necessary to have a background image for every course banner
[v1.23.4+] The Image or video section now allows you to add an image or video inset to the banner, including a media width setting to allow you control how much of the banner the image takes up
The heading width setting gives you greater control over where (and how) your heading and subheading appear in the banner
Curriculum [smart section] section
Completely redesigned layout, featuring a new course card inset
It is now possible to hide lessons, limiting the curriculum to chapter titles only
Course card section includes your course image and automatically-generated value propositions for the course, including number of lessons and hours of video—these fields can be hidden and/or customized to emphasize the most relevant elements of your course!
Call to Action (course) section
New, simplified version of the Call to Action section
No background image necessary
Button is automatically linked to your course checkout page
Theme updates
This update also includes several general changes to the Vogue theme in order to support the new page designs. Like the section changes, these are available throughout Site Builder—not just on course pages!
There are new default color palettes for each of the Styles, and we have added a tertiary background color option
Several new fonts have been added to the theme
[v1.23.4+] There are now different typography settings for desktop and mobile version of your site, which provide much more specific control over font size and weight
[v1.23.4+] Theme-wide button style settings have been expanded, including new style and button shape controls
Frequently Asked Questions
I want to update my theme, but I'm worried the section changes might mess up some of my existing course pages. Is there any way for me to preview the changes before updating?
It is very unlikely that updating your theme will cause problems with your existing pages, but we understand being concerned! Here's a few things to consider:
If you currently have any course banners that don't have a background image set at all, the new background color setting may result in a different color showing up on your banners
Your course curriculum sections should seamlessly update to the new look, but they will now include a course card image and some additional information you my want to adjust
If you have customized your theme code in a way that impacts these sections or the layout of your course landing pages generally, there may be some unexpected interactions
If none of the above apply to you, or seem like concerns, then you should be safe to update!
That said, if you still want to preview the new look — or if you do have custom code, and want to make sure you have time to troubleshoot any unexpected problems — you can always install the new Vogue theme to your Theme Library, and use that to preview your course pages in the new version. Once you're sure it's ready to go, you can just publish that new theme and go from there! Our article on Choosing a Theme for Site Builder has more information on all these options.