Thinkific's Site Pages let you quickly build a beautiful, customized website, including course and product pages, and additional pages containing any content you'd like. As a course creator, you can create on-brand websites quickly, easily, and without any finicky coding.
---
In this article:
Setting and Redirecting your Homepage
How to Change Your Home Page in Site Pages
Redirecting Your Home Page to a Custom URL
About Site Pages
Site Pages in Thinkific provide an overview of all your website's existing pages. Site Pages let you quickly edit those pages, add new custom pages, and manage which page a visitor will see by default when they first open your site. By showing only those pages you're actively working on, Site Pages helps you stay focused on what matters most — creating a simple, engaging website to sell your products!
How It Works
Site Pages can be found under the Design Your Site section of your Thinkific Admin Dashboard:
When you first create your Thinkific site, Site Pages will show only a single page: the product landing page for your first product - whether that's a Course or a Community. When you're just starting out with your site, customizing the landing page for your first product is likely to be your main focus.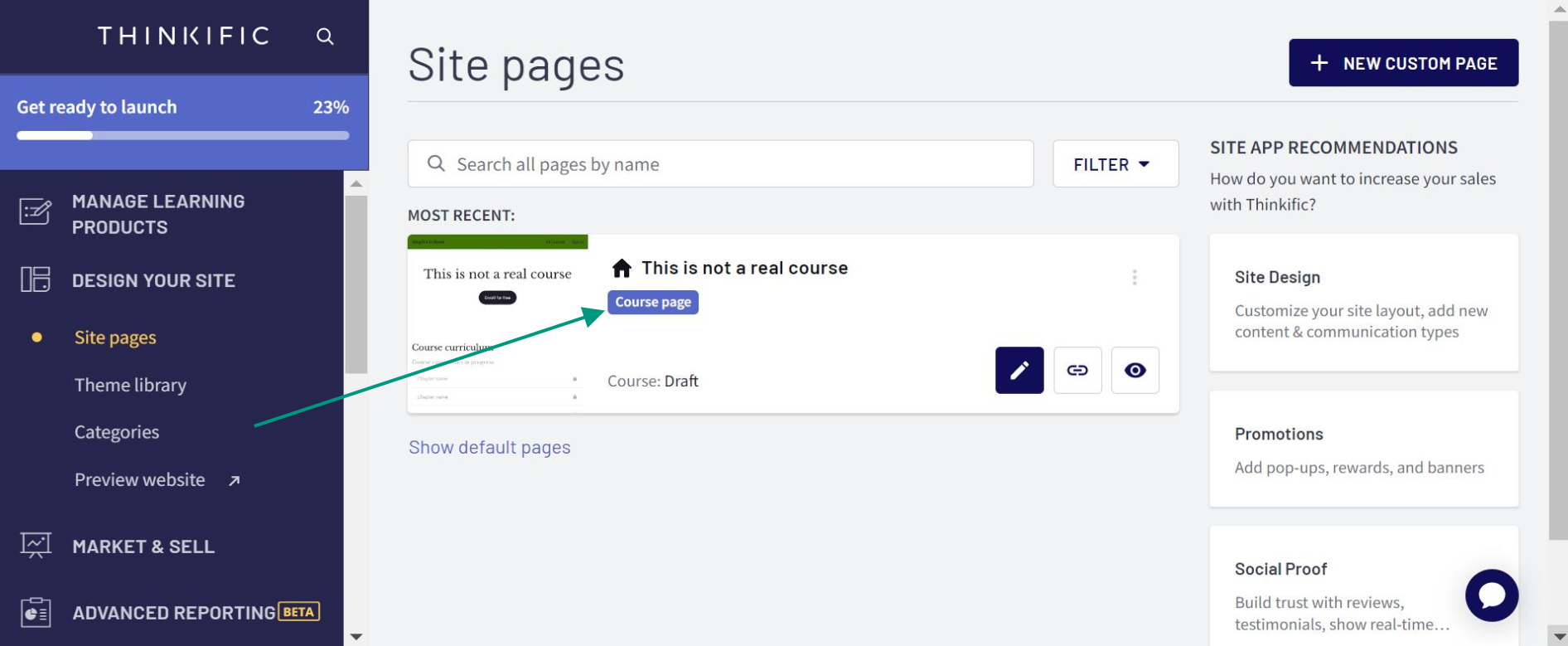 You can click on Show Default Pages under your landing page to view all of the default pages available. 
Of course, you can also further customize your website by adding new custom pages directly from the Site Pages home. Click the New Custom Page button on the top right and follow the instructions in our Custom Pages article.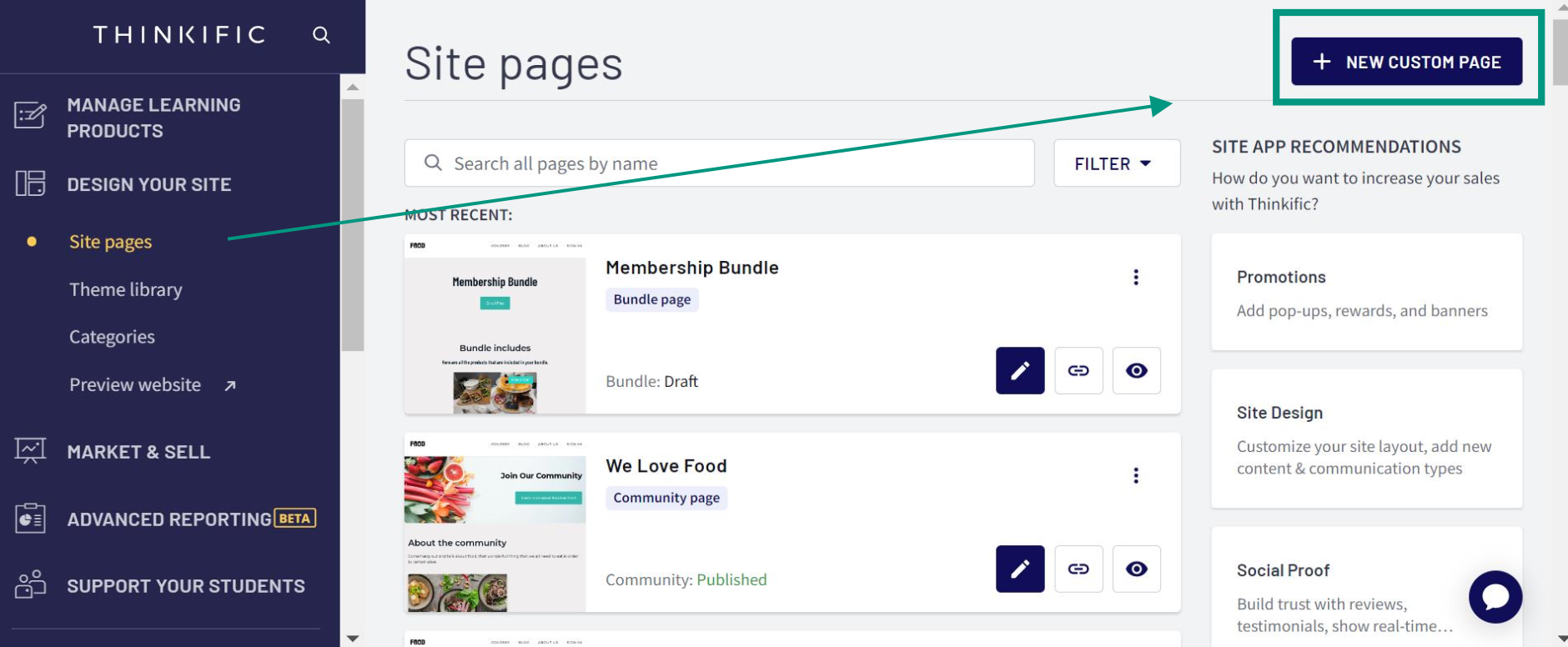 Default Pages
To see a list of your site's default pages, select Filter and click the Default pages checkbox: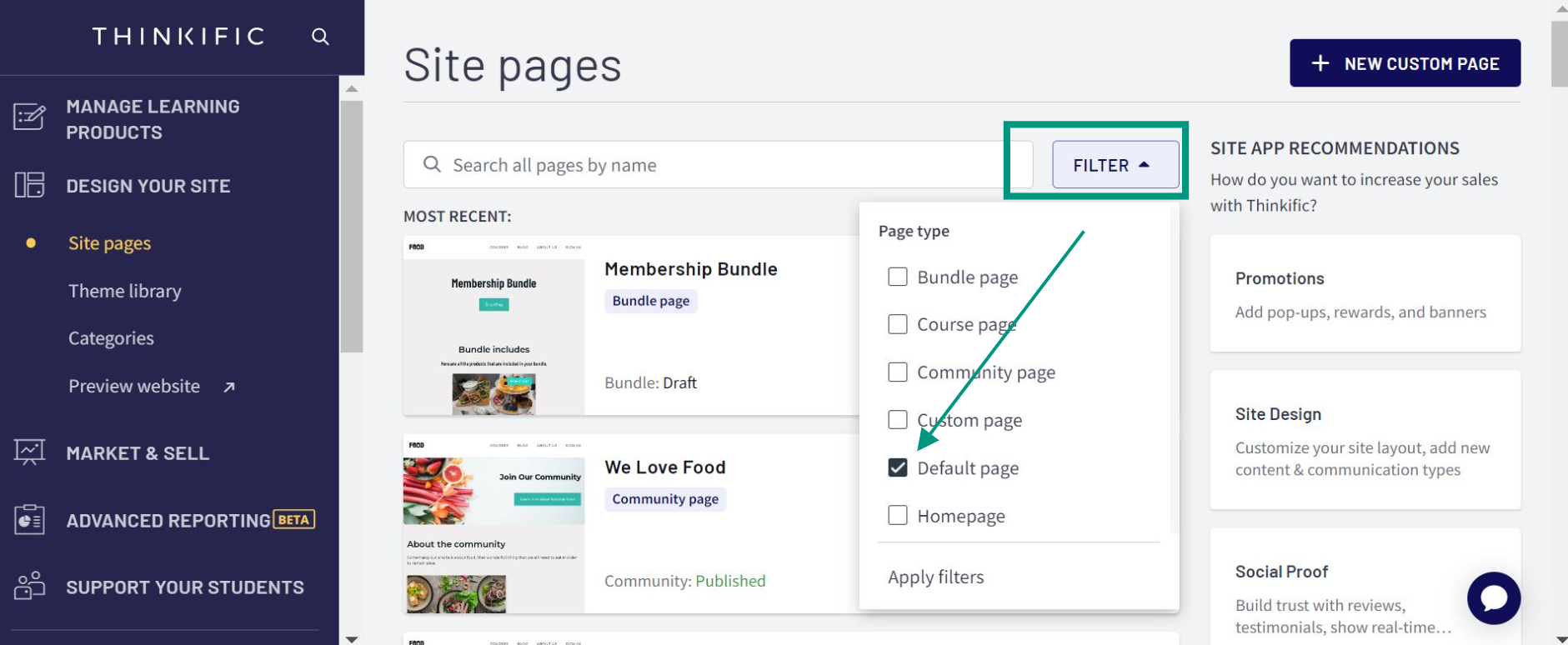 These pages are automatically created to make sure your website is equipped for its two main tasks:
Selling your products to visitors, and,
Allowing enrolled students to access their products.
Default pages include your Sign up and checkout pages, and a few others (get a full list of default pages.)
The Home Page Default Page
You may have noticed that one of the default pages created for your site is in fact labeled Home Page. If you haven't changed anything yet, it will also have a small Redirected tag on its card; this indicates that a different page is currently set as your actual homepage. If you want to start using this default page as your homepage (which we recommend once you have several products), you can use the instructions in the next section to set it as your homepage, just as you would with any other page.
Setting and Redirecting Your Home Page
Another crucial element of your website that you can manage from Site Pages is your ability to choose which of your pages will act as your site's homepage: this is the page that a visitor will see if they enter your website's address into their browser, without any additional details. A house icon will appear next to the name of whichever page is set as your homepage: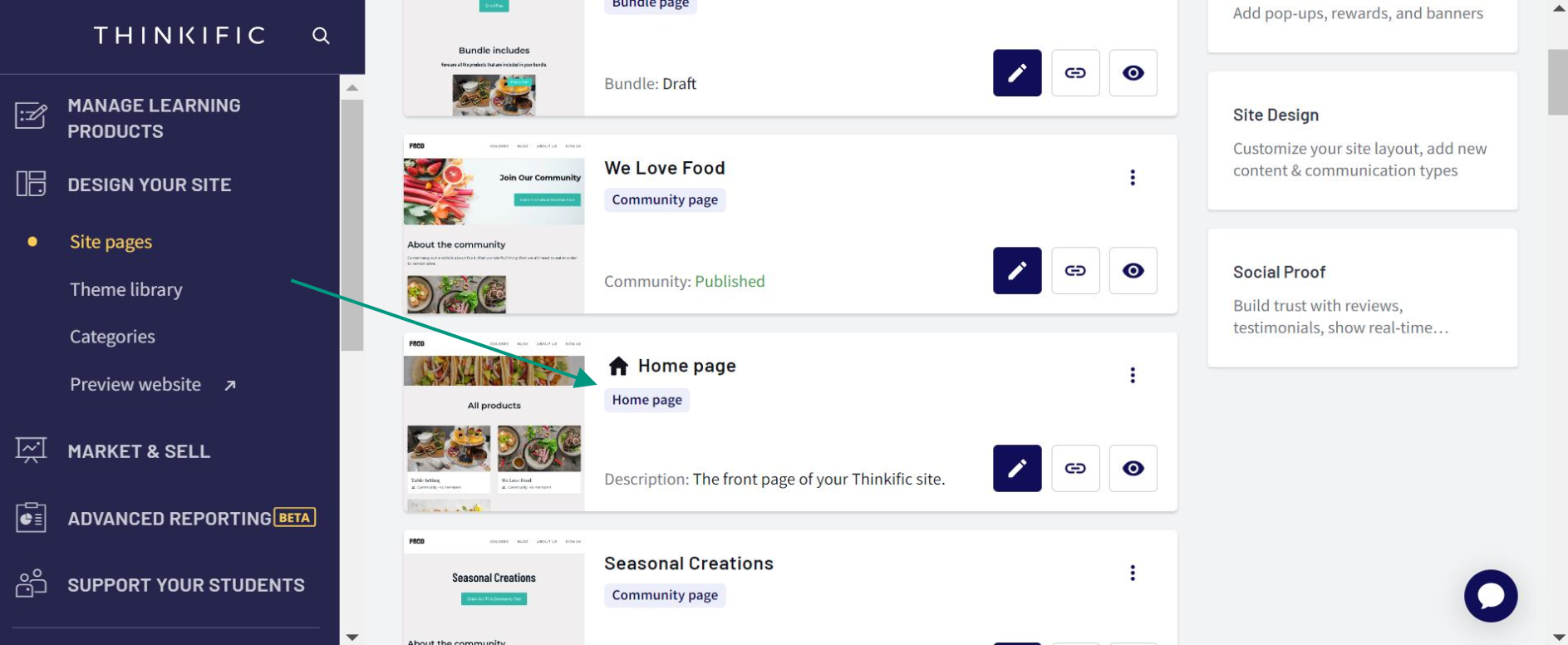 When your account is first created, we automatically set the landing page for your first product as your homepage, because your first product is likely to be the main focus of your website early on. However, as you create more products (which come with their own product pages), you may want to change which page visitors see first — or start using a separate home page that can promote your products and your site in a more general way.
How to Change your Home Page in Site Pages
To change your site's homepage:
Using Site Pages, locate the page you want to set as the homepage
Click on the vertical ellipses (three dots) on the right of the page card
Choose Set as Home
It's that easy! You should now see the house icon next to the new page, and visitors will now see that page first when they navigate to your website.
Redirecting your Home Page to a Custom URL
If you want to redirect your Thinkific homepage to a completely different website — for example, if you already have your own personal website up and running with a different hosting service — you will first need to make sure that the Home page default page is set as your homepage in Site Pages by following the steps above.
Once you've done that, you can set up a redirect to a custom URL by:
Click on the same ellipses (three dots) menu a second time
Selecting the Redirect to Custom URL option
Enter the address you want to redirect to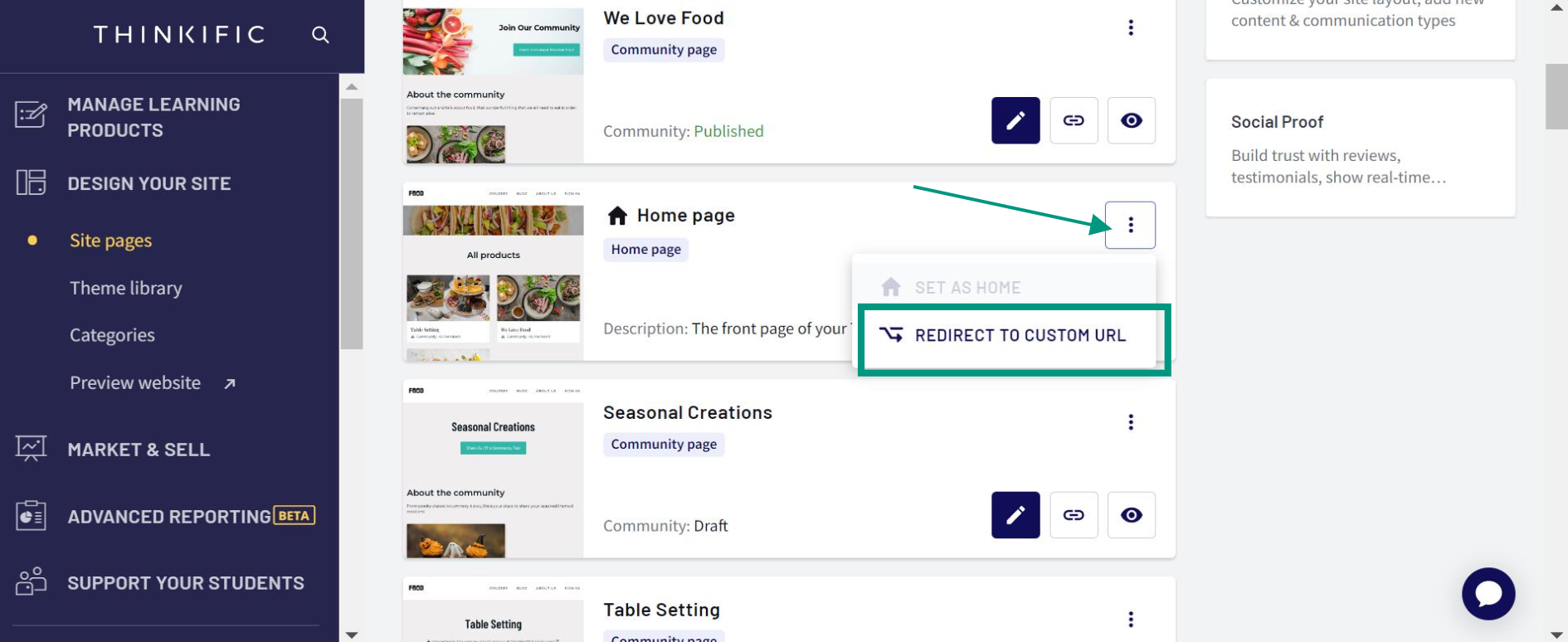 To read more about redirecting your Home page in general, check out our article: Understanding Home Page Redirects.
Important Considerations
Once you open a page to edit it in the Site Builder, our page- and section-specific Site Builder articles will guide you on how to make more specific edits to those areas