Get early access to the latest features and provide feedback to help us build you the best platform. Thinkific Labs is where you'll find all the newest Thinkific features that are available for testing.
---
In this article:
About Thinkific Labs
Thinkific Labs allows you to try out new Thinkific features that are still in development. This provides an opportunity for you to collaborate with our designers and developers, to help improve the Thinkific platform together. It also lets you take advantage of useful new features and functionality, the moment they become available.
There will usually be several different lab features available at a given time, allowing you to try out only those features you are interested in. If it turns out that a lab doesn't work for your business, you can easily turn the feature back off!
Please note that the new features available in Thinkific Labs are works in progress, which means bugs or other unforeseen problems may be part of the experiment. Just remember that your testing and feedback will help us iron out those wrinkles to deliver a better experience for everyone before widespread release!
How It Works
Thinkific Labs can be accessed through the Settings in your Thinkific Admin Dashboard. You will see a list of all individual lab features currently available. These will include a short description of the lab, a link to an article describing it in more detail, and a note about how long the feature will be available. They will also include an opt-in toggle you can use to try out the feature on your Thinkific site.
Trying Out a Lab
Once you have toggled on the lab, any related features will become available for you to use. Some labs will make improvements to existing features, while others may introduce whole new sections or ways of doing things. We recommend taking a look at the changes right away, to get familiar and see how you like them!
If it turns out that you aren't a big fan of the new feature, or you just wanted to check it out temporarily. That's all fine — you can return to the Thinkific Labs section at any point to toggle off a lab feature.
Expiration
All lab features include an expiration date, after which they will no longer be available. Once the expiry date arrives, the feature will be automatically disabled — though you will still be able to see it in the Labs section, and submit any feedback you might have.
How to Manage Your Labs
Turning On a Lab
Go to Settings
Select the Thinkific Labs tab, along the top of the screen
Click the toggle for the lab feature you want to try out; a lab is active when you see a green check-mark next to the name. You can also always return to this page to turn off a lab if you no longer want to test the feature.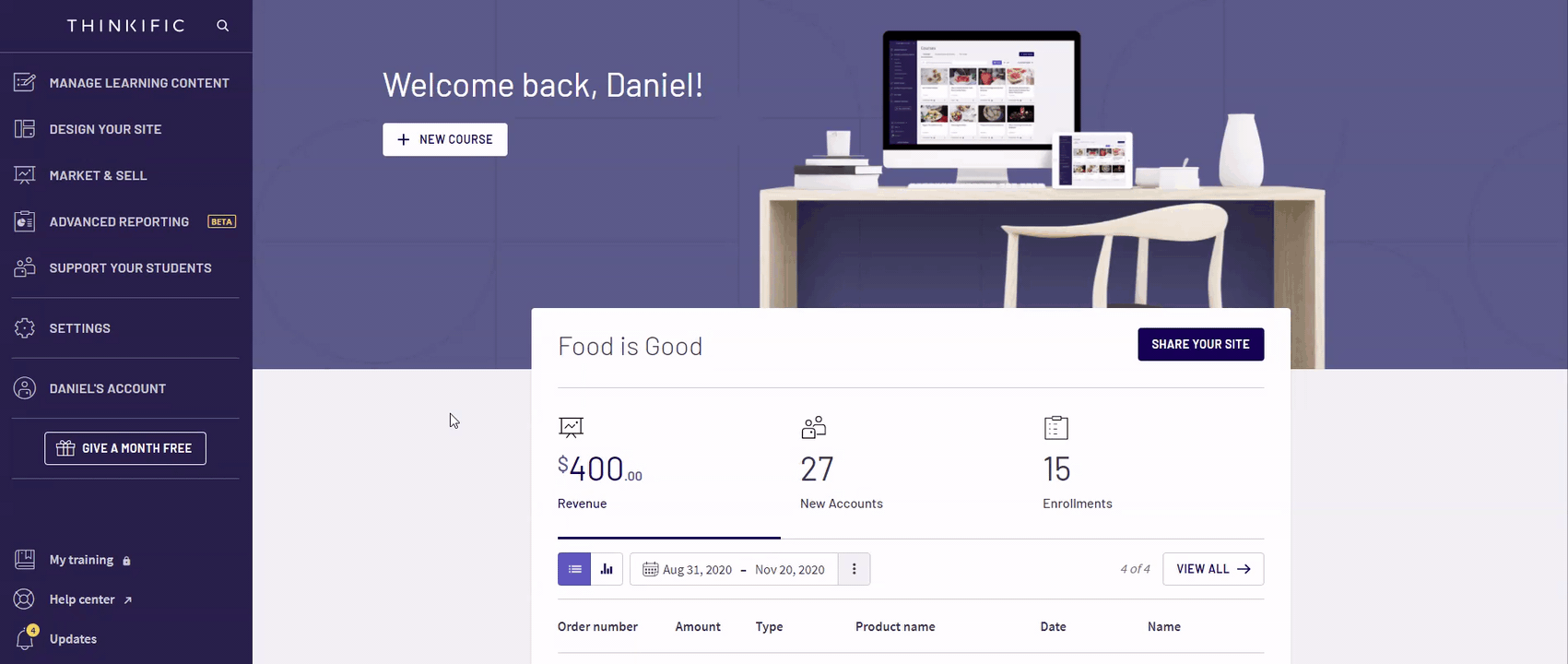 How to Give Feedback on a Lab
One of the main benefits of Thinkific Labs is getting feedback from course creators like you. Any feedback you provide will help us improve the feature, and help get it ready for widespread release — so please don't be shy!
Go to Settings
Select the Thinkific Labs tab, along the top of the screen
Click on the Provide Feedback button for the lab you want to tell us about
Fill out the feedback form once it appears
Important Considerations
All Thinkific plans can opt-in to Thinkific Labs, but access to some lab features will be dependent on your plan level. For example, if there was a Coupon related lab, it would only be available on the Start plan or higher, as Coupons require a paid account.