If you are having any issues with getting set up with Shopify, check out the following general troubleshooting steps!
---
Delete Thinkific Custom Fields
As enrollments are handled differently for Shopify, custom signup fields are not currently supported. If you have any custom fields in Thinkific, they will need to be deleted in order for students to successfully enroll.
Learn more here: Custom Fields
Turn on Site Welcome Email
If you are testing checkout and haven't received an email notification to create an account on your Thinkific site, make sure that you have turned on your Site Welcome Email.
The Site Welcome Email will only be triggered for brand new accounts, so if you are running multiple tests, make sure to delete your test student before trying again.
Disconnect and Reconnect Your Shopify Store
Sometimes issues can be resolved by disconnecting and reconnecting your Shopify store from your Thinkific site. It can help if you are experiencing issues when testing a purchase in Shopify. For example, if you have tested a purchase in Shopify and don't see the student created in Thinkific, this is a great first step!
How to Disconnect and Reconnect Your Shopify Store
In Shopify, select Apps
Click Thinkific - Online Courses (you will be directed to Thinkific)
In Thinkific, select the Setup tab
Scroll down to Switch to another Thinkific account
Click Switch accounts
Click Disconnect account
Once you disconnect, you will be taken to a sign-in page
Fill in your Thinkific email, URL and password
Click Sign in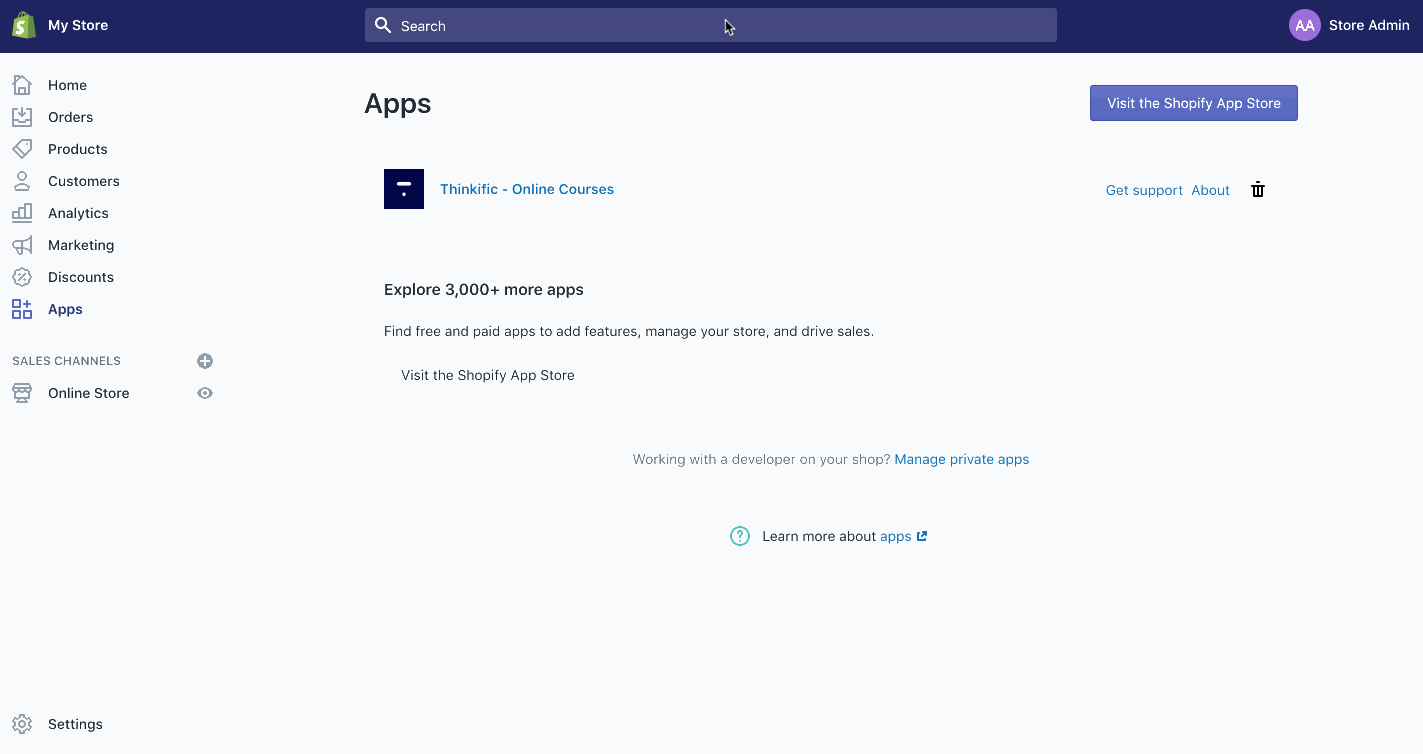 Once you reconnect your Thinkific account, you can republish your Thinkific course as a Shopify products and run any test you need again.
Testing Email Addresses
When testing purchases, we recommend using a unique email address as emails that are linked to existing customers in your Shopify store can skew your test results.
If you have a Gmail address, it's easy to make unique emails for testing! Gmail allows you to create multiple unique email addresses using your main address. For example, if your email address is email@gmail.com, you can create a new Thinkific user using email+student@gmail.com.
Learn more here: Multiple Emails in Gmail
What's Next?
If you still have any issues, please send us an email with some additional details for us to look into it further:
Description of the issue
If testing a purchase, the test email address you used to sign up
If testing a purchase, the Product URL link you used

Screenshot or recording of the Product page in your Shopify store and any Variant pricing
Collaborator Access
Since we are only able to troubleshoot on the Thinkific side, we also might ask for collaborator access on your Shopify site to check for any issues on the Shopify side. We will let you know if we will need collaborator access after your initial email.
Learn more here: Giving partners access to your Shopify store