You can integrate your Thinkific site with your Convertkit account so that your students will automatically be added as users and tagged in Convertkit!
In this article:
Connect Your ConvertKit Account to Thinkific
Connect Your ConvertKit Account to Thinkific
To get started, you will need to log into your ConvertKit account and locate your API key setting.
You can access or sign up for a ConvertKit account here - Sign Up for ConvertKit
Copy your API key
Login to Thinkific
Go to

Market & Sell
Select

Integrations
Select

Email Marketing
In the

ConvertKit

block, paste your ConvertKit API key
Click Save


Set Up Your ConvertKit Tags
In order for your users to be created and tagged in ConvertKit, you'll first need to create the tags from your ConvertKit dashboard.
Then, head back to your Integrations page in Thinkific to link the tags to specific site events.
Go to

Market & Sell
Select

Integrations
Select

Email Marketing
In the

ConvertKit

block, click Edit
Under each tag option, use the dropdown menu to select your ConvertKit tag
Click Save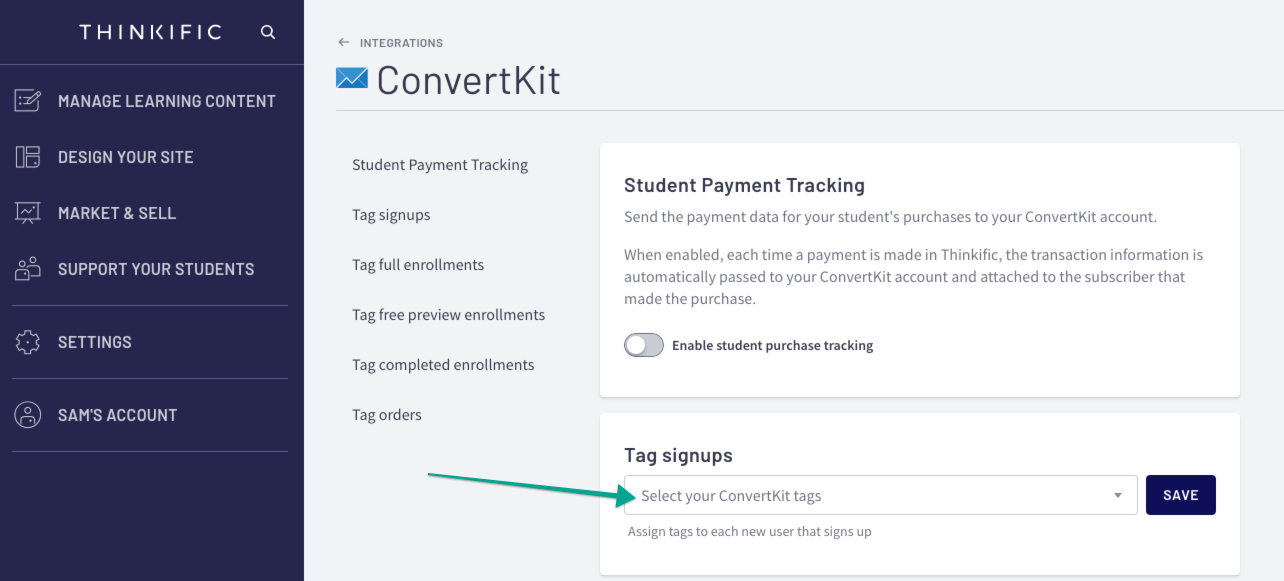 Available Tags
A user will only be created in ConvertKit if they perform one of the actions associated with a tag.
Here's what each of the actions means; i.e. what the student will need to do on your Thinkific site for the tag to be added in ConvertKit.
Here are the tags triggered in ConvertKit when the student does the following:
| | | | | | |
| --- | --- | --- | --- | --- | --- |
| Action name in Thinkific | Creates a user account | Fully enrolls in a paid course | Fully enrolls in a free course | Enrolls in the free preview version of a course | Completes a course they're enrolled in |
| Signups | ✔ | | | | |
| Full enrollments | | ✔ | ✔ | | |
| Free preview enrollments | | | | ✔ | |
| Completed enrollments | | | | | ✔ |
| Orders | | ✔ | ✔ ( Single page checkout only) | | |
Student Payment Tracking
You can sync all of the orders that occur on your Thinkific site with your subscriber profiles on ConvertKit by turning on Enable student purchase tracking.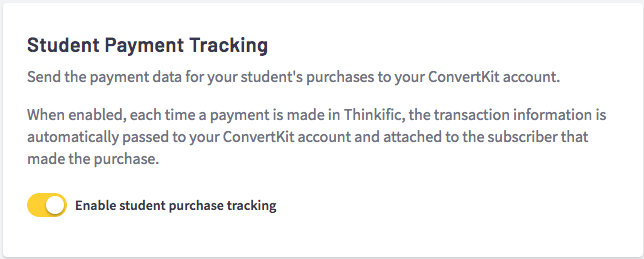 When enabled, each time a payment is made on Thinkific, the transaction information (purchase amount, discount applied, and total paid) are automatically passed to your ConvertKit account and attached to the subscriber profile of the user that made the purchase. Read more about how you can use this information to segment your users here.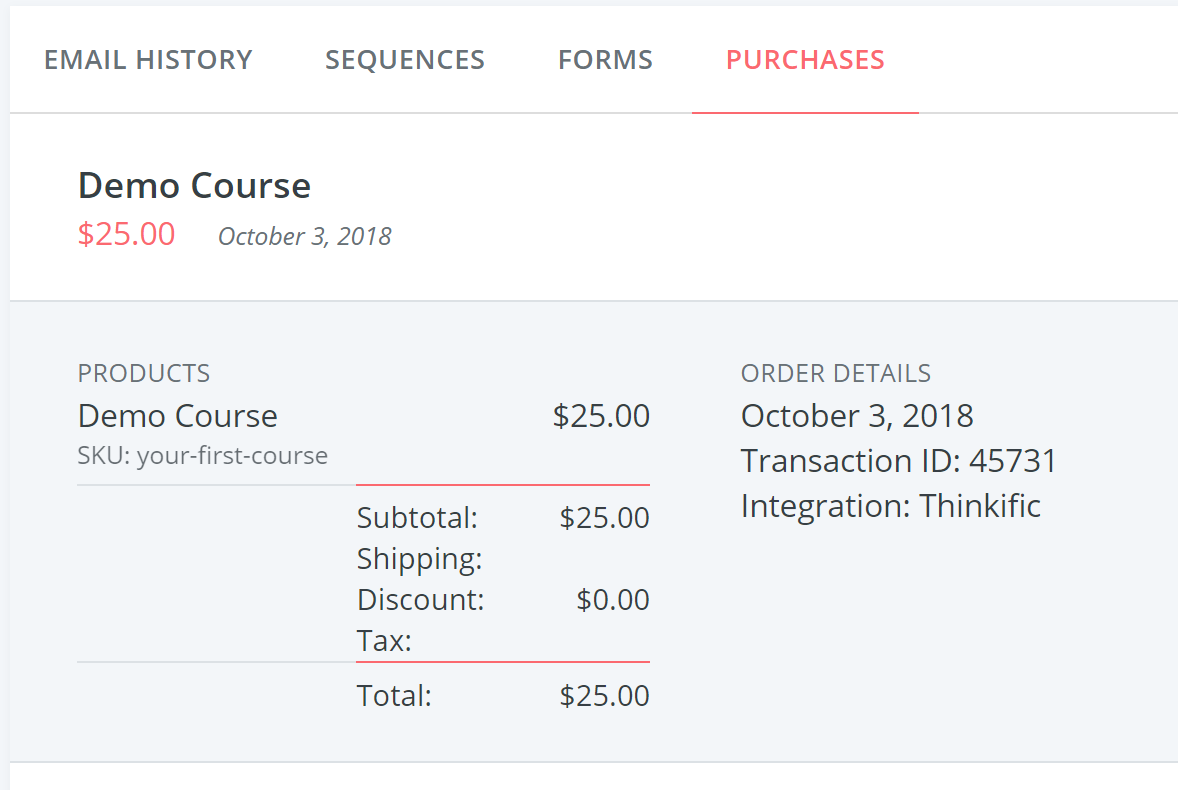 If a student uses a coupon that provides them a 100% discount off their purchase, this order will not be sent to ConvertKit as a purchase event.
Frequently Asked Questions
Why can't I see my tags in ConvertKit?
When a student signs up, tags fire immediately, however there will be a 45 - 60 min delay before your tags are visible in ConvertKit. Make sure to check back later to confirm they are working as expected!
Not quite what you wanted? Looking for more integrations?
We're adding new integrations to the platform every day: see all our available integrations here.