Create a subscription based membership site to give your students access to ongoing content!
What is a Membership Site?
Membership sites are essentially a hub where your learners can get ongoing access to your content, a community, and possibly even you as a course expert!
Membership sites differ from regular course sites in a few ways. They often include these four facets:
Recurring revenue - Rather than a one-off purchase, your customers will subscribe to your services and their recurring basis
Ongoing training - As opposed to issuing a course and publishing it, you'll always be creating new content to share with your members.
Building a community - Access to a community of like-minded people is a major selling point of most membership sites.
Emphasis on retention - The membership model relies on retention. By maximizing retention rates, you increase the lifetime value of your customers - ideally to a greater value than the one-time purchase price of an online course.
In other words, with a Membership Site, the sale is only the beginning of your relationship with your student.
For expert advice, suggestions, and tips of the trade, read our strategy guide on how to create a membership site.
Implementing a Membership Site
Okay, so we know what a Membership Site is...so how do we go about making our Thinkific site into a Membership Site? Depending on your use case, you may want to take advantage of the following features:
*available on the Pro plan and higher
**available on the Basic plan and higher
Configuration for All Access Memberships
You can sell your courses separately, but this use case is specific for users wanting to bundle into an all access membership.
First, create a Course Bundle, by selecting Courses > Bundles > New Bundle:


Add all the courses you want students to be able to access within your bundle:


Set a subscription price for the Bundle. (You'll need to connect your Stripe account first):


Set each individual course to Private to ensure that visitors don't have the option to purchase individual courses outside of your Bundle.



On each individual course landing page, you can hide the default button in your banner to hide any Private course text that appears. Then add a custom button that links to your Bundle. You can learn more about Banners HERE.
Alternative Set-Ups:
Tiers:
Some course creators choose to create a multi-level subscription level like Bronze, Silver and Gold package.
In this instance, we recommend creating each package as a Bundle. Then, when crafting your home landing page, you can add each bundle onto your landing page like this, using an Additional Products on Site Builder: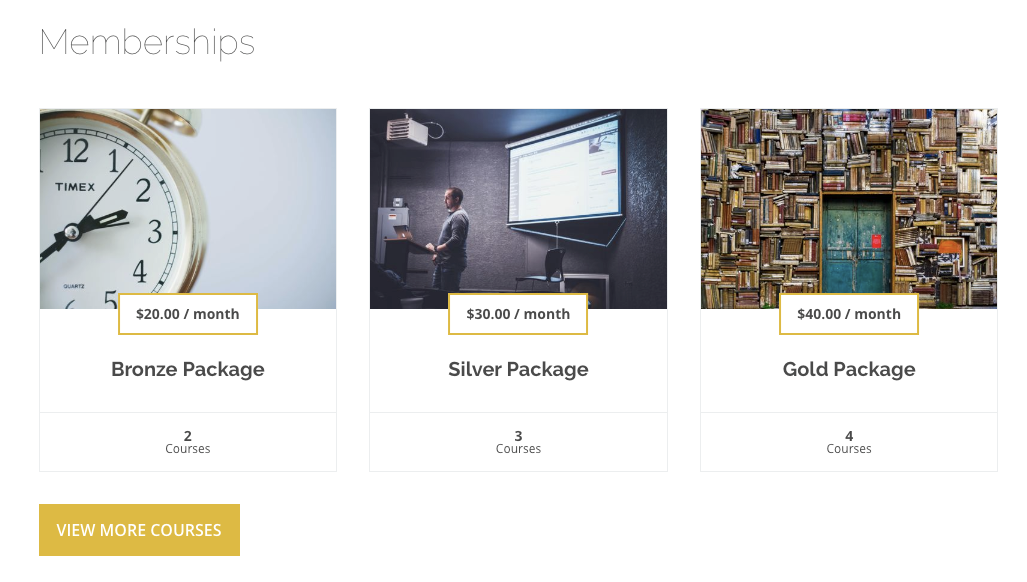 If you want your students to only enroll in your bundles rather than the stand-alone courses, you can set each course to Private if you are on the Pro plan and above, which will disable any course enrollment purchase workflows. Be sure to remove any purchase links or buttons from banners to make that clearer to your students. This way, your students will only access course content by purchasing the bundle which contains that course.
Organizing your courses:
Students can view the courses in your bundle, but you can also create categories which allow you to group several courses together when they have a common theme. You can learn more about that here: Categories. Membership sites can use categories for students to easily access and purchase one-off courses or bundles relating to that category.
This is a category section in Site Builder, for example:

Then each category page maps to the category section, like this: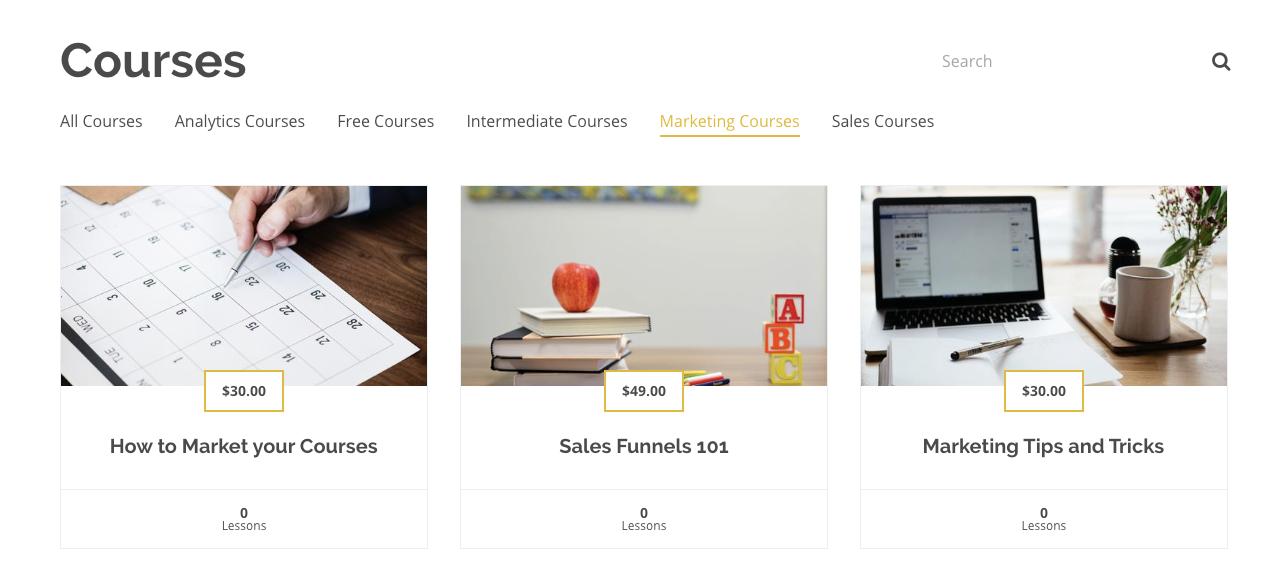 Using Thinkific exclusively for Membership content while using External Sales Pages:
You will likely need to restrict access to your site and make some minor tweaks in the instance where you are using external sales paged to convert your leads. When using the likes of ClickFunnels, Samcart or other external checkout systems, you will probably want to set up redirects on your course and home landing page so that students only pay through your external checkout.
Benefits of having students come through a single purchase workflow are:
Your revenue and order data is centralized
Your external checkout likely offers other supplementary information like conversions, A/B testing and upsells
All of your students will have entered the same funnel and had a consistent onboarding experience
To set up the redirect, follow the instructions here: Redirect Course Landing Page to an External Sales Page You'll want this for your course and bundle landing pages.
If you would also like to redirect your Home Page, check out How to Redirect Your Home Page
Membership restricted content:
You can also create additional private pages so that only students enrolled in certain courses or bundles can gain access to those pages. This is done by creating a custom page and then changing the page settings: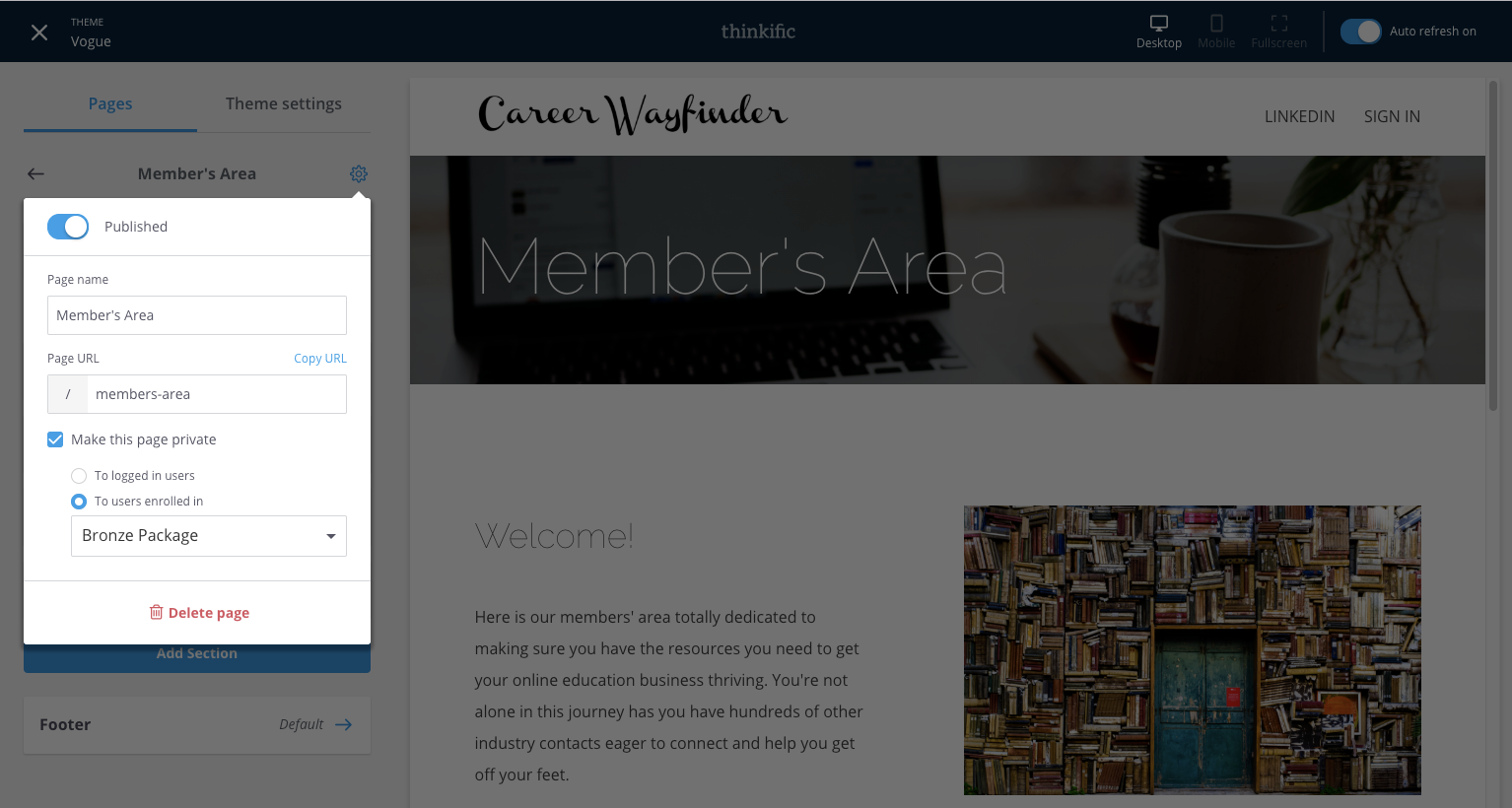 You can learn more specifics about this feature here: Custom Pages