You can include videos and text within the same lesson with various lesson types in Thinkific!
---
About This Feature
Sometimes you might be looking to add text to compliment a video or video to provide context to your text! Either way, this can be done with several lesson types in Thinkific using out WYSIWYG text editor.
Some of the best places to try this out include:
Adding Video
All lesson types listed above, with exception of Video Lessons, include a WYSIWYG text editor. Videos can be added to the text editor in two ways:
Insert Video from Your Video Library
Before getting started, first make sure you have uploaded a file into your Video Library. Once that is done, you will be able to insert this video into any lesson type that includes a WYSIWYG text editor.
Go to

Manage Learning Content
Select Courses
Click on a

specific course

in the

Course Overview
You will now be in the

Course Curriculum

area of the

Course Builder
On the left-hand side, click on the lesson you want to edit
In the WYSIWYG text editor, select the video icon
Click the folder icon
Under Select a video, select your desired video from the dropdown menu
Optional: Check off autoplay
Click Insert
Optional: Make your video Responsive so that it will resize depending on the screen size it is viewed on
Make any other desired changes
Click Save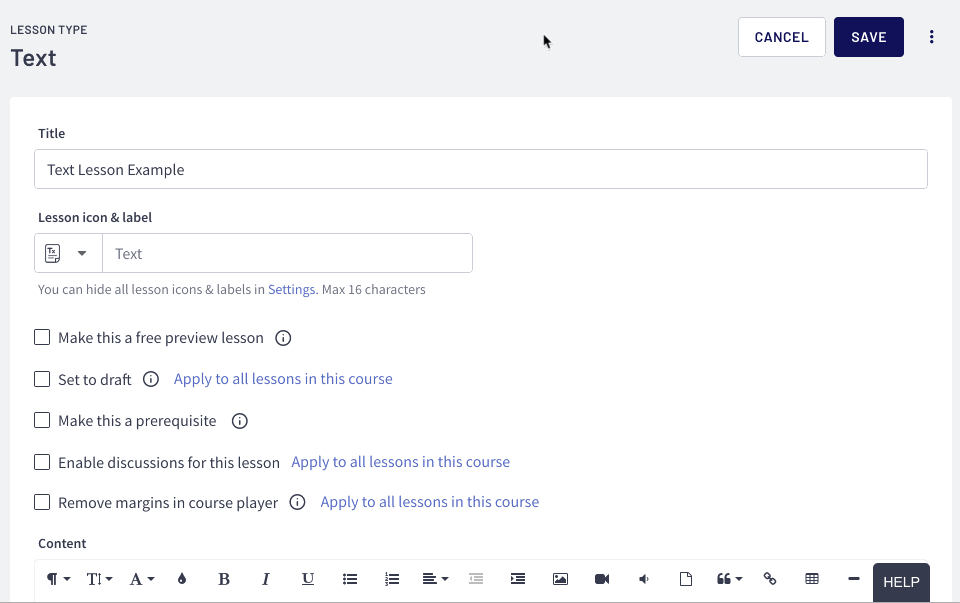 Insert Video Hosted Outside of Thinkific
Adding an externally hosted YouTube or Vimeo video to your course is a great way to get content you already have online to your Thinkific site without re-uploading it! First, you will want to copy either the share link or embed code for your video:
YouTube: How to Copy Embed Code
Vimeo: Accessing and Editing Embed Codes
Then you can add it to your Thinkific lesson!
How to Insert a Video With a Link
Copy your video share link
In Thinkific, go to

Manage Learning Content
Select Courses
Click on a

specific course

in the

Course Overview
You will now be in the

Course Curriculum

area of the

Course Builder
On the left-hand side, click on the lesson you want to edit
In the WYSIWYG text editor, select the video icon
Click the link icon
Paste your link
Click Insert
Make any other desired changes
Click Save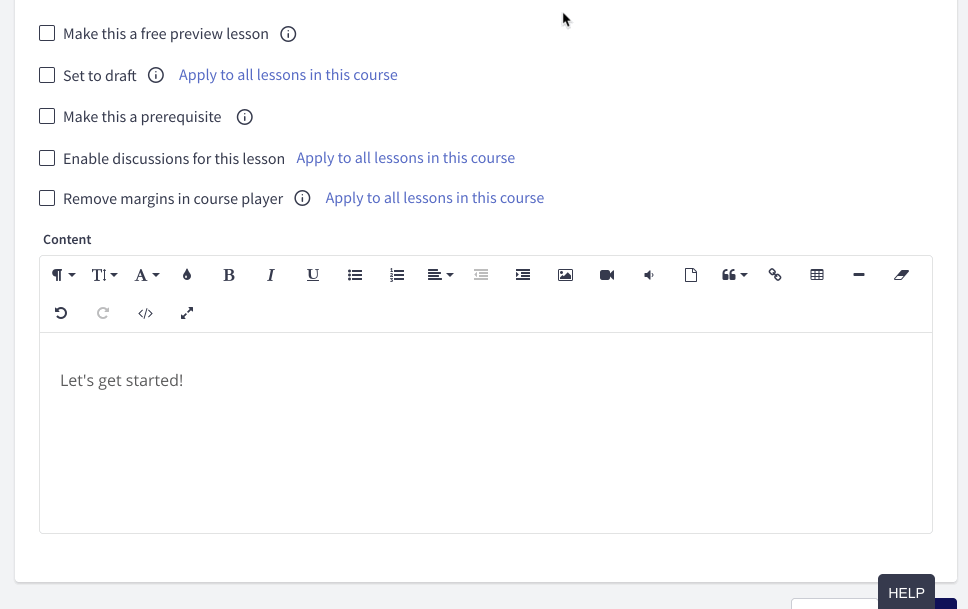 How to Insert a Video With Embed Code
Copy your video embed code
In Thinkific, go to

Manage Learning Content
Select Courses
Click on a

specific course

in the

Course Overview
You will now be in the

Course Curriculum

area of the

Course Builder
On the left-hand side, click on the lesson you want to edit
In the WYSIWYG text editor, select the video icon
Click the code </> icon
Paste your embed code
Click Insert
Make any other desired changes
Click Save