With this guide, you'll have everything you need to make your move as smooth as possible.
Migrating your online education business doesn't have to be scary; it can even be fun - especially when you're moving to the Thinkific platform! Join the hundreds of Thinkific customers who have discovered how easy it is to create, market, and sell their online courses with Thinkific.
In this article:
Importing Your Existing Students
Importing Your Course Content
Our bulk importer is the easiest way to move all of your existing content into Thinkific. Once you've imported your content, you can re-order it however you'd like (as demonstrated in the gif below).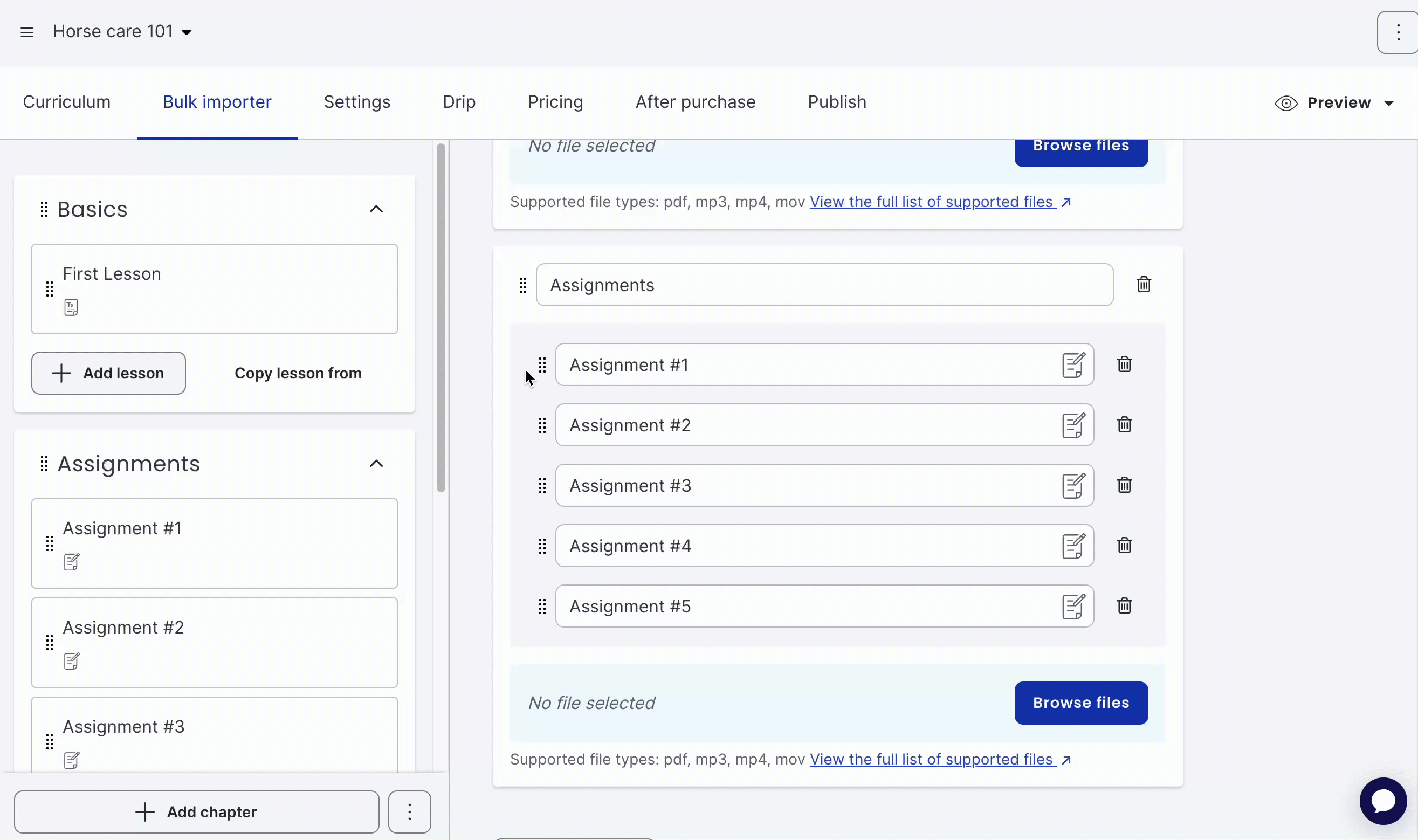 To learn more about what kinds of content you can host on Thinkific, check out our article: Thinkific Lesson Types.
Branding Your Course Site
Now that you have uploaded your learning content to Thinkific, you'll want to begin adding your own personality and brand to your site. To begin, you'll want to choose a theme.
A theme is a template that contains features, layouts, and styles that dictate how all of the parts of your Thinkific website look to your audience.
You can select a Theme for your site by heading to the Design Your Site section of your Admin Dashboard. Explore the Theme options available, then select a Theme from the library. Hitting the Publish button will launch your theme so it is live on your site.
Once you have selected and installed your Theme, check out the pages below for information on how to start customizing and building your pages:
From within your theme, you also have access to the HTML & CSS Theme files, where you or your designer/developer can make advanced customizations to your landing pages. More on customizing your theme here!
Moving Your Custom Domain
You can easily set up your custom domain on Thinkific by following the instructions found here.
Once you've set up your domain in Thinkific, connect with our Support team to set your custom domain to act as your primary URL. This way, your students can reach your Thinkific site via your custom domain, and any visits to your Thinkific URL will also redirect the user to your custom domain.
If you'd prefer to set up a new subdomain, you can also set that up by following these instructions. Some popular options are 'courses.mysite.com or academy.mysite.com or learn.mysite.com.
The time it takes for your course site to be available on your domain varies depending on your domain host and how quickly your domain takes to propagate. Typically this can take 12-48 hours, but it's best to check with your domain host to confirm.
Course Review Migration
Already have reviews on your previous course site? Awesome! Reviews help build trust with your audience and there's a number of ways for you to move your existing course reviews to your Thinkific site:
Enable Reviews for your courses in your Admin account. Then, create student accounts for past reviewers, and log in to the account as the student and add the review. If you don't want the student to get any emails to their email address, you can use a variation of your own email (e.g. add a plus sign and a combination of letters/numbers to your gmail email address to create a different student account on your Thinkific site - for example email+test@mysite.com).

Create a custom page where you can add and style your course reviews as you like. You could also use screenshots from your previous review system. Custom pages are linked from the header of your Thinkific site after publishing them.


Investigate if you can embed your review tool. If it can be iframed, you can add the tool to a custom page using the text editor to access the HTML in code view.

Depending on which course review tool you were previously using, you may be able to integrate your tool with your Thinkific site by using our API. This is the most complex option as it requires custom development which is outside of the scope that our support team assists with, but you can turn to your development team for help. If you don't have a development team, we have some wonderful freelance web developers on our Thinkific Experts page who you can reach out to if you need! There's also the Thinkific Store on Fiverr, for smaller, quicker jobs.
Importing Your Existing Students
Your existing students can be migrated to your new Thinkific site in the following ways:
The first option is to create a 100% off coupon code, and offer this to your students to enroll in your course(s) free of charge.


The second option is having Thinkific import your students for you. To do this, we will require a template with all of your student and course details. If you are interested in this option, read through our Bulk Student Import and Enrollment instructions to download and fill out the template.


The third option depends on your Thinkific Pricing Plan. If you are on the Grow plan or higher, you also have the option to import your existing students, and bulk enroll them into the desired courses on your end. For more information on this option, check out the following articles:
Important Considerations When Importing Students
Welcome Email
Students who are imported can receive a site welcome email if you choose. You will need to notify Thinkific support when submitting your student import spreadsheet if you wish this to occur.
Your site welcome email can be customized prior to sending to include your user's login credentials and the URL to sign in to your new course site. Students who are imported cannot receive course welcome emails. 
If you'd prefer to send out a Welcome Email at a later time, you can always use the Mass User Email tool or external email system to send out an email to your students with their login details, URL where they can sign in and their login credentials.
Migrating Progress
Progress cannot be migrated from one platform into Thinkific unless students have completed a course. If you'd like to import students who have completed courses, you can fill in the "Completed_date" column in the Student Import Template. 
Existing Subscriptions
We don't currently have a way of migrating subscriptions from another platform. This is because in order for renewals to function correctly with our Stripe integration, data needs to be created for each student in our database, which is automated when they order through the Thinkific checkout. For example, with our Stripe integration, students automatically lose access to your course if they have a failed payment or cancel.
That said, one option to easily move subscriptions to Thinkific is to send students a checkout link with a coupon applied that they can use to sign back up for a subscription, without the risk of overpaying during your transition period.
Migrating Your Affiliates
If you'd like to manage your Affiliates within Thinkific, an overview of our Affiliate program can be found here. To move your affiliates into Thinkific, you can first bulk import your list of users into Thinkific as student accounts, then go to the Users page and change their permission to Affiliate within their student user profiles.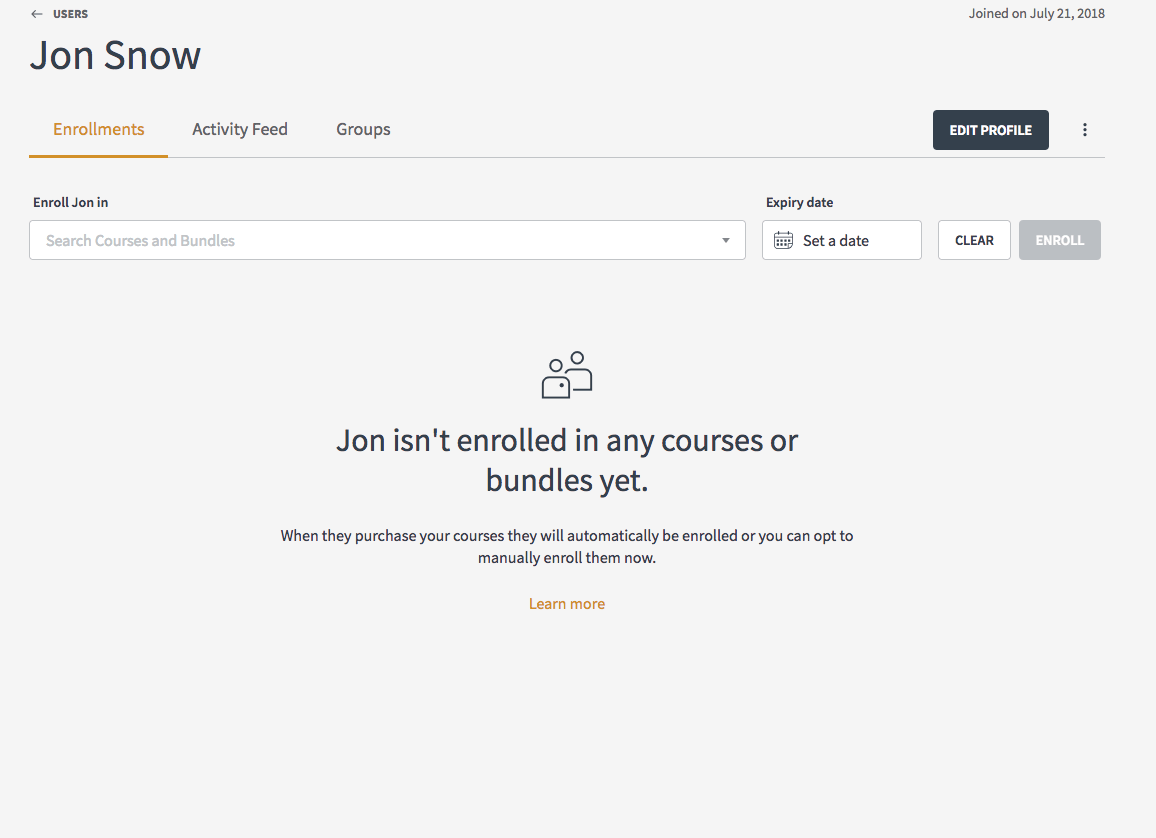 We give you full reporting of your affiliates in Thinkific so that you can handle your own payouts to affiliates outside of the platform. Read more about Affiliate payouts here.
If you have any questions, please contact us and we would be happy to help!