This article outlines features currently supported on the Thinkific Mobile App and a Branded Mobile App, that are not course- or community-specific. Refer back to this article for updates as we continue to expand functionality!

In this article:
Overview
The Thinkific Mobile App and Branded Mobile App allow your students to easily access their learning products wherever they are, using a native app on their mobile devices. Once your students have downloaded the Mobile App and logged in, they will have access to a variety of both course and community features.
As the Mobile App is being built out and improved, some features may not be available yet. Check out the breakdown of features below to see what is (and is not) currently supported by the Thinkific Mobile App and a Branded Mobile App.
Mobile App solutions built by Thinkific were designed specifically for your students, which means that any Admin activity will need to be done using the desktop web browser version of Thinkific. We recommend that creators design their products with the desktop (browser) experience in mind, and inform students that the Mobile App is a supplementary tool for students.
How It Works
Once your student has logged into the Mobile App, they will be brought to the Home screen. This screen lists their three most recently accessed courses at the top with an option to see all courses and a feed of the most recent community posts below. Students can click the Home tab at the bottom of the app to be brought back to this main home screen. To learn more about the course and community features, see: Supported Course Features and Supported Community Features.
If a student is enrolled only in one type of product (only courses or only communities), the other section will not be visible.
Account Settings
From the Home tab, your students can click on their profile image to view additional options.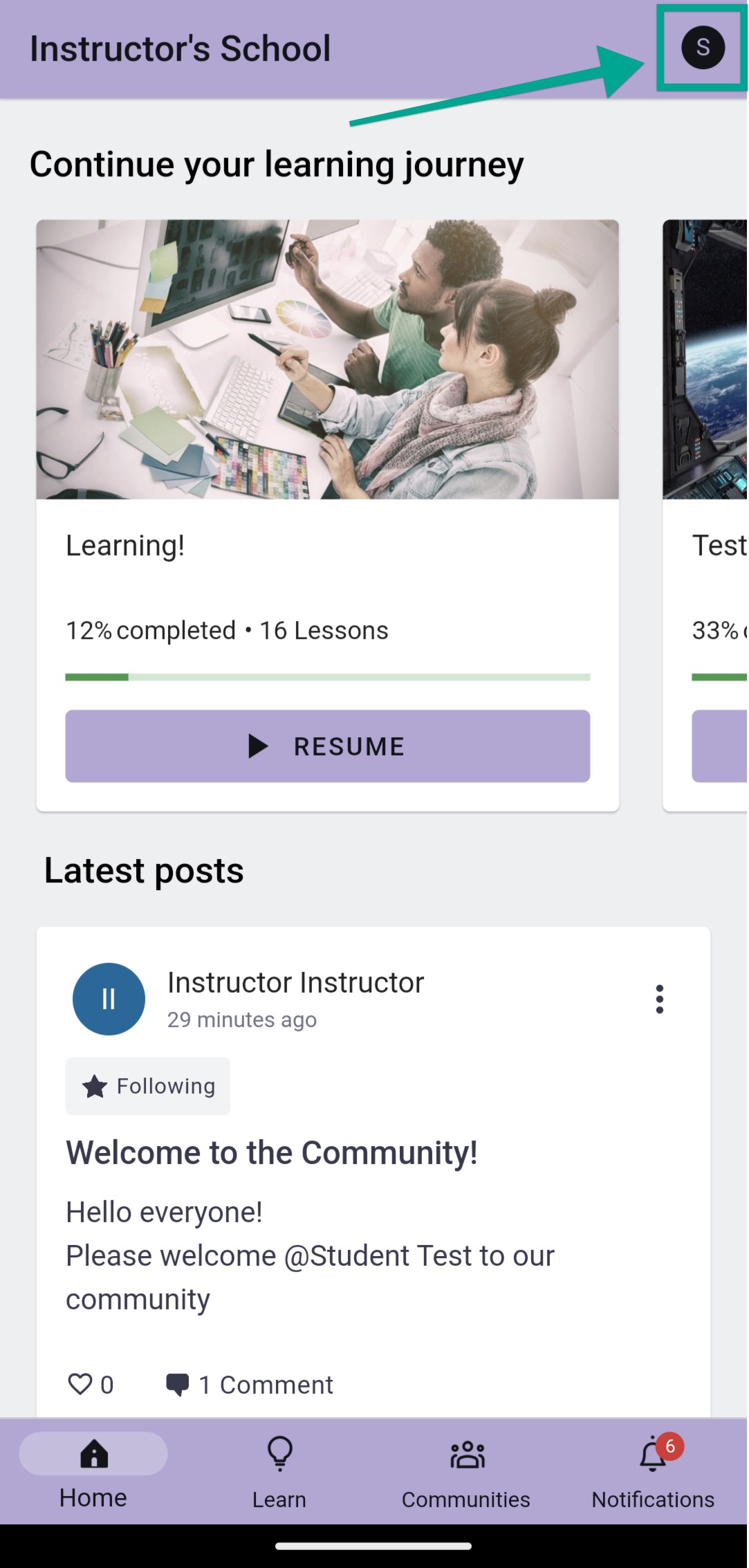 On this screen, your students can do the following:
View their basic account information (their profile picture, first and last name, and the email address you use to log in)
Open the web (browser) version of Thinkific to update their information, specifically:

Learn more about your school and contact you:

Email your school's support email address
Review your school's privacy policy (if available)
Review your school's terms of use (if available)

Learn more about Thinkific:

Report issues with the app
Review Thinkific's Privacy Policy
Review Thinkific's Terms of Use


Note that the Thinkific support can only address issues as they relate to the Thinkific mobile app. We cannot offer any support when it comes to course or community content, charges dispute, or general school feedback, these issues need to be handled by the Site Owner or Site Admin.

Log out
View the app version


The app version information is required in order for the Thinkific support team to assist you and your students with any troubleshooting questions.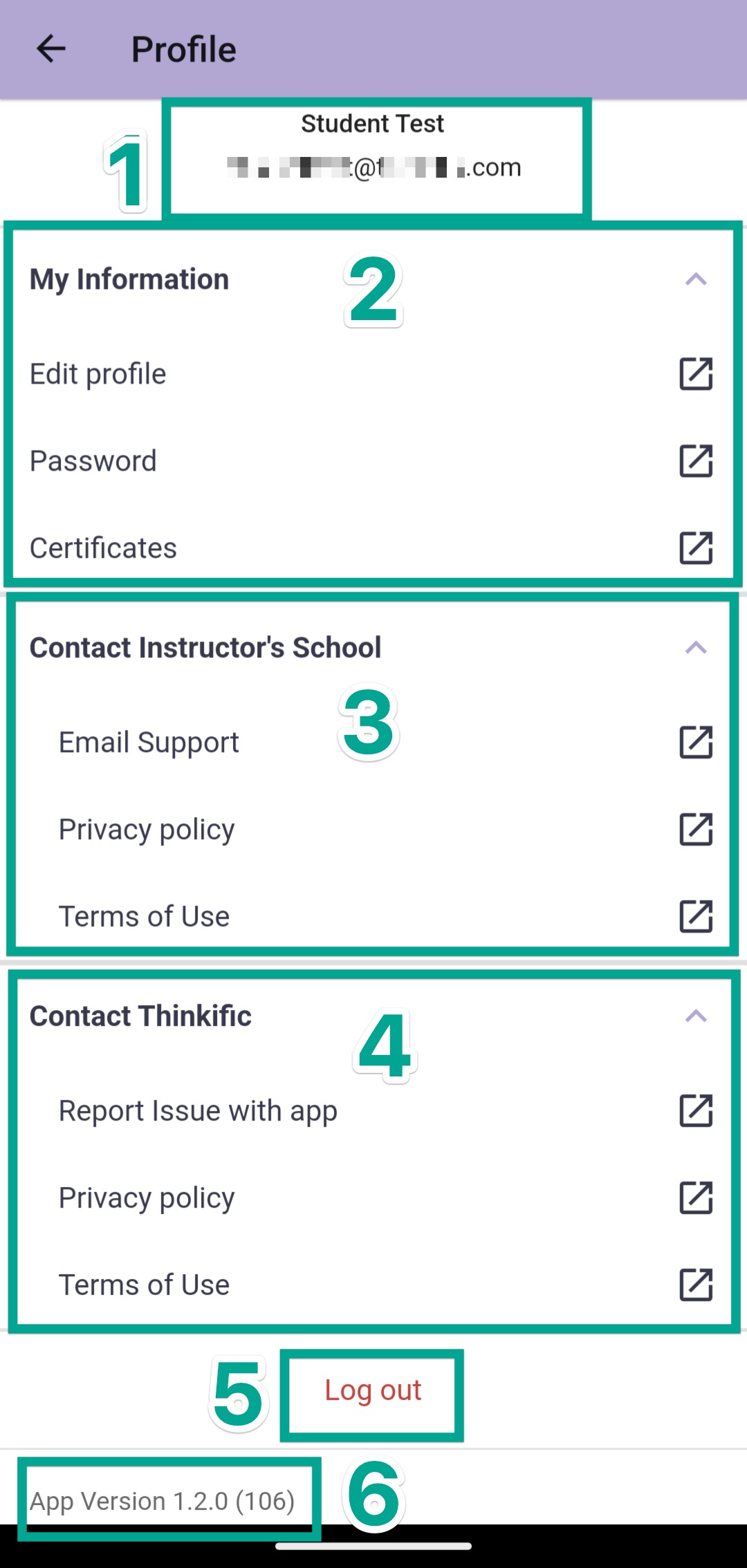 Notifications
Students can access the feed of all notifications they receive in the mobile app by navigating to the Notifications tab. Currently, all notifications shown in this tab are community notifications. Learn more about them here: Supported Community Features.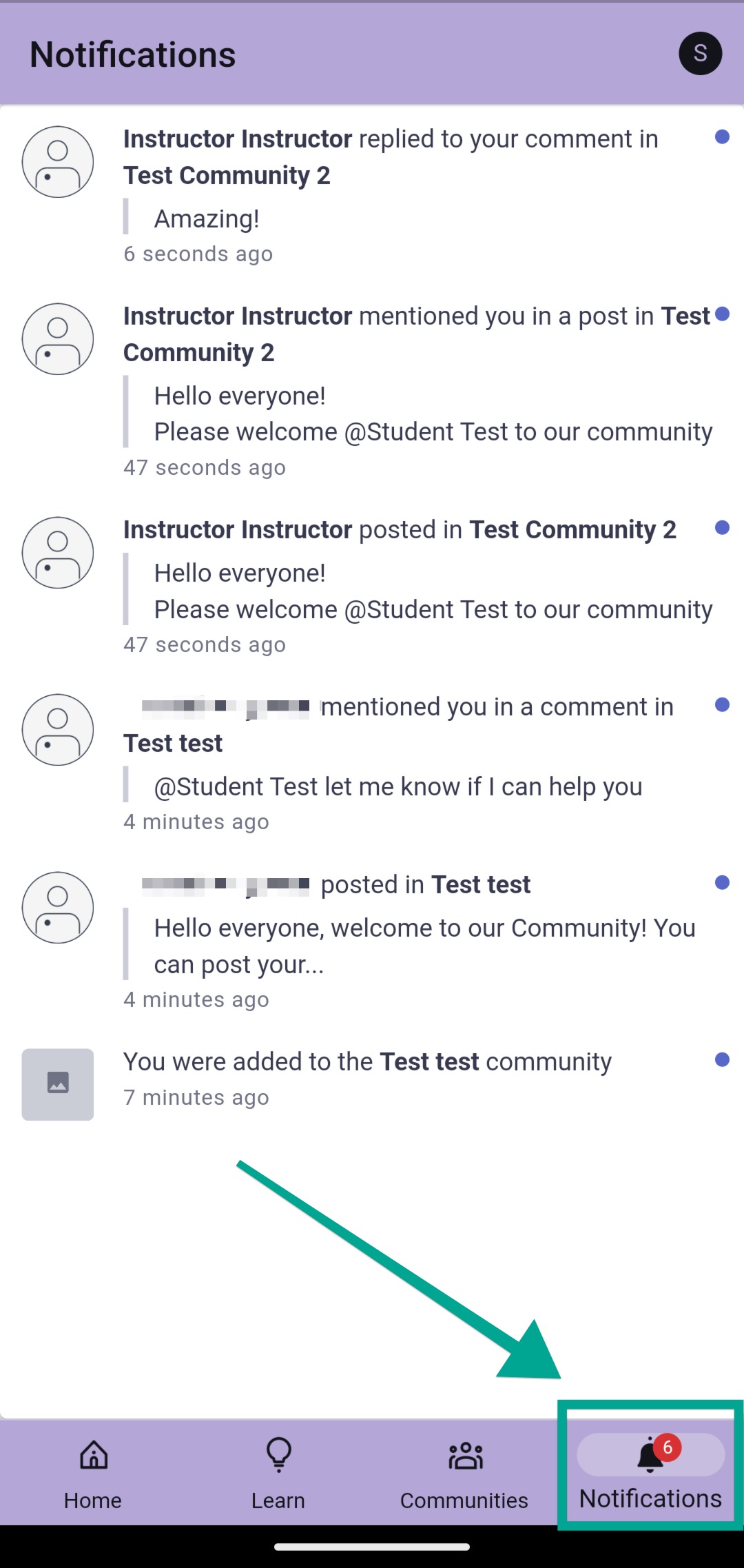 Supported General Features
Below, you will find a list of what general features are currently available on the Mobile App, and what features are not supported at this time.
| | |
| --- | --- |
| Features that are supported for Mobile | Features that are not currently supported |
| Feature: In-app notifications | Feature: Certificates |
| Feature: Privacy Policy and Terms of Use | Setting: Profile Editing |
| Feature: Product Search | Setting: Password change |
| Setting: First name, Last name, Profile picture display |   |
| Setting: Access to the school support email address |   |
| Feature: In-App Purchases (This feature is exclusive to creators using Branded apps) |   |
Important Considerations
Features that are not available in the Mobile App can still be accessed using the web (browser) version of your Thinkific page.
As the Mobile App is regularly being updated, features that are currently unavailable may become available down the line. Keep checking back for the latest updates on what is available!
Frequently Asked Questions
Will my students receive Thinkific certificates when completing lessons via a mobile app? How can they access them?
Yes, any time a student completes lessons or courses on the Mobile app, their progress is updated, similar to how it would be on the web version of Thinkific. This means that a student will receive their Thinkific certificate if it is assigned to the course. However, they will need to use the browser version to access to view and access them.
We're continuously working on improving our Mobile App behind the scenes, but if you have feedback about what you'd like to see in the app, we want to know! Please send us a quick email to let us know what functionality would be most valuable to you!
Learn More About the Thinkific Mobile App
Increase Engagement With the New Thinkific Mobile App
Mobile App FAQ - Frequently Asked Questions